Summary

Krakatoa Resources has recorded a performance packed December 2020 quarter and reported significant progress.
KTA secured various tenement related applications for its Rand Gold Project as well as Mt Clere REE, HMS, Ni-Cu-PGEs Project.
KTA identified strong structural corridor through aeromagnetic survey data at the Rand Gold Project and expedited exploration on several priority targets.
KTA remains financially sound to advance exploration programs with $3.63 million cash held as on 31 December 2020.
Junior aggressive explorer Krakatoa Resources Limited (ASX:KTA) has provided an update about its activities undertaken over the quarter December 2020. During this period, KTA was strongly committed to systematic exploration at its fully owned Rand and Turon Gold Projects in NSW.
Progress At Rand Gold Project
KTA submitted four applications in June 2020 and was granted EL9000 in early December quarter. The tenement includes the historical Bulgandra Goldfield, which indicates the prolific nature for shear-hosted and intrusion-related gold. Significant gold grades are indicated from production records of many mines within this goldfield.
IMPORTANT DISCUSSION AT: Jackpot! Will this be a turning point for Krakatoa Resources? Co Granted Historic Rand Gold Project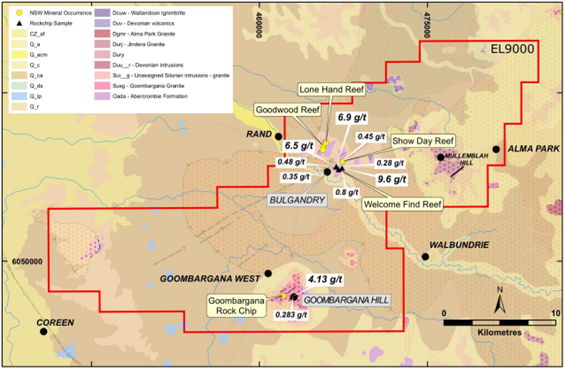 Project geology, historical workings and chip sampling, Rand Project (Source: ASX Announcement 29/01/2021)
Furthermore, KTA engaged Thomson Aviation to collect high-resolution aeromagnetic data over the complete tenement to initiate the green fields exploration work at Rand.
Aeromagnetic image (TMI-RTP) of the survey area (Source: ASX Announcement 29/01/2021)
Subsequent processing and interpretation of this data helped in identifying major areas of interest, and a continuing review of data shall be undertaken as per the need.
DETAILED DISCUSSION AT: Exciting Bullseye Gold Targets, Krakatoa Resources (ASX:KTA) Prioritises Rand
KTA identified numerous priority exploration targets through the magnetic survey and collection and evaluation of the historical exploration data.
KTA onboarded landholder liaison and access agreements over the key areas of interest towards the end of the quarter. KTA has plans to undertake systematic geological exploration work across these areas in the coming quarters.
A high-resolution induced polarisation (IP) survey has been initiated at the bullseye priority targets. KTA plans to conduct extensive mapping, rock and soil geochemical surveys in order to identify reconnaissance drill targets over majority of the Bulgandra Goldfield area.
DETAILS AT: Krakatoa Resources (ASX:KTA) kicks off IP surveys across bullseye targets
Significant Zones Intersected at Turon Project
Six diamond drill holes were completed during the quarter, out of which, three were at Quartz Ridge, two at Dead Horse Reef and one at Sixty-Seven Mine. This drilling intersected several zones of substantial quartz veining along with related mineralisation within all holes, and best results include the following:
2m @ 2.42g/t Au from 101.8m (QRD002)
1m @ 2.68g/t Au from 29.7m (QRD002)
1m @ 3.1g/t Au from 76m (QRD003)
A minimum of three significant zones were intersected from all holes, and gold mineralisation was found to occur in narrow, moderately west-dipping discordant quartz veins.
However, the erratic gold distribution and the small sample size makes it challenging to drill deposits like these. Furthermore, the reconnaissance nature of the drilling and rugged nature of the ground restricts the access to Turon, which makes the matter more complex.
IP Survey Planned Over Prospects at Belgravia Cu-Au Porphyry Project
The Bell Valley and Sugarloaf prospect areas at the Belgravia Project have been the key areas of interest for KTA where detailed aeromagnetic survey interpretation has highlighted the major potential for Au-Cu porphyry.
During the quarter, KTA had secured the renewal of exploration licence 8153, and this is anticipated to allow KTA to recommence its planned exploration activities on-ground. Moreover, KTA believes that the economic potential for porphyry-style copper-gold mineralisation lies at depths exceeding 200m in the Bell Valley area.
INTERESTING READ: Krakatoa (ASX:KTA) Enters 2021 Aiming for Major Breakthroughs in Gold, REES, & Ni-Cu Suphides
The Company might consider undertaking an IP survey over prospects such as Bell Valley area and Sugarloaf areas to find zones of sulphide mineralisation. The survey will focus on the upcoming drilling at these prospects while additional exploration such as mapping is presently underway across areas where the Company has secured access to land.
Partial Applications Granted at Mt Clere Project
Mt Clere project is located within the Narrayer terrane which is prospective for Ni-Cu-PGE and orogenic gold mineralisation-styles and indicates significant opportunities concerning rare earth elements.
KTA secured tenure over the first of numerous exploration licence applications, out of which the freshly secured exploration licence E09/2357 covers an area of 303 km2.
DID YOU READ: ASX-listed Krakatoa Resources (KTA) goes full throttle on Mt Clere project
Further, since the lodgement of the preliminary applications in 2019, KTA has been in negotiations with respective native title parties regarding heritage agreements and seems close to finalising the same.
KTA exploration licence and applications within the Narryer Terrane (Source: ASX Announcement 29/01/2021)
Upon winning these 2019 exploration licence applications, KTA looks forward to kick-starting field activities.
During the quarter, KTA issued 25,000,000 ordinary shares at a per-share price of $0.085 to raise a total of $2,125,000. The Company's cash balance stood at $3.63 million at the end of the December quarter.
RELATED: Krakatoa Secures Historic High-Grade Gold Mines in the Lachlan Fold via Non-Dilutive Acquisition, Stock Hits Multi-Year Highs
On 29 January 2021, KTA share price was noted at $0.067 with $18.68 million market capitalisation at 1:26 PM AEDT.