Summary

King River Resources has undertaken three sets of assay checks to verify purity of the previously produced ≥4N High Purity Alumina (HPA).
The impurities from Batch 7 and repeat assays are less than the 100ppm impurity threshold for 4N HPA.
The Company has commenced work for developing a mini-pilot plant.
The stock of King River Resources Limited (ASX:KRR) traded higher by more than 6% to AU$0.035 on 30 April post the release of an upbeat market update.
The Company has wrapped up additional internal and external purity assay checks for high purity alumina (HPA) to verify the previously reported HPA production at ≥4N (99.99%) purity.
Three sets of assay checks were undertaken on the HPA samples for ensuring quality control and assurance.
Source: Copyright © 2021 Kalkine Media Pty Ltd, Data Source: KRR ASX update, dated 30 April 2021
READ MORE: King River Resources' shares leap 27% on crucial HPA milestone
HPA Batch 7 Results
Source Certain International (SCI) delivered another 4N purity HPA result from HPA Batch 7. Notably, SCI used a new high purity precursor sample, which was calcinated and washed utilising a simplified and cost-efficient process design.
The 4N purity value was 99.9934% containing 66ppm of impurities, significantly below the 100ppm impurity threshold for 4N HPA.
The primary contaminants in the HPA Batch 7 are silicon, potassium, sodium and iron, along with low levels of niobium and chromium. Significantly, iron, niobium and chromium impurities could have resulted from the furnace heating elements.
ALSO READ: King River Resources (ASX:KRR) Turns In Healthy March Quarter with HPA Production Progress
Repeat Assays
SCI wrapped up repeat assays on separate aliquots selected from the previously reported HPA Batches 2 to 6, as well as the new HPA 7, using the Microwave digest ICP-MS and ICP-AES method. The Company completed 5-8 analytical duplicates for each HPA sample, giving a total of 40 analyses.
In all the subsamples, the HPA purity is ≥4N and impurities summing under 100ppm. The main contaminants are silicon, potassium, sodium and iron.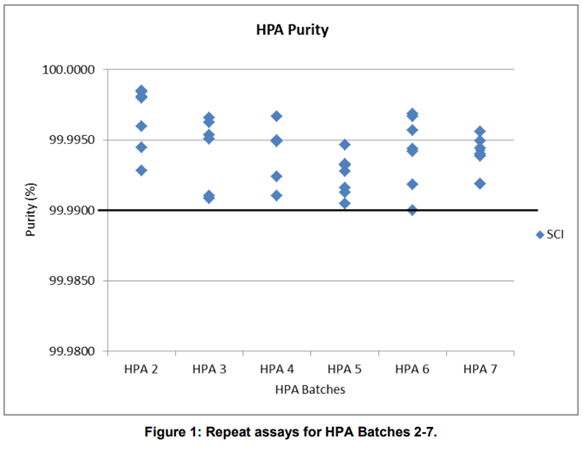 Source: KRR Update, 30 April 2021
Independent Laboratory Assays
HPA Batches 2 to 6 were analysed, with Batches 2 to 5 resulting >4N purity while Batch 6 was below 4N. The impurity levels determined by the XRF method were higher in the case of silicon and lower for potassium when compared with the SCI Microwave ICP-AES results.
ALSO READ: King River Resources' 1H FY21 Brimming with a Slew of Project Developments
The Laser Ablation-MS method determined other minor elements, which compare very closely with the results using the SCI Microwave digestion ICP-MS.
Alpha Alumina Phase Analysis
A phase analysis on HPA Batch 4 to confirm the crystal structure is pending, owing to workloads by the independent consultant.
Other Significant HPA related Developments
Prefeasibility Study (PFS) Updates
KRR has advanced investigations with private owners and government agencies for a suitable Kwinana-based industrial site. The industrial estate boasts industrial land areas for companies seeking to invest in downstream processing and other heavy or strategic industrial activities.
Capex and Opex estimates from Como Engineers are awaiting some final modifications of the HPA washing circuit. Post the completion, the finalised PFS documents would be released to the market.
ALSO READ: King River Resources (ASX:KRR) in excellent shape with major headways across projects
Mini-Pilot Plant
The Company has termed its HPA refining process as the ARC HPA process route, highlighting:
Aluminium chemical feedstock
The use of only Recrystallisation steps in the purification
Final Calcination
Work has kicked off on developing a Mini-Pilot Plant for demonstrating the ARC HPA process works at a larger scale for the DFS (Definitive Feasibility Study) and for producing market samples.
The process flowsheet and mass balances were employed for scaling the mini-pilot plant, while the enquiries with vessel vendors are currently in progress.
ALSO READ: King River Resources (ASX:KRR) Gets Cracking at Kurundi with High-Grade Rock-Chip Results
The 1500°C rotary tube furnace is currently undergoing checks by an Australian supplier, and its delivery is expected shortly. The rotary tube furnace is used for the calcination stage of the process.