Highlights

King River Resources' new DFS strategy draws priorities for its very high purity type 1 precursor, which is calcined to produce high purity alumina.
The ongoing work for developing a mini-pilot plant is focused on demonstrating the large-scale viability of the ARC process for the DFS and producing batch marketing samples.
Investigations are underway to evaluate the potential of type 1 Precursor for application in lithium-ion batteries.
King River Resources Limited (ASX:KRR) has unveiled its new definitive feasibility study (DFS) strategy, highlighting priorities for the precursor compound, which would be used for producing high purity alumina (HPA).
Significantly, a 5N (≥99.999%) purity aluminium precursor compound (type 1 precursor) was recently calcined successfully using the Company's ARC HPA process to produce HPA product at ≥4N (99.99%) purity.
Detailed discussion at: King River Resources' Kwinana HPA project on fast track with production of 5N purity precursor
Meanwhile, KRR is also concentrating its efforts towards mini-pilot plant development and conducting more testwork, with an aim to leverage the robust economic potential of its proposed Kwinana HPA project, as demonstrated in the pre-feasibility study (PFS) released in mid-June 2021.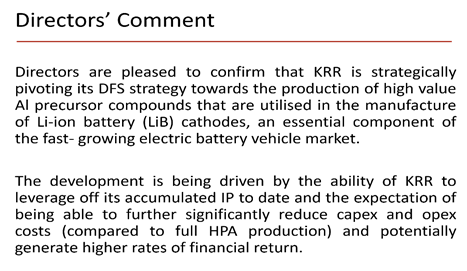 KRR update, 8 September 2021
Related Article: King River Resources' June quarter marked by stellar PFS outcomes for HPA project
King River makes significant headway on DFS
KRR is advancing the work on building a mini-pilot plant to demonstrate the large-scale viability of the ARC process for the DFS and produce batch marketing samples. While majority of the component parts have been delivered, some long-lead items are pending final product certification.
The compilation of mass, temperature and timing measurements from scaled-up laboratory tests is ongoing to help modify the design and address reagent and product handling issues.
Meanwhile, the Company has also kicked off sourcing detailed information on the various precursor needs from end-users. It plans to complete further investigations through international market agencies.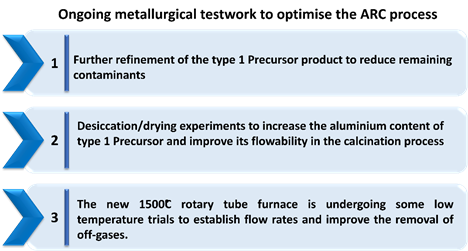 Data source: KRR update, 8 September 2021
In addition, Como Engineers has also been commissioned for rescoping a modular process design for an initial precursor-only refinery.
Must Read: HPA PFS operational highlights paint rosy outlook for King River Resources (ASX:KRR)
Precursors investigated to tap market opportunities
Type 1 Precursor used directly to make P-CAM - Source Certain International (SCI) is investigating the potential usage of type 1 Precursor to produce precursor Cathode Active Materials (P-CAM), an intermediate compound used in the manufacture of lithium-ion battery (LiB) cathodes.
Two experiments to produce NCA (nickel-cobalt-aluminium) type P-CAM have been completed, with encouraging results received. However, KRR indicated that more testwork, sizing analyses, and morphological studies are required.

Source: KRR update, dated 8 September 2021
Meanwhile, KRR targets P-CAMs with NCA and NCMA (nickel-cobalt-manganese-aluminium) chemistries, projected to dominate the LiB electric vehicle (EV) market by 2030. The Company intends to supply its precursor as the high purity aluminium source to this expanding market.
Type 1 Precursor converted into other aluminium precursor compounds - Testwork is in progress for converting type 1 Precursor into a more diverse suite of aluminium precursor compounds, used in the LED and battery supply chains. The testwork is at the stage of optimising type 2 Precursor.
These aluminium precursor products are used in coating LiB cathodes and anodes, alternative aluminium sources for the P-CAM process, alternative coatings on LiB separators, and phosphors in LED lighting.
Related Article: Strong tailwinds for King River Resources' (ASX:KRR) high purity alumina amid booming LED industry
Given the robust commercial potential of bespoke HPA precursors, KRR will be considering opportunities to reduce the initial scale of the first commercial operation and thereby reduce capital and operating costs.
Moreover, outcomes from testwork programmes and studies would be used to decide on Stage 1, Type 1 Precursor-only operation with HPA production deferred to Stage 2, or other combinations of this exciting new opportunity.
KRR stock traded at AU$0.027 on 8 September 2021, up 3.846% from its last closing price.
Must Read: Decoding King River Resources' (ASX:KRR) powerful HPA marketing strategy