Source:Vzone, Shutterstock
Summary

Kaiser Reef Limited has provided further drilling results from the continuing drilling programme at its A1 Mine.
The Company has reported exceptional intercepts with higher grade zones from the initial Phase 1 program.
KAU is optimistic about the excellent potential for economic discoveries in the area through modern exploration drilling.
High-grade Australian gold miner Kaiser Reef Limited (ASX:KAU) has been continuing the drilling programme at its A1 Mine. The mining remains ongoing and had already returned very high-grade intercepts, including 3.7m @ 68.6 g/t Au.
In another latest round, KAU has received another significant high-grade result in this initial Phase 1 program and is highly encouraging for the Company. The results comprise outstanding intercept of A1UDH-406: 12.1m @ 24.26 g/t gold from 20m and 1.8m @ 11.6 g/t gold from 81.7m, which further includes the following:
A higher-grade zone of 5m @ 44.3 g/t gold from 20 m and
Another zone of 5.1m @ 13.7 g/t gold – separated by a 0.3m core-loss interval.
Our latest virtual meet with Mr. Jonathan Downes, MD , Kaiser Reef Ltd at the Executive Corner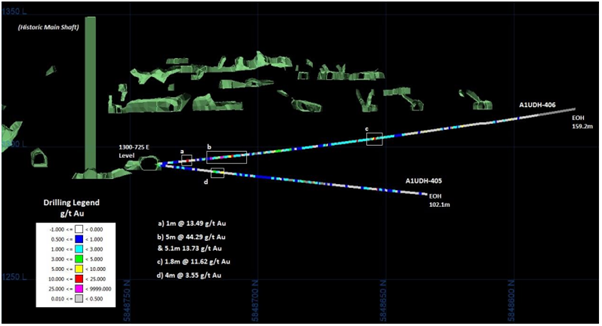 Drill trace of the two most recent holes (Source: ASX Announcement 22 February 2021)
Continued Expansion Of The Drilling Program
The current results are from the area that is presently being assessed for development in the near term while the drilling program continues to expand into resource definition for near as well as medium-term production horizons. This initial program focuses on drilling up to around 4,000 metres and is significant for the planning and development of an extended mining process.
KAU believes that the exact thickness for A1UDH-406 from 20-25m remains unassessed.
Read Here: Kaiser Reef Limited (ASX:KAU) announced initial drilling results for newly acquired A1 gold mine
The ongoing underground diamond drilling program includes several parts, which are as follows:
Geotechnical/Infrastructure Advance,
Resource Definition, and
Exploration.
While the results to date are from the initial geotechnical/infrastructure component, the Company shall now progress the program to cover resource definition. Moreover, for the first time, the program shall target deeper exploration targeting mineralisation 150-300m beneath the gravest historical workings.
Key Areas Of Focus
The ongoing program of the Company comprises of the five parts that indicate specific zones of the Queens Lode. KAU believes that there is a need for infill drilling, strike extension, width/depth delineation and discovery of high-grade plunge mineralisation trends at these zones.
Notably, KAU's area of focus was production drive opportunities around the planned decline position through this first batch of drilling results. This also focused on offering geotechnical information for potential development.
First Batch Of Drilling Results (Source: ASX Announcement 22 February 2021)
KAU's Queens Load indicates the most developed bulk tonnage exploration target. This also offers well-defined resource potential in the material at A1 that is mineable in the short-term.
Suggested Reading: Gold miner, Yes! Gold miner - Kaiser Reef Limited (ASX:KAU) re-lists on ASX
Broadly, KAU aims at securing information to help the production in time of a Mineral Resource Estimate for the Queens Lode through this drilling program. The Company is optimistic that the work shall enhance the knowledge of the strike and mineralisation extension within the A1 Mine.
Opportunities to Grow
Further opportunity to grow and support the present production offered by air leg mining techniques is expected through the broader mineralisation style of the Queens Lode. Moreover, there is the availability of excess capacity to treat a significantly improved rate of production through a wholly-owned processing plant at Maldon.
KAU's fully owned A1 project as well as the Maldon project have previously delivered more than 2 million ounces of gold at significantly high grades. The Company is of the view that the existing mined lodes have witnessed little modern exploration drilling beneath the present mined lodes. KAU also believes that there is excellent potential for economic discoveries in this area.
Furthermore, KAU remains in pursuit of delineating the Queens Lode project as a priority for 2021 mechanised mining. From the Queens Lode drilling, results to date are yet to be received.
INTERESTING READ: New appointments poised to establish Kaiser Reef Limited as a substantial gold producer
KAU was spotted to trade at a higher price of $0.460, up by 5.747%, as on 22 February 2021 whereas with the market opening today KAU stock is trading at $0.335 with $39.06 million market capitalisation at 1:01 PM AEDT.