Source:leksandr, Shutterstock
Summary

K2fly reports a record Q3 with high TCV, ARR, and sales invoices.
SATEVA and RCubed continued their successful performance with more feathers added to the cap.
The technology company K2fly Limited (ASX: K2F) has once again reported a record quarter Q3 FY21. The company continues to perform well in the pandemic period. On 7 April 2021, the company unveiled its performance card for Q3.
Lens on the Q3 FY21 numbers
In Q3, K2F raised record invoices of AUD 2.06M as against AUD 1.61M during the previous corresponding period. On 31 March 2021, the cash available was AUD 1.52M with no debt. Furthermore, there were AUD 1.58M in receivables, mainly from Tier 1 clients.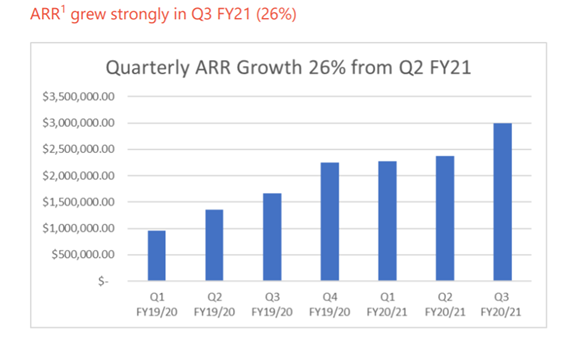 Image source: K2F's announcement dated 07 April 2021
In Q3, the company returned to the normal contract signing cadence and got 4 new software subscription deals inked. This helped K2F to increase ARR by 26%, invoicing by 28% and TCV by 56%. SATEVA continued to deliver good numbers with 63% increase in consulting invoices in Q3.
Image source: K2F's announcement dated 07 April 2021
The company opines that the improved global stimulus funding in infrastructure projects and ongoing Brazilian supply challenges will continue to add to the Iron Ore market's strength. The Board also believes that the new contracts' slowdown due to the pandemic has passed in most locations, and normal mining activities have returned.
K2fly adds Decipher, a boon for mining clients
On 31 March 2021, K2fly finalised Decipher acquisition from CSBP Limited for Mining. CSBP is a subsidiary of Wesfarmers Limited (ASX:WES). Decipher is a valuable addition to K2F's solution suites as the company offers cloud-based SaaS technology and compliance solutions for mining industry clients. It offers solutions for rehabilitation, closure and monitoring, governance, and disclosure database solutions for tailings management.
The company issued 11,366,691 fully paid ordinary shares valued at AUD 3.7M and 5,345,633 Performance Shares for the transaction. The Consideration Shares are constrained to the voluntary escrow of 2 years. Any shares released for converting performance shares will also come under a voluntary escrow period of 1 year.
Also read: K2fly enriches its solutions suite with Decipher's acquisition
A Look at K2F's SaaS space
In Q3, the company progressed with substantial investments in the ongoing strategic activities, including NextGen, enhancement of Tailings and Model Manager and a new release of highly successful RCubed solution.
The company is confident that these investments will pay dividends in 2021, and it will also create new products and capability to meet the company's growing pipeline.
RCubed added significant clients to the company's portfolio in the past, and it continues to do so with new deals of 5-years each from Alcoa and Coeur Mining. SATEVA solutions continue to shine with a new purchase order from Rio Tinto Iron Ore, Roy Hill and FMG. The SATEVA team has successfully integrated with K2F and building promising intellectual property for existing clients.
In Q3, K2F's Heritage solution was sold to Griffith University and Rio Tinto Iron Ore. Also, this solution is expanding its footprint within Mineral Resources Ltd and Fortescue Metals Group (FMG). The company is at the advanced stage of negotiation with significant mining organisations for the rollout of the land access solution.
Also read: K2F adds another significant NYSE listed client - Coeur Mining