Highlights

In 2021, Renegade Resources concluded multiple JVs to gain exposure to copper and gold assets in Australia.
Renegade has finalised a JV agreement with Burke Copper to earn up to 75% interest in North Isa Project.
In another JV deal, RNX acquired 23.03% in Carpentaria Joint Venture in Queensland.
Renegade divested its Yandal East Project JV interest to Strickland Metals, retainiing smelter royalty in the project.
Renegade Exploration Limited (ASX:RNX) had an action-packed 2021. The year saw the Company stride ahead with a slew of developments including the signing of Joint Venture (JV) deals and divestment of interest from one of its projects.
Let us go through these developments in detail.
JV with Burke Copper Pty Ltd: In December 2021, Renegade finalised a joint venture (JV) agreement with Burke Copper Pty Ltd to earn up to 75% interest in the North Isa Project, located in Queensland. Soon after completion of the agreement, the Company commenced soil sampling programme and mapping works on the project.
As the previous ownership of the project was fragmented, the historical exploration works were mostly erratic.
Related read: Fresh deal positions Renegade (ASX:RNX) to earn up to 75% of the North Isa Project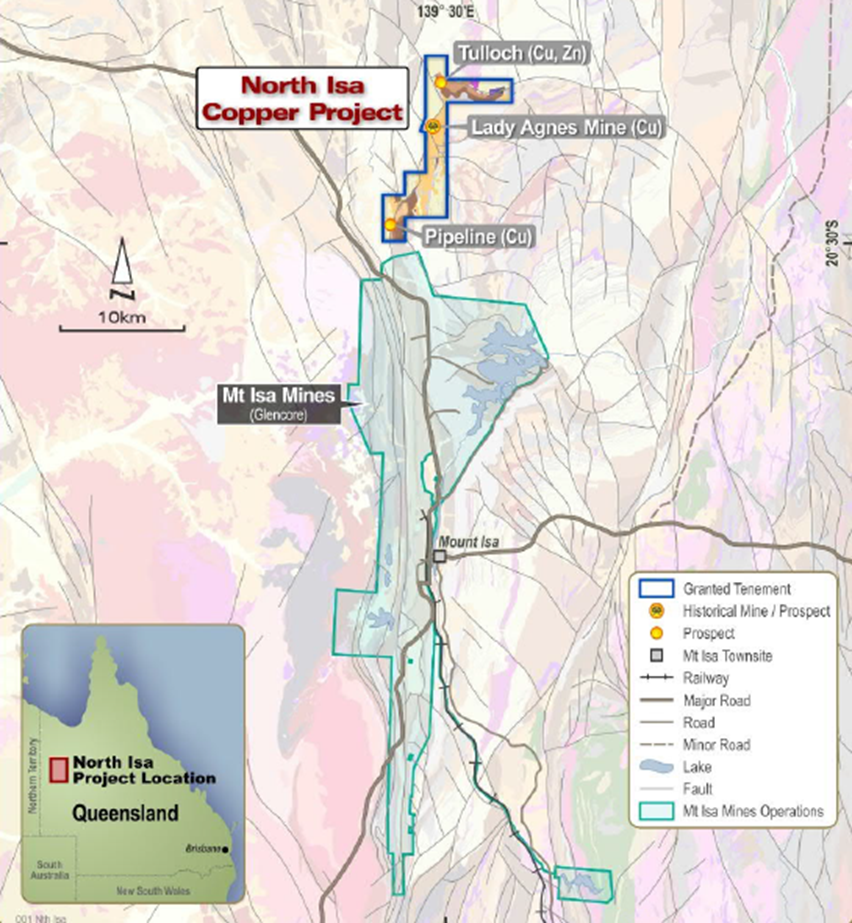 North Isa Project location map (Image source: Company update, 21 December 2021)
The Company is hopeful that this JV will lead to a new chapter in the history of exploration operations over North Isa. As the ownership of the project is now more consolidated, a consistent and rigorous exploration program can be expected over the project.
The ongoing fieldwork will include soil sampling, field mapping, reinterpretation of historical data and investigation of the targets already identified by Burke Copper.
Acquisition details: RNX paid AU$20,000 to Burke Copper upon the execution of the Option Agreement. Renegade would need to spend AU$100,000 in the next twelve months. Also, it needs to issue 10M shares to Burke Copper and another 25M Performance Rights, all subject to certain performance milestones.
For the final 75% interest, Renegade would be required to spend a total of AU$400,000 on exploration operations in the next 36 months, following the exercise of the Option. In case, Renegade decides to withdraw before meeting the full expenditure commitment, it can still retain a 30% interest in the project. Burke Copper will assume the operatorship of the project in such case.
Recent update: Renegade Exploration (ASX:RNX) kicks off field programs at North Isa
Carpentaria JV: In May 2021, Renegade secured the approval from Queensland Department of Resources to the transfer of 23.03% Sovereign Metals Limited (ASX:SVM) interest in the Carpentaria JV (CJV) Project.
The CJV project is located in north-western Queensland and has five exploration permits (EPM) in the portfolio. Mt Isa Mining Limited (MIM), a subsidiary of Glencore plc, has been the operator of the CJV since 2000 with several partners, most recently with Sovereign since 2007.
MIM has spent nearly AU$14.5 million on exploration activities on the project, which have delineated several copper and gold prospects.
The Mongoose prospect on CJV presents an immediate drill-ready target. The prospect lies along the strike of the Taipan deposit and Paddock Lode Mine.
CJV location map (Image source: Company website)
Related read: Renegade Exploration (ASX:RNX) makes significant strides during September quarter
Divestment of interest in Yandal East Project
In July 2021, Renegade decided to divest its interest in the Yandal East JV Project. Strickland Metals Limited (ASX:STK) acquired RNX's interest for cash consideration, shares and a net royalty.
Strickland paid AU$400,000 on the completion of the acquisition deal. Renegade would receive another AU$400,000 after six months of the deal. Strickland will also issue 40M shares to RNX after 12-month voluntary escrow. RNX will also receive a 0.5% net smelter royalty grant on any commodity mined from the Renegade Joint Venture tenements.
Related read: Renegade Exploration (ASX:RNX) Well Financed for Future Projects with Key Developments
Near-term plans in 2022
Renegade powered into 2022 with two joint venture projects- North Isa and CJV, both located in Queensland. In North Isa, Renegade is planning to assume the operator's role by meeting exploration expenditure commitments, while in CJV, it will continue to hold its 23% interest.
Related read: Renegade Exploration (ASX:RNX) is on the lookout for further developmental opportunities
RNX is planning to undertake a series of exploration campaigns on the North Isa Project to unlock its potential. The divestment of Yandal East Project and sale proceeds from the Canadian Base Metal project, Yukon should help the company to further strengthen its balance sheet and stay focused on carrying out exploration campaigns.