Summary

Jindalee Resources Limited (ASX:JRL) has released another set of strong results for the June quarter.
The Company progressed with the development of its flagship McDermitt lithium project during the quarter.
The Company expects to receive the first assays from the diamond drill program at Clayton North project in October.
Continuing its practice of delivering robust quarterly performance, Jindalee Resources Limited (ASX:JRL) has released another set of strong results for the quarter ended June 2021. During the quarter, the mineral explorer marked some major breakthroughs while forging ahead with the development of its flagship McDermitt lithium project.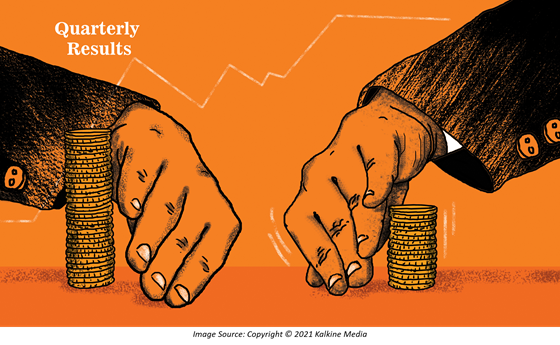 The Company also continued to assess different options to capitalise on interest from American investors over the quarter, including a possible listing of its US lithium assets on a North American exchange. In addition, some key staffing appointments were made by Jindalee during the period in both US and Australia.
Operational developments at McDermitt project
In the June 2021 quarter, Jindalee announced an updated Mineral Resource Estimate (MRE) at its wholly owned McDermitt lithium project. The mineral resource update confirmed the significant size and scale of the deposit, validating McDermitt as the largest lithium deposit in the US by contained LCE (Lithium Carbonate Equivalent) in mineral resource.
The McDermitt project now hosts a combined Indicated & Inferred Mineral Resource Inventory of 1.43 Billion tonnes at 1,320 ppm Li for an aggregate of 10.1 Million tonnes LCE at 1,000 ppm Li cut-off grade. Besides, the deposit remains open with an Exploration Target Range of between 1.3 to 2.3 Billion tonnes at cut-off grade of 1,100 to 1,500 ppm Li.
Related Read: Here's why shares of Jindalee Resources are on a tear today
During the last quarter, Jindalee also informed that permits for drilling at McDermitt had been lodged with the government agencies, with drilling expected to start in the September quarter. Besides, the Company announced that metallurgical testwork (beneficiation, leaching and purification) had been commissioned on a bulk sample of ore from McDermitt.
The Company further highlighted that the technical components of a scoping study were underway, with results expected to be announced in the September quarter.
Read More at Jindalee Resources (ASX:JRL) ready to go hammer and tongs at its US lithium assets
Other developments
Jindalee announced two key senior appointments during the June quarter – Mr Jimmy Thom and Mr Paul Meyer. While Mr Meyer was engaged to manage exploration and development of the Company's lithium assets in the US, Mr Thom was appointed as the Company's Exploration Manager.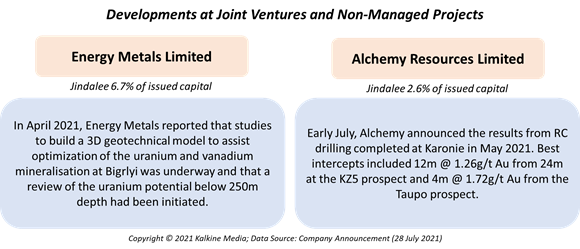 Subsequent to the quarter, the Company hit a new milestone while initiating drilling at its 100 per cent owned Clayton North project in July 2021. The Company has designed an exploration diamond drill program at the Clayton North project to follow up anomalous lithium results from surface sampling undertaken by Jindalee in 2018. First assay results from the drilling program are anticipated in October.
Good Read: Jindalee Resources initiates diamond drilling at Clayton North project, shares tick up
Interestingly, Jindalee remains well funded with AU$13.3 million in cash and marketable securities on 30 June 2021. The cash balance provides a strong base for advancing projects currently held by the Company and leveraging into new opportunities.
Jindalee shares last traded at AU$2.430 on 29 July 2021.