Key Sector Highlights

Consumption of vanadium is forecast to grow in near to long term in steel, battery and chemical sectors.
The cost of extraction of the metal from mining fields is lower than producing as a by-product as steel slag.
Currently, nearly 90% of vanadium is consumed by steel manufacturing factories.
Value of Stationary Battery Storage market set to jump 600% to US$140 bn by 2030.
The vanadium redox flow battery makes storage systems more durable and have a longer life.
Fewer than 10 miners are engaged in the mining of vanadium.
Vanadium is put under the critical metal category and is considered as a foundation element for the green industrial revolution.

Key VR8 Highlights

VR8 holds one of the world's largest and highest-grade vanadium projects.
Vanadium Resources is advancing with the DFS on the Steelpoortdrift Project.
VR8 is focusing on additional ESG initiatives to reduce the level of emissions.
PFS states production can be reached with CAPEX of only US$200m
Vanadium Resources Limited (ASX:VR8) in its recent update announced that the Company was progressing on the Definitive feasibility Study (DFS) on its flagship Steelpoortdrift Project. The project is one of the world's largest and highest-grade vanadium mining projects, located in the Bushveld Complex of South Africa.
The Steelpoortdrift Project holds 662 Mt at 0.77% V2O5. The ongoing DFS is slated to be finalised by the third quarter of 2022. In conjunction with its DFS on a salt roast process, the Company is analysing several additional processing methods to potentially make the project greener and more cost-effective.
The project is in its development phase and advancing rapidly towards its first commercial production.
VR8 is on track to its first commercial production in late 2024 and with the increasing demand for green metal, investors should track the Company's activities closely.
Shares of VR8 delivered excellent returns of 135% in the last one year for its shareholders.
In this backdrop, let us understand green metals and the vanadium market better.
Related read: Vanadium Resource (ASX:VR8) upbeat about its progress on DFS study
Which metals are green?
When we talk about the green economy, we must understand that environmentally friendly metals or green metals are foundations of the green economy. For long, the capital market has underappreciated this fact, but the pandemic has changed the perspective on green metals. For instance, the price of lithium has appreciated significantly since 2020.
Lithium, copper, cobalt, vanadium and rare earth metals fall under the green metal category.
Vanadium is considered one of the foundation elements of the green industrial revolution. This is the reason why Geoscience Australia has put the element on the list of critical metals.
What is Vanadium?
Vanadium is found in over 60 different minerals and possesses natural resistance against corrosion, acids, saltwater and stability against alkalis. It is present in abundance in nature, but its usage and applications put it to the critical metal list.
Vanadium has numerous industrial applications, for instance one pound of ferro-vanadium added to one tonne of steel doubles its strength. Vanadium redox flow batteries are gradually gaining ground for grid-energy storage.
How is Vanadium produced?
Related read: Vanadium Resources (ASX:VR8) cashes in on high-yield metallurgical test results
Nearly 70% of all vanadium extracted by the industry is produced as a co-product of steel slag. This is because vanadium is typically found within magnetite iron ore deposits. It is often agglomerated with titanium, which is separated during processing. Vanadium produced through this process costs higher than the ones produced in mines, which currently represents nearly 18% of the total vanadium produced. The remaining 12% is produced through recycling processes.
You will be surprised to know that even though it is a critical metal, the primary mining is undertaken by only three mining companies – Campbell Pit by Largo Resources, Vametco by Bushveld and Rhovan Mines by Glencore.
What are the major industrial applications of vanadium?
Nearly 90% of the current demand for vanadium arises from the steel and alloy industries. Vanadium is used in the production of steel, rebar and other building materials. Anti-corrosive and tensile properties make it apt for the use in the steel industry. The steel made using vanadium is used by the construction industry, automobile, for making of hand tools and several other applications.
Outside the steel industry, titanium-aluminium-vanadium alloy producers are the largest consumers of vanadium. Vanadium is used to bond titanium and steel in the aerospace industry. The alloy is used to make fuel-efficient aircraft. As of now, no alternative to this alloy is available in the market.
Related read: Vanadium Resources fixes gaze at constructing one of world's largest vanadium mines
In automobiles, it has been found that using vanadium alloys significantly reduces weight and increases strength. It is estimated that more and more automakers will start using vanadium in their designs in the future, as designing of EVs calls for designing light weight vehicles in order to increase the range.
As demand for green energy is growing, the energy storage market is also growing at a fast pace. Energy produced from wind and solar could be stored in batteries made using vanadium redox flow technology.
Geographic Production Mix
According to an estimate from VR8, nearly 85% of vanadium is produced by China, Russia and South Africa. China is currently the largest producer with nearly one-third of the world's total vanadium production. But Chinese production is largely from stone coal which is considered highly polluting. If stringent environmental regulations are enforced, it will pose a threat to Chinese stone coal resources.
South Africa is becoming an attractive investment destination for vanadium mining.
Related read: Vanadium Resources (ASX:VR8) soars on securing AU$4.6M investment
Demand forecasts
Battery Storage
Global Markets Insights stated the stationary battery storage market was valued at US$23 bn in 2020 and is estimated to grow at 25.1% CAGR to over US$149 bn by 2030. Bloomberg NEF, New Energy Outlook 2018 estimated battery storage capacity to grow to 600GW by 2025, out of which nearly 15 to 25% will be supplied by Vanadium Redox Batteries. The battery storage industry represents an additional supply requirement of 10,000mtV of vanadium. Based on the data from the Department of Industry, Science, Energy and Resources (DISER) 2021 Report, demand for vanadium for battery manufacturing is estimated to grow at an average rate of 20.7% annually between 2020 to 2029.
Steel
The 2021 DISER report further revealed that the consumption of vanadium by the steel industry is forecasted to grow by an average 2.9% annually between 2020 to 2029.
Chemical sector
The Chemical sector is also estimated to increase the consumption of vanadium annually by 3.8%, as per the 2021 DISER report.
What makes VR8 standout?
VR8 is positioning itself to become a major supplier of vanadium globally. The Company is also incorporating an advanced ESG processing technology that will allow it to produce valuable by-products, including, titanium, aluminium, iron, and hydrogen, which generally go to waste in conventional processing methods.
VR8 stands out among its peers in terms of resource volume its holds at its project in South Africa.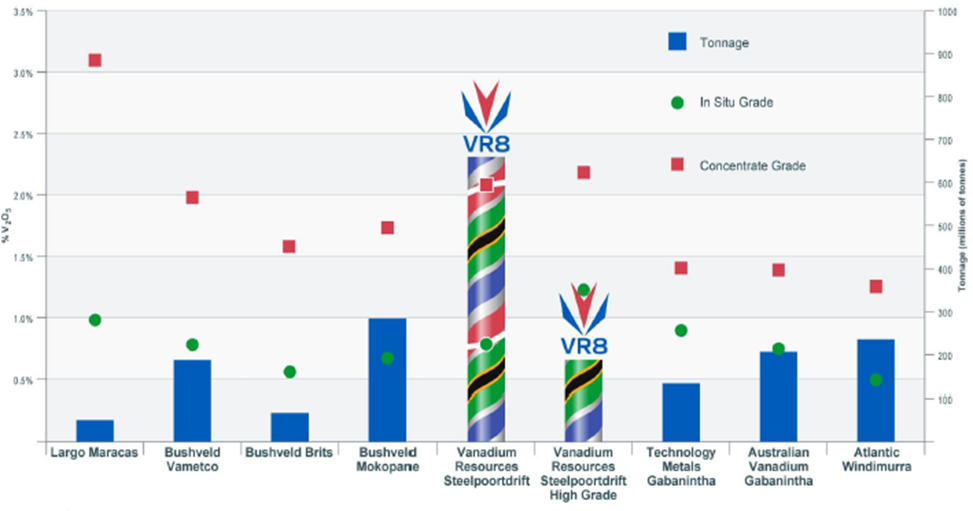 Comparison of resources and grade of VR8 and its peers (Image source: Company update, March 2021)
VR8 is led by an experienced team which has considerable experience in the mining industry. The project boasts a good infrastructure connectivity with rail, road and sea. The Company has already secured required permits from regulatory authorities and has granted Mining Right.
Bottom line
The consumption of vanadium is forecasted to grow in near to long term in steel, battery and chemical sectors. The cost of extraction of the metal from mining fields is lower than producing as a by-product as steel slag. As a small number of miners are engaged in the mining of vanadium currently, eyes are on VR8 as it positions to unlock one of the world's largest highest-grade vanadium projects.