Summary

Lake Resources has received strong interest for lower-cost project debt finance of its Kachi Lithium Project.
More than half a dozen major international banks with robust experience in financing projects have indicated their interest.
LKE remains suitably funded with AU$24 million in the bank and has standby equity capital of around AU$25 million available under the CPA with Acuity Capital.
Clean lithium producer Lake Resources N.L. (ASX:LKE) is looking to advance its flagship, Kachi Lithium Brine Project, as well as other projects. The strong market demand for high-purity lithium has been a compelling factor for LKE to accelerate the expansion of its lithium projects located in Argentina.
Moreover, LKE had expanded drilling and testing ahead of what was needed for the Definitive Feasibility Study (DFS) at its Kachi Project.
INTERESTING READ: Eye on resource upgrade, Lake Resources (ASX:LKE) ramps up drilling at Kachi
LKE advances debt funding options
In the latest development, LKE has advanced debt funding options for its flagship Kachi Lithium Project. More than half a dozen major global banks have shown preliminary interest to take part in ECA-led project debt finance. This, however, remains subject to Export Credit Agency (ECA) support.
The favourable financing environment comes at a time when their EV makers are placing more focus on supply-chain sustainability, instructed by the European Union regulations, and the need for high-quality, battery-grade product.
Source: LKE Announcement 01/06/2021
PROJECT UPDATE: Lake Resources (ASX:LKE) Getting Boots on the Ground Across Project Portfolio
Financial advisers identify multiple sourcing opportunities
Previously, LKE had appointed SD Capital Advisory Limited (SDC) and GKB Ventures (GKB) Limited for arranging project finance, with an emphasis on ECAs, in early March 2021.
Both SDC and GKB have been actively working with LKE as well as the technical advisers at Hatch. Moreover, an in-depth analysis of Kachi's PreFeasibility Study (PFS) had been executed while finding financing opportunities.
With a view to develop the project for permitting as per global standards, Knight Piesold, an environmental study consultant, is undertaking the environmental and social impact study (EISA).
The preliminary results indicate the possibility for a substantially lower-cost capital to be employed at the Kachi project primarily due to longer-dated, lower-cost ECA-led debt.
Moreover, the targeted scale of funding support shall be around 70% of the overall financing needed.
Moreover, the time between 5 to 8 years has been suggested as the 'sweet spot' for ECA debt repayments after construction and build-out, inferring an overall debt finance duration of up to 10 years.
Moreover, identification of numerous sourcing opportunities has been made, where minimum export content limits can be met, making the Kachi project qualified for the ECA support.
The financial advisers suggest that the Kachi project is technically and commercially attractive and provides for the UN Sustainable Development Goals. Moreover, the project also indicated the potential for a production expansion, subject to a proposed resource upgrade and the conclusion of additional studies.
DID YOU READ: How Lake Resources (ASX:LKE) Is Cementing Its Position As A High-purity Lithium Producer
David Buckle of SD Capital and Gabriel Buck of GKB Ventures have jointly stated that the progress being made and the early positive response from the project finance banks offer great encouragement.
LKE suitably poised amid key prospects
In the coming months, the Company looks forward to declaring the potential size and duration of the debt funding once Export Credit Agencies express their interest potential.
Significantly, with AU$24 million cash in the bank as on 31 March 2021, LKE remains suitably financed through to the final investment decision (FID) on construction finance for Kachi, expected in mid-2022.
GOOD READ: How Lake Resources plans to cash in on strong lithium demand amid EV boom
Another upside for LKE was the demand-supply gap because of a lack of supply of battery-quality lithium, which was indicated through feedback from the latest Benchmark Mineral Intelligence "EV Fest".
Besides this, there is also the need for a sustainably made product, as EV makers face the possible financial penalties in Europe relating to the minimisation of their carbon footprint and meeting the EU import regulations. LKE's low-impurity lithium product causes less environmental impact with a low-CO2 footprint along with less water and land use.

Freshly assembled lithium-ion battery coin half-cell with LKE's lithium product (Source: LKE Announcement 03/05/2021)
In the meantime, Acuity Capital has offered additional support to LKE and agreed to extend the size of its Controlled Placement Agreement (CPA) to AU$30 million. This is expected to better indicate LKE's greater market capitalisation since the CPA was initially formed in July 2018.
As LKE has used the CPA to raise a total of AU$4,775,000, there remains a standby equity capital of around AU$25 million available under the CPA, which shall last till 31 January 2023.
Notably, LKE is not needed to consume the CPA, and the expansion of the CPA limit comes at no extra cost, with no further security required for the same.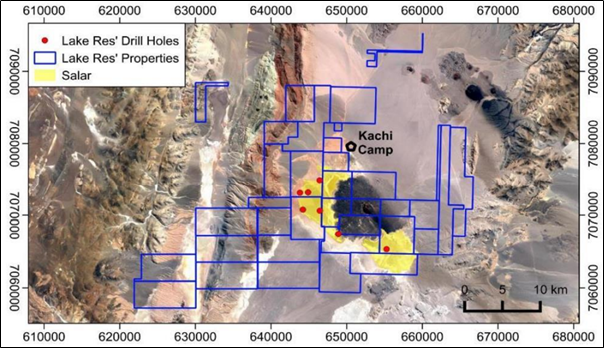 Location of Lake's Kachi Project drill holes and leases (Source: LKE Announcement 19/05/2021)
INTERESTING READ: Is Lake Resources (ASX:LKE) in prime position to become a High-Purity Lithium supplier?
The financing progress comes after a new drill testing program at Kachi, through which LKE aims to facilitate an expansion of upcoming production. Recently, LKE had upgraded the estimated NPV to US$1.6 billion for Kachi on the basis of 25,500 tpa production and estimated higher lithium prices as the Company shifts to improve its reserve base across its project portfolio.
LKE stock closed at AU$0.270 on 4 June 2021.