Summary

IOUpay has secured several key partnerships for large-scale merchant and customer acquisitions.
During the March quarter, the Company undertook soft launch of its Merchant App and Consumer App Services.
IOU strengthened its executive team to aid key competencies and identified growth initiatives.
The digital payments provider raised AU$50 million in a placement.
IOU remains well positioned to achieve its key June Quarter 2021 Roadmap deliverables.
IOUpay Limited (ASX:IOU) has been aggressively expediting its activities and enhancing its offerings to establish itself as one of the leading digital transaction processors in the booming cashless economies of South East Asia.
During the quarter ended 31 March 2021, the Company marked substantial progress with securing key partnerships, customer onboarding, vital new appointments as well as capital raising to remain in a financially sound position.
INTERESTING READ: Will IOUpay (ASX:IOU) Seize Opportunities in SEA's Booming Cashless Economies?
IOU Secures Key Partnerships
Throughout the March quarter and subsequent to the period, IOU has shown strong determination towards securing a number of strategically targeted, high-quality and large merchant networks to lay the preliminary distribution platform for its new BNPL service offering to customers.
IOU believes that it is distinctively poised to draw benefits amid a lingering supply­-side shortage of consumer credit and extensive acceptance of cashless digital payments by way of e-wallets and debit cards.
Its plans for fast-tracked market penetration are primarily centred on a merchant-centric approach to large-scale customer acquisition.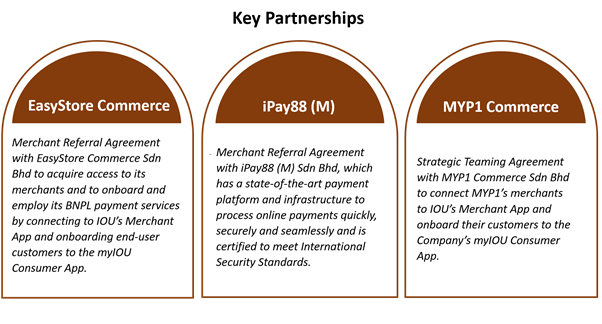 Source: IOU update, 30 April 2021
The first large-scale networks offer IOU access to a total merchant pool of 85,000 across three non-competing networks that comprise 5,000 e-commerce merchants of EasyStore, 15,000 in-store merchants of MYP1 and 65,000 merchants of iPay88.
DID YOU READ: IOUpay teams up with MYP1 to expand BNPL footprint
Soft Launch Activities and IOU's Marketing Plan
IOU's soft launch activities that were rolled out in February and March involved managing live transactions in a controlled environment to fulfil various attributes of its BNPL platform and service offerings. IOU launched its Merchant App Services and its myIOU Consumer App services during the quarter.
This soft launch period is due to end in May, and a comprehensive digital marketing plan is proposed to begin in June to build the IOU brand and product awareness as well as push additional online merchant and customer procurement.
Key Appointments Strengthening Executive Team
In line with the company's plan to expand and improve its key competencies, IOU strengthened its management team and identified growth opportunities. The Company appointed Eddie Lee as Chief Commercial Officer (CCO) and Calvin Yeap as Chief Marketing Officer (CMO). Both senior executive appointments bring along depth of experience and expertise to IOU.
DETAILED DISCUSSION AT: IOUpay (ASX:IOU) bolsters its leadership team to expand BNPL offering
Capital Raising and Financial Position
IOU successfully raised AU$50 million through a placement unveiled in February 2021. The proceeds are planned to be used for funding existing operations, comprising digital payments and BNPL inventories, new BNPL product development, as well as expansion of IOU's Malaysian operations and into additional SEA territories.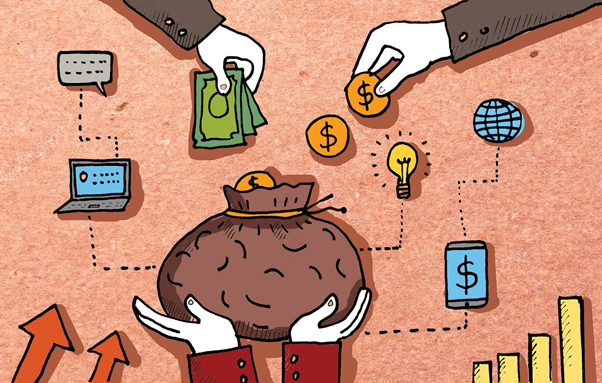 Copyright © 2021 Kalkine Media Pty Ltd.
MORE ABOUT PLACEMENT: IOUpay Limited's (ASX:IOU) Largest Single Raise of $50M to Fire Up Expansion Plans
During the quarter, receipts from customers remained strong and stood at AU$1,949,000.
The tightening of Malaysian Government Movement Control Order (MCO) conditions along with continuous travel restrictions has driven an increase in the number of people working from home. This has led to a boost in mobile banking and online purchasing and payments, further elevating the transaction levels in IOU's Mobile Banking division.
IOU experienced an average monthly growth of 33% in total transaction levels for the quarter that stood at around 72 million.
Overall, the Company's cash and call deposits at the quarter-end stood at AU$54.61 million.
IOU In Good Shape For June Quarter
IOU remains on track for substantial progress on recognised vital partnership prospects to expand its merchant network, opening access to large-scale customer acquisition and offering simple, innovative BNPL payment solutions to businesses and consumers.
IOU is well-positioned to achieve its key roadmap deliverables for June Quarter 2021.
Source: IOU update, 30 April 2021
IMPORTANT UPDATE: IOUpay continues to spread its BNPL wings across South East Asia
Overall, IOU remains focused on strategic, premium brand high-quality prospects to benefit from its first-mover advantage in the SEA region with quality at the forefront of all activities.
IOU stock was trading at AU$0.395 on 5 May 2021 (AEST 12:40 PM), with a market capitalisation of AU$206.77 million.