Highlights

IOUpay recorded solid growth across key performance metrics for the December quarter, indicating stronger-than-anticipated margins across a range of industry sectors.
The Company added new merchants to almost every industry vertical category.
IOUpay reported positive adjusted net operating cashflow for the first time since the rollout of myIOU.
The Company ended the quarter with more than AU$15 million in cash and call deposits.
IOU remains optimistic for further growth with easing restrictions and reopening of the economy.
IOUpay Limited (ASX:IOU) has tabled a robust set of results for the three months ended 31 December 2021. The results, which build upon the Company's robust offerings and 'best-in-class' brand positioning in South East Asia, boast strong uptake of its BNPL service offering amid continued growth in consumer and merchant base.
What's more, the Company recorded positive adjusted net operating cashflow for the first time since the launch of its flagship BNPL product, myIOU. The Company ended the period on a firm financial footing with AU$15,384,000 in cash and call deposits.
Let us look at the Company's performance over the December 2021 quarter.
RELATED ARTICLE: IOUpay jumps 18% on ministerial consent to acquire Sibu Kurnia Marine
Strong growth across key metrics
Backed by strong uptake of myIOU, IOU recorded a total transaction value (TTV) of AU$6.08 million, delivering AU$611,048 in net transaction revenues (NTR), for the reported period. NTR grew 23% on the previous quarter despite a minor reduction in TTV. Meanwhile, myIOU Income Margin reached 10%.
Impressively, IOU registered its maiden positive quarterly effective operating cashflow since the launch of its BNPL product. The Company posted a positive net inflow of AU$1.20 million for the quarter (after adjusting for BNPL merchant payments) compared to an effective net outflow of AU$2.1 million reported last quarter.
Receipts from customers increased to AU$6,087,000, reflecting growing instalment receipts from BNPL transactions.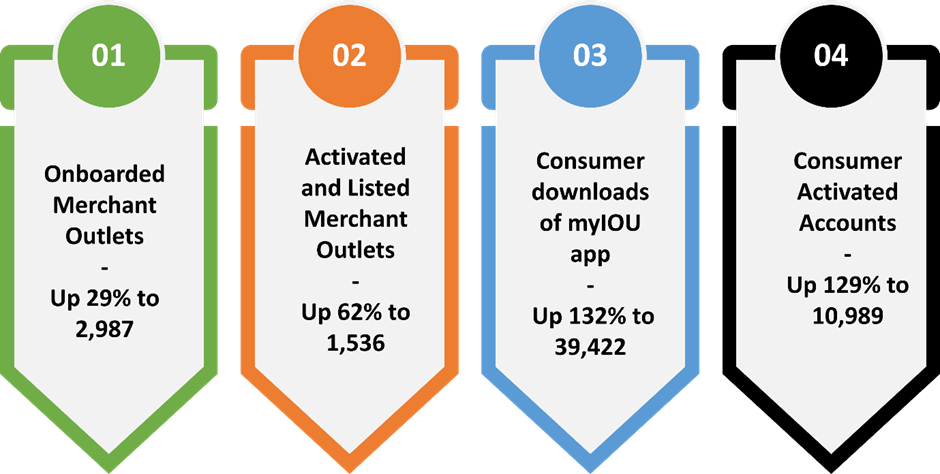 Growth in Consumer and Merchant base (Date Source: IOU quarterly update)
RELATED ARTICLE: Why BNPL player IOUpay can expect a bright 2022
IOU attributes its growth to the easing of COVID-19 restrictions, as well as the Company's digital marketing strategy and other promotional campaigns.
IOUpay brings onboard well-known brands
With the opening of the Malaysian economy, IOU is gaining pace with merchant acquisitions across industry verticals and into regional Malaysia. This is further driving a significant growth trend in onboarding and activation of consumers.
IOU has added new merchants to almost every industry vertical category, including Electronics & Gadgets (93 merchants with 282 outlets); Automotive (43/102); Beauty & Wellness (29/100); and Home Living (42/141).
IOU has added some well-known brands like Jurlique, Lego, Dell, and Lenovo as merchants via Malaysian distributors.
Full implementation phase of RMS partnership
IOUpay's partnership with Razer Merchant Services (RMS) has moved into full implementation phase. This phase is aimed at sending batches of merchants for review and acceptance by IOUpay.
In the latest development, IOU has concluded its review of the preliminary batch and approved over 140 merchants for onboarding by RMS.
ALSO READ: IOUpay in sweet spot: Terrific 2021 paves way for brighter days ahead
IDSB transaction
IOUpay, in September 2021, declared its decision to snap up a 42% stake in Malaysian finance firm IDSB.
In the December quarter, the Company satisfied all conditions precedent to finalisation of the first tranche of the investment in IDSB. This paved the way for the settlement of the first tranche payment (worth AU$21.1 million), representing 50% of the purchase price from current cash holdings.
On the basis of unaudited FY21 management accounts, IOU anticipates an adjustment to the Purchase Price and a reduction in the amount of the second tranche payment, which will be determined upon receipt of IDSB's audited statutory accounts.
The decision for financing the payment will be taken closer to the due date, wherein IOU will also assess its cash position and the market.
IOU and IDSB have been working closely for defining reporting protocols, developing operational interaction and building inter-company staff working relationships. Besides this, the two parties are planning a pilot programme for marketing myIOU BNPL services into the high credit quality, civil servant customer base of IDSB.
myIOU 2.0 launch and improved infrastructure for Mobile Banking Division
During the quarter, IOU's Mobile Banking division generated 77,593,345 transactions, down from a record 85,385,966 in the preceding quarter. This was a result of IOU's temporary system down time as it upgraded and shifted to a new data centre with greater capacity infrastructure capabilities.
With improvement in its infrastructure, the Company is well positioned to accommodate anticipated further growth in transaction volumes as its Mobile Banking Division continues to perform.
Moreover, IOU expects to launch its myIOU 2.0 in the third quarter of FY22 as production work remains on schedule.
RELATED ARTICLE: Here's the latest update on IOUpay's investment in Malaysian finance business
Optimism surrounding growth
IOU has witnessed significant growth and gained momentum into 2022 with the deployment of its regional commercial development plan.
The Company anticipates further streamlining of the merchant and consumer experience with the release of myIOU 2.0 in Q3 FY22. There are plans to implement a comprehensive marketing and advertising campaign to drive optimal growth and generate value.
ALSO READ: Strong uptake of BNPL offering accelerates IOUpay (ASX:IOU) growth in first half of Q4
IOU shares were trading at AU$0.215 in the early hours of 1 February 2022.