Source: wutzkohphoto, Shutterstock
Summary

IOUpay Limited is an emerging fintech and digital payments company that is pursuing BNPL opportunities in the SEA market.
IOU has appointed two highly experienced senior executives to support its plans for business expansion across the SEA region.
Continuing its tireless endeavours to crank up business expansion, IOUpay Limited (ASX:IOU) has announced the appointment of two senior executives to its leadership team. IOU has appointed Eddie Lee as the Chief Commercial Officer (CCO) and Calvin Yeap as the Chief Marketing Officer (CMO), who bring in depth and experience to the Company.
IOUpay is focused on accelerating its market position as a leading operator in the digital payments and BNPL sectors in the South East Asian (SEA) region.
So far, the Company has been ticking all the right boxes, including necessary approvals from various authorities, raising equity, new partnerships with leading space players, and making valuable appointments to the leadership team. The emerging BNPL space player has developed a 3600 approach towards the overall development of the Company.
INTERESTING READ: IOUpay Limited's (ASX:IOU) Largest Single Raise of $50M to Fire Up Expansion Plans
Eddie Lee Appointed as the CCO
The two-decade-long experience of Eddie Lee comprises his roles in business development, country management, as well as company leadership in the online payments, online data management and advertising industries for privately and publicly held companies.
Mr Lee has an established trajectory of territory extension and successfully generating revenues by developing large, big brand corporate relationships as well as merchant distribution channels. Taking into account his vast experience, IOU has assigned Mr Lee to look after the commercial development for the business across the SEA region.
Mr Lee's earlier roles include the following: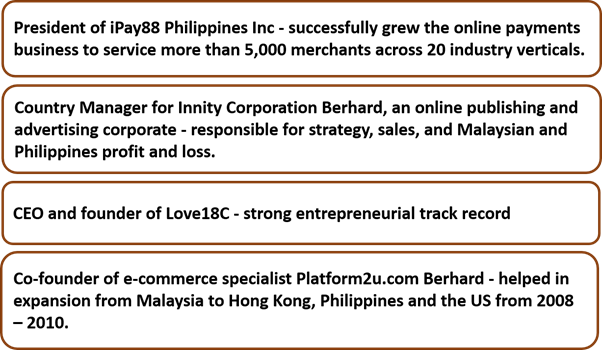 Copyright © 2021 Kalkine Media Pty Ltd. (Source: IOU ASX update 8 March 2020)
LATEST UPDATE: IOUpay Limited Deepens SEA Footprint, Scores BNPL Deal with iPay88
Calvin Yeap Appointed as the CMO
With around one and a half decade of experience, Calvin Yeap specialises in corporate communication, digital marketing, and stakeholder engagement to develop brands and revenue streams throughout the SEA.
With his appointment at IOU, Mr Yeap would move out of his current role as Head of the Community & Industry Partnership Team at Malaysia Digital Economy Corporation (MDEC) Sdn Bhd.
His previously held positions include:

Copyright © 2021 Kalkine Media Pty Ltd. (Source: IOU ASX update 8 March 2020)
PREVIOUS UPDATE: IOUpay (ASX:IOU) Ropes in EasyStore To Bolster BNPL Offering, Stock Soars 15%
Mr Leap successfully led iPay88 to be a household name in Malaysia and also launched it across several Asian countries. Additionally, he played a pivotal role in increasing the brand presence of NTT Data during his tenure across SEA from 2016 to 2020.
Mr Lee holds a Master of e-Business from the University of Southern Queensland (2004), and Mr Yeap holds a Bachelor of Science (Hons) in Computer Science from Coventry University, UK (2001). The employment of both Mr Lee and Mr Yeap is on an ongoing basis and is subject to termination by either IOUpay or themselves with three months prior written notice.
This announcement comes after the Company inked a Merchant Referral Agreement with a major online payments brand in Malaysia, iPay88.
IMPORTANT READ: IOUpay (ASX:IOU) in Catbird Seat to Cash In on Digital Payments Boom
STOCK PRICE - IOU quoted at $0.495 on 8 March 2021.