Highlights

IOUpay (ASX:IOU) has joined hands with a leading merchant commerce platform in India and Southeast Asia.
The integration teams at IOUpay Asia and Pine Labs have started work to determine a detailed work schedule under their agreement.
The integration is expected to deliver a single automated process for streamlining and accelerating the multi-merchant onboarding process.
IOUpay Limited (ASX:IOU) has been witnessing back to back key developments. After recently securing PCI compliance certification, the Company has now inked a Master Services Partner Agreement (MSPA) with Pine Payment Solutions Sdn Bhd or Pine Labs, a leading merchant commerce platform.
This agreement is anticipated to empower mutual merchant clients to provide IOU's flagship myIOU BNPL services to the consumer customers of the merchants.
Let us look at this latest development in detail.
RELATED ARTICLE: Key Milestone! IOUpay (ASX:IOU) secures PCI compliance certification
MSPA signed with Pine Labs
The MSPA is for a two-year term and due to expire in May 2024 but renewable on a year-to-year basis.
The agreement allows either party to avail services from each other. Under the arrangement, both parties will work together to empower each other's merchant clients to provide instalment payment plans to the merchants' consumer customers through the myIOU BNPL service on the Pine Labs merchant platform.
It is designed to leverage the business capabilities of both parties for mutual benefits. The MSPA remains operable across Malaysia and any other territories that the parties may agree on from time to time.
MUST READ: IOUpay (ASX:IOU) clocks 15% growth in mid-June quarter BNPL volumes
Rationale behind the MSPA
As per the MSPA, Pine Labs will take care of connecting the Pine Labs platform to myIOU and will be responsible for the following: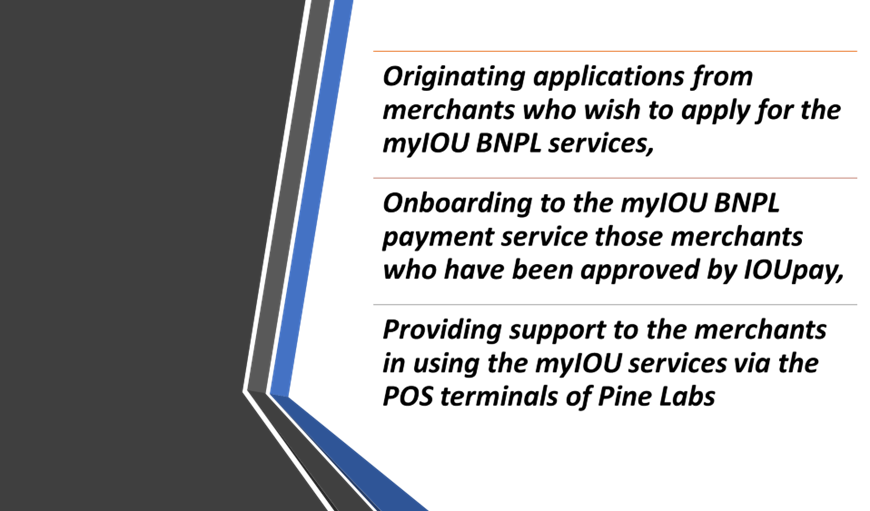 Data Source: IOU Announcement 06/06/2022 | Image Source: © Kalkine Media®
Subsequent to the completion of activation, Pine Labs will also be responsible for making sure that the myIOU logo and other branding materials are properly displayed at the respective merchants' locations and on their POS terminals.
DO READ: A look at factors painting rosy outlook for BNPL player IOUpay (ASX:IOU)
The integration teams at IOUpay Asia and Pine Labs have initiated work to assess a detailed work schedule under the MSPA. The Company expects to complete systems integration work and testing during the September quarter, Q1 FY23.
ALSO READ: IOUpay (ASX:IOU) records strong Q3 with premium BNPL business
Enabling a streamlined multi-merchant onboarding process
Founded in India in 1998, Pine Labs Group serves reputable large, mid-sized and small merchants across India and Southeast Asia through its leading cloud-based software platform. The platform helps in providing a broad range of payment acceptance and merchant commerce solutions.
Pine Labs established operations in Malaysia in 2018 and since then has grown to provide its payment processing services to many global brands as well as leading regional and local businesses operating around the country. The agreement will introduce IOU's BNPL services to Pine Labs' significant merchant and consumer ecosystem.
Moreover, the MSPA involves integrating the myIOU and Pine Labs platforms, which will enable all approved merchants to directly connect to and access the BNPL payment offerings of IOU in a single automated process. This will deliver a streamlined and expedited multi-merchant onboarding process.
RELATED READ: Recapping IOUpay's (ASX:IOU) strong performance ahead of March quarter report
IOU shares were trading at AU$0.059 midday on 08 June 2022.