Summary

Invictus Energy Limited is the 80% owner and operator of the Cabora Bassa Project in Zimbabwe.
The Company achieved significant milestones recently - the seismic acquisition contractor and the drilling project manager were finalised, recruitment for the seismic campaign has begun, Special Grant 4571 tenure was extended till 2024.
The exploration program is progressing well, with the seismic acquisition campaign to officially commence and preparations for the drilling campaign advancing well
Invictus Energy Limited (ASX:IVZ) is an oil and gas explorer. The Company is currently focused on high-impact energy resources located in sub-Saharan Africa. It is developing its 80%-owned and operated Cabora Bassa Project in Zimbabwe.
Invictus' asset portfolio comprises a highly prospective 250,000-acre land within the Cabora Bassa Basin. Notably, Special Grant 4571 contains the world-class multi-TCF Mzarabani and Msasa conventional gas-condensate prospects.
INTERESTING READ: Invictus Energy puts up a stellar show in half-year report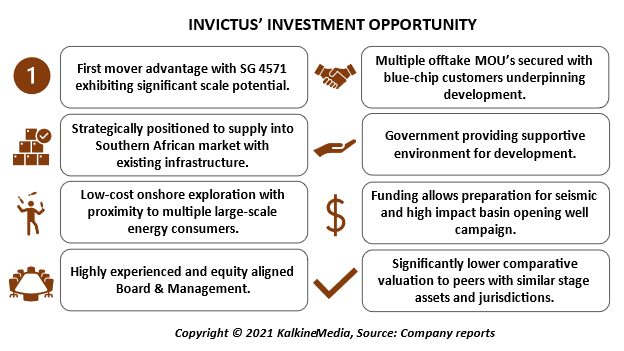 The Company is executing a high-impact work program via the acquisition of infill 2D seismic data ahead of a basin-opening drilling campaign. Let's understand how developments are fostering in this regard-
Recent accomplishments
For the quarter ending March 2021, Invictus witnessed a strongly supported capital raise, which has put the Company in an excellent position to proceed with the upcoming seismic acquisition program. The execution of the Petroleum Exploration Development and Production Agreement (PEPDA) with the Republic of Zimbabwe, on the other hand, puts in place the necessary framework to rapidly develop the Cabora Bassa Project.
More recently, Invictus awarded a seismic acquisition contract to Polaris Natural Resources Inc. Barry Meikle joined the team as Seismic Project Manager. Polaris has now been granted work permits for their expatriate staff. They have begun mobilising personnel to Zimbabwe to commence the 2D seismic campaign.
GOOD READ: How Mangwana Opportunities Fund can expedite Invictus Energy's growth
Meanwhile, Invictus has commenced assisting Polaris with the recruitment of up to 100 local employees who will be involved in the seismic campaign, the majority of which may come from local communities.
Aztech Well Construction has been appointed as Drilling Project Manager for the upcoming basin-opening drilling program.
Besides, Special Grant 4571 was notified of the publishing in the official Zimbabwean Government Gazette of the extension of tenure for a three-year period to 17 June 2024.
MUST READ: This is why Invictus Energy stock is riding high today
SG4571 Licence Area Prospective Resource Estimate Summary, Source: Company's presentation, Jul 2020
Way forward
Invictus' seismic acquisition campaign is about to officially commence. The Company has received strong interest from multiple drilling rig contractors in the region.
GOOD READ: Polaris to support Invictus Energy's first 2D seismic program at Cabora Bassa
The Company plans to perform, process, and understand a minimum of 400 line kms of 2D seismic to enhance the Muzarabani-1 drilling site and well path. It will also look at additional prospectivity for the forthcoming drilling campaign. Notably, the proposed seismic survey will be conducted with a minimal environmental footprint, using existing roads and tracks where possible.
DON'T MISS: What's in store for Invictus Energy?
On 7 July 2021, IVZ quoted AU$0.18, with a market capitalisation of AU$114.09 million.