Highlights

Beam Communications' CEO snaps up shares in his own company.
The move comes after the tech company posted record FY21 results and a very bullish outlook.
One reason for the positive outlook is accelerating sales of ZOLEO devices in North America and Australia.
Beam is enjoying significant upside from growth in recurring revenues as subscriber base grows.
The Chief Executive Officer of Beam Communications Holdings Ltd (ASX:BCC), Michael Capocchi, has bought around AU$40,000 worth of shares in his own company following Beam's record FY21 results and bullish outlook.
Mr Capocchi bought 160,202 shares in Beam on-market at an average price of 24.5 cents – taking the total number of shares he owns to over 2.8 million.
Perhaps the purchase comes as no surprise, given that the company shares are trading at a lower multiple as compared to its peers.
Read More: Beam Communications (ASX:BCC) trading at 1X sales, is it a misunderstood stock?
The Company has been riding high throughout the financial year 2021, clocking an all-time high revenue and significant operational advancement. Despite the global pandemic-induced challenges, BCC is successfully transitioning into a faster growing technology group with a significant recurring revenue business.
Currently, Beam is the only ASX-listed developer of mobile satellite equipment. The Company is a world leader in developing multi-band (satellite, mobile, Wi-Fi) portable devices and services for smartphones.
It has long-standing partnerships with Telstra Corporation Limited (ASX:TLS), KDDI Corporation, Inmarsat, Thuraya, Iridium Communications Inc (NASDAQ: IRDM), and other global industry leaders.
Dynamics of Beam's robust financial performance in FY21
FY21 saw the beginning of Beam's transformation into a business well-appointed to generate whopping recurring subscription revenues.
Record Revenue in FY21 – Group revenue including other income shot up 16% to an all-time high of AU$19.5 million. Trading revenue soared 24% to AU$18.5 million in the 12-month period to 30 June 2021, largely driven by the success of ZOLEO.
ZOLEO Inc. registered a six-fold increase in revenue to AU$13.5 million. It is a 50/50 joint venture business between Beam and Canadian company Roadpost Inc.
Image source: BCC Presentation, May 2021
Related Read: Beam Communications (ASX:BCC) bags new orders for ZOLEO ahead of its launch in Europe
Moreover, SatPhone Shop, Beam's wholly owned subsidiary and Telstra's largest satellite equipment provider, posted a 27.5% jump in sales.
The other major factor contributing to Beam's financial performance was the brilliant success of Iridium GO!. During FY21, The Company received an order for 5,000 Iridium GO! devices from Iridium Communications Inc (NASDAQ: IRDM), a long-standing partner of Beam.
Here, we have a rundown of Beam's strong performance for the year ended 30 June 2021.
Profit before tax (PBT) stood at AU$780,447, an increase of AU$2.3 million over the previous financial year.
As of 30 June 2021, Beam's cash holdings were AU$3.7 million (FY20: AU$874,000) and the Company had a further AU$1.7 million in available, but undrawn, debt facilities.
Beam recorded its seventh consecutive quarter of positive operating cash flow in Q4 FY21.
Know More: Beam Communications (ASX:BCC) clocks record revenue in FY21
Growing ZOLEO subscriber base
Beam's powerpack year and revenue success is an upshot of the exceptional business performance, particularly ZOLEO, a global seamless messaging solution designed and developed by Beam.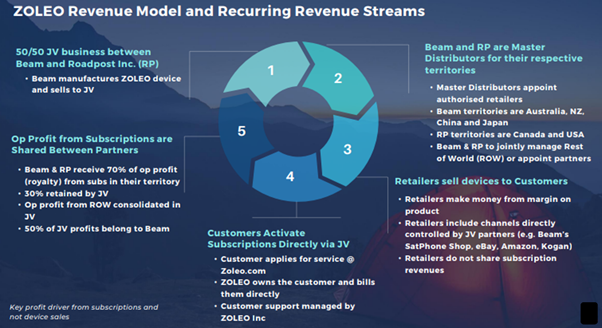 Image source: BCC Presentation, May 2021
More than 33,900 ZOLEO devices were invoiced in the year, which signifies more than fivefold increase on the previous comparable period. The spike was driven by the surge in demand for the global messaging solution in North America and Australia.
With significant increases in ZOLEO subscriber numbers, the Company expects to increase its profit margins due to strong operating leverage (economies of scale).
Currently, Beam collects 70% of gross margin from ZOLEO subscriptions in its territories, which include Australia, New Zealand, Japan and China. ZOLEO was also launched in New Zealand in early August.
Detailed Discussion at: Beam Communications (ASX:BCC) rolls out messaging device ZOLEO in NZ
Moreover, it is set to enter the United Kingdom and select European markets in early 2022. Beam and Roadpost Inc. will share equally the gross margins from subscriptions in the UK and Europe.
Bottom Line
The top-tier designer and manufacturer of satcom equipment is currently in a very robust financial position to fill the ongoing fiscal year with great developments and profitable growth.
Evidently, Beam expects to sustain the momentum in the coming 12 months and register exceptional performance again.
BCC stock traded at AU$0.250 on 17 September 2021.