Highlights

BlackEarth Minerals has progressed several developments recently in line with its graphite strategy.
BlackEarth and Metachem are set to jointly develop a new graphite processing facility in India.
The Company plans to complete a definitive feasibility study into its flagship Maniry graphite project in Southern Madagascar in early 2022.
The Company, with its high-grade Maniry project and forward plans, is positioned well to tap the growing market potential in Europe and Asia.
Australia-based critical commodity developer BlackEarth Minerals NL (ASX:BEM) is in high spirits with encouraging pilot test results, drilling progress at the Maniry graphite project and strategic deals being the prime drivers for its progress lately.
The Company's recent advancements are in line with its expandable graphite strategy, focused on low risk and capital expenditure entry into the downstream market.
RELATED ARTICLE: BlackEarth Minerals bags Port d'Ehoala access to export Maniry graphite product
Thanks to significant strides made by the Company, BlackEarth finds itself in a solid position to leverage the robust potential of the growing graphite market, expediting its pursuit to become a material, vertically integrated global graphite business.
With this backdrop, let us explore some of the key developments progressed by the Company.
Outstanding results from large-scale pilot plant
A large-scale pilot program was recently completed, confirming significantly high yields as well as coarse flake production results, in line with the previously achieved encouraging outcomes.
The Maniry large flake graphite concentrate has been confirmed by the pilot program to be highly suitable to feed the proposed expandable graphite production plant, which would be established with the Company's JV partner, Metachem.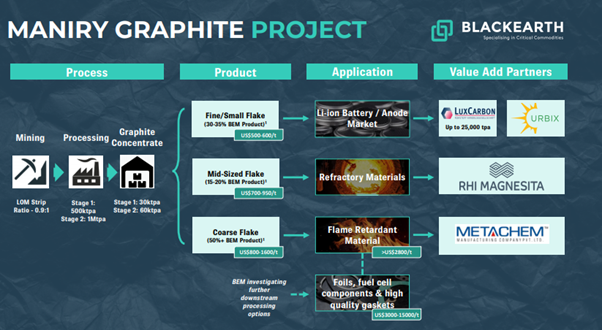 Image source: BEM Investor Presentation, July 2021
RELATED ARTICLE: Pilot program results confirm high yields for BlackEarth Minerals' (ASX:BEM) Maniry graphite project
Notably, the high fixed carbon results (averaging 95.87%) achieved during the pilot program demonstrate high suitability of the Maniry graphite concentrate to produce lithium-ion batteries and extensive application in electric vehicles.
RELATED ARTICLE: BlackEarth Minerals' June quarter marked by major agreements, headways at Maniry graphite project
Drilling progress at Maniry Graphite Project
In the June 2021 quarter, the Company kicked off a large drilling program at Southern Madagascar's high-grade Razafy NW area, churning out encouraging initial results. The 1,000-metre diamond drill program was aimed at improving the understanding of the Maniry graphite domain's scale and potential while also further delineating high-grade mineralisation.
Both current activities along with previous results highlight further high-grade resource potential close to the defined Razafy Resource, thereby enhancing the Maniry project's value.
ALSO READ: Which are the factors catalysing the growth of BlackEarth Minerals?
Strategic deals powering the graphite-focused journey
In the past couple of months, BlackEarth collaborated with several prominent graphite players to progress its expandable graphite strategy.
In June, a Memorandum of Understanding (MoU) was signed with Metachem, which is one of the pioneers of expandable graphite and has an exemplary reputation with tier 1 global buyers. Under the agreement, the partners would be developing a new graphite processing facility in India to meet demand for this downstream processed material from Europe-based groups.
RELATED ARTICLE: How far has BlackEarth Minerals (ASX:BEM) progressed on its expandable graphite strategy?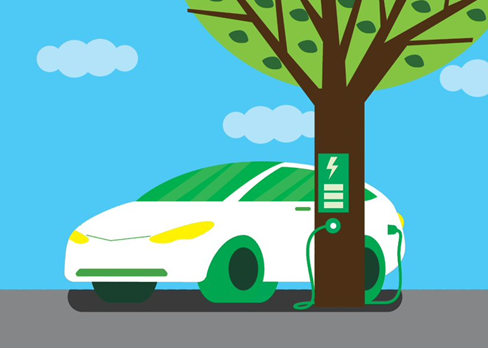 Source: Copyright © 2021 Kalkine Media
Meanwhile, LuxCarbon, which is the sales and marketing partner for BlackEarth in Europe, would assist the Company with product sales to Tier 1 European buyers. In what comes as a significant step forward to drive expandable plant development, BlackEarth in June 2021 inked an offtake and sales agreement with Austrian company Grafitbergbau Kaisersberg GmbH.
The agreement, facilitated by LuxCarbon, is for the sale of up to 2,500 tonnes per annum of expandable graphite from the new processing plant.
The agreement also serves as the foundation for BlackEarth's commercial-scale graphite concentrate plant in Madagascar.
BlackEarth is undertaking various initiatives aimed at expediting production at its processing facility. Meanwhile, it is also committed to enhancing the value of its high-grade Maniry project, which is planned to feed into the proposed expandable graphite plant.
The recent developments seem to put BlackEarth in a dominant spot to leverage the strong demand outlook for expandable graphite with an impending global shortage in raw material (coarse flake) supply.