Highlights

Imugene Limited (ASX:IMU) has received ethics approval to start the Phase I clinical trial of VAXINIA in the US.
The first hospital to receive ethics approval in the US is City of Hope®, located near Los Angeles.
The Company expects the Phase I clinical study of VAXINIA to run for 24 months.
Shares of Imugene Limited (ASX:IMU) rallied by over 11.5% to A$0.29 (as of 2:00 PM AEDT) following a significant update on the Company's oncolytic virotherapy candidate, VAXINIA. Imugene has achieved a new milestone, receiving Western Institutional Review Board (WIRB) approval to start a Phase I clinical trial of VAXINIA (CF33-hNIS, HOV2) in patients with multiple solid tumours.
Good Read: Imugene (ASX:IMU) targeting treatment of solid tumours via onCARlytics
The clinical trial is titled as:
Ethics approval received
City of Hope® is the first hospital in the US to receive ethics approval to start Phase I clinical trial of VAXINIA. Located near Los Angeles, City of Hope is a world-renowned independent cancer research and treatment center. Imugene informed that additional clinical sites will be opened across the US this year.
Dr Daneng Li, MD, is the Principal Investigator leading the clinical trial at City of Hope. He is an assistant professor in the Department of Medical Oncology & Therapeutics Research at City of Hope, specialising in the treatment of gastrointestinal cancers. Currently, Dr Li leads the liver tumours program and serves as the co-director of the Neuroendocrine Tumour Program at City of Hope.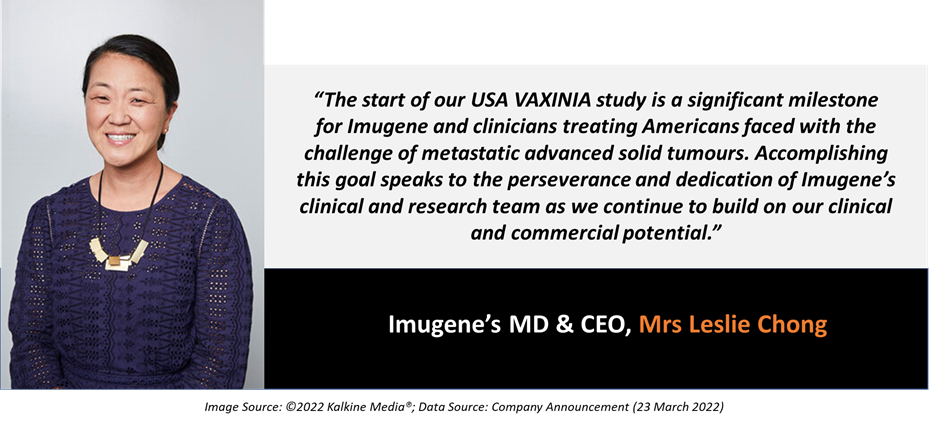 The US component of the Phase I trial will be conducted under the FDA (Food and Drug Administration) investigational new drug (IND) process following FDA IND clearance in December 2021.
Read More at Imugene marks a new breakthrough, secures FDA IND approvals for HER-Vaxx & VAXINIA
As per Imugene, site activation and patient recruitment will now proceed immediately. The Company expects the clinical trial to run for 24 months and will fund the trial from existing budgets and resources.
About Phase I trial of VAXINIA
The clinical trial is an open-label, multi-centre, dose-escalation Phase I study assessing the safety of VAXINIA administered via two routes of administration - intravenous (IV) or intratumoural (IT) - either as a monotherapy or in combination with pembrolizumab administered intravenously in patients with advanced or metastatic solid tumours.
The clinical trial will involve a dose escalation before the study expands to up to 10 patients at the final monotherapy & combination dose. VAXINIA is a chimeric vaccinia poxvirus from the lab of CF33 inventor Professor Yuman Fong. Dr Fong is the Chair of Sangiacomo Family Chair in Surgical Oncology at City of Hope and a noted expert in the oncolytic virus field.
Following the outstanding work of the City of Hope team and Professor Yuman Fong and the positive pre-clinical results, Imugene is eager to unlock the potential of VAXINIA and the broader oncolytic virotherapy platform.