Summary

Imugene Limited (ASX:IMU) has completed strongly supported AU$90 million Placement activity and launched AU$5 million Share Purchase Plan.
The Company will use the capital raised to fund its clinical trial pipeline through to the end of 2025.
The Company will become well-capitalised post transaction with a pro forma funding position of AU$202.3 million.
Imugene Limited (ASX:IMU), the Australia-based immuno-oncology player, has recently announced a wider funding exercise to raise up to AU$95 million. The equity raising comprises a Placement of AU$90 million and a subsequent Share Purchase Plan (SPP) of AU$5 million.
Must Read: Here's how Imugene Limited (ASX:IMU) performed in June 2021 quarter
Imugene has received firm commitments from sophisticated and institutional investors for the Placement activity. Besides, the Placement received exceptional support from multiple specialist biotech institutional investors who cornerstoned the equity raising.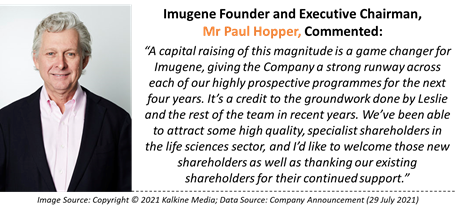 Key details of Placement and SPP
As per the terms of the Placement, Imugene has secured firm commitments and proposes to issue 300 million new fully paid ordinary shares at a price of AU$0.30 per share to Placement subscribers.
Moreover, the Company will offer an SPP to existing eligible shareholders at a price of AU$0.30 per share. The SPP will be capped at AU$5 million, being 16.6 million New Shares and 8.3 million New Options.
The issue price for Placement and SPP represents a discount of 9.1 per cent to the last close on 26 July 2021, and a discount of 10 per cent to the 5-day VWAP (Volume-weighted average price) up to, and including, 26 July 2021.

Under the Placement and SPP, participants will receive one free attaching New Option for every two shares subscribed for under the offer. The New Options will expire on 31 August 2024 and will have an exercise price of AU$0.45.
The SPP also gives the opportunity to Eligible Shareholders to boost their shareholding in the Company without paying brokerage fees or any other transaction costs, regardless of their holding size. Eligible Shareholders can purchase New Shares worth up to AU$15,000 at $0.30 per Share.
Also Read: Imugene Limited rapidly advancing the development of B-cell immunotherapies and oncolytic virus
Purpose of equity raising
Imugene will use the capital raised through Placement and SPP to fund clinical trials for HER-Vaxx, CHECKvacc, Vaxinia, PD-1-Vaxx, and OnCARlyticsTM, along with associated manufacturing, regulatory and working capital costs.
Besides, the capital raised provide an adequate cash runway for the Company's range of programmes through to the end of 2025. The partnering and licensing opportunities and Research & Development rebates are expected to extend this cash runway further.
As per Imugene, it will be well-capitalised with a pro forma funding position of AU$202.3 million post the capital raising transaction.

The Company's shares are trading at AU$0.300 as of 11:55 AM AEST.
Good Read: Success Story of Imugene Limited (ASX:IMU): Australia's Newest AUD 1 Billion Company