Source: optimarc, Shutterstock
Summary

GSM acquired an aeromagnetic dataset for enhanced geological interpretation and identifying new prospective targets.
GSM has concluded phase 1 and 2 of the aircore drilling program at Yule and plans to follow up targets in upcoming drilling programs.
Mining operations have commenced at the Cue project that may generate low-risk profits for GSM.
West Australian-based explorer Golden State Mining Limited (ASX:GSM) continues to march ahead with its current focus on the flagship Yule Project in the Mallina Basin. The Company continued the legacy of it's exciting progress during the first half of FY21 ended 31 December 2020.
Let's look at the key activities that GSM undertook during the six-month period.
Geophysical Data Acquisition and Reprocessing
Last year in September, GSM acquired a significant aeromagnetic dataset for Yule, pertaining to a 100m spaced aeromagnetic survey that was conducted by Fugro Airborne Surveys in 2006. The dataset delivers greater resolution that will aid the interpretation of additional structurally hosted gold targets, focusing on intrusive bodies.
Core Geophysics was engaged to compile and merge the newly acquired dataset with the existing open file dataset. The merged dataset will be critical for the enhanced geological interpretation.
The study focused on any structural environments that favoured the development of an intrusive style setting, together with the extension of mineralised structural corridors that were targeted during the phase 1 aircore drilling program at Yule Project.
Good Read: Gold and Lithium Hunt on the Cards in Golden State Mining's 6-Month Game Plan at Yule
Phase 1 Aircore Drilling Campaign at Yule South
The phase 1 wide spaced reconnaissance AC drilling campaign focused on five gold target zones and comprised 199 drillholes for a total advance of 13,275m.
Target 1 East– AC drilling tested the hinge zone of an interpreted Mallina Basin mafic-metasedimentary rock package and a prominent north-trending magnetic structure trending through the eastern part of this area. The one metre assay results includes –
20GSYSAC0002 - 4m @ 2.3g/t from 99m including 1m @ 7.6g/t fr. 99m
20GSYSAC0013 - 18 m @ 0.17g/t Au 104 metres
Target 1 East Location plan showing significant results from Phase 1 drilling
GSM has identified this area as the highest priority follow-up target and plans infill and extensional AC drilling along the folded intrusive contact. A deeper RC drilling campaign has been proposed to identify the extension of the phase 1 gold intercepts at depths.
Target 2A –Reconnaissance AC drilling on was completed on selective drill lines orientated to test prospective zones in the north and south of a >10 kilometre structural corridor 'squeezed' between nested and deformed granitoid complexes.
Multiple anomalous gold intercepts (including 4m @ 0.44 g/t Au from 106 metres) were recorded on the northern AC traverse in 4 metre composite samples including an unusually high gold anomaly recorded in the cover sequence (6m @ 0.1g/t from 18 metres).
The drilling program also delineated an 800m by 1,400m arsenic anomaly over the whole target area. Additional detailed studies indicated an interpreted complex alteration history of a mafic precursor rock type with localised quartz and vein development. Additionally, drill target vectoring and evaluation work will be conducted at the target.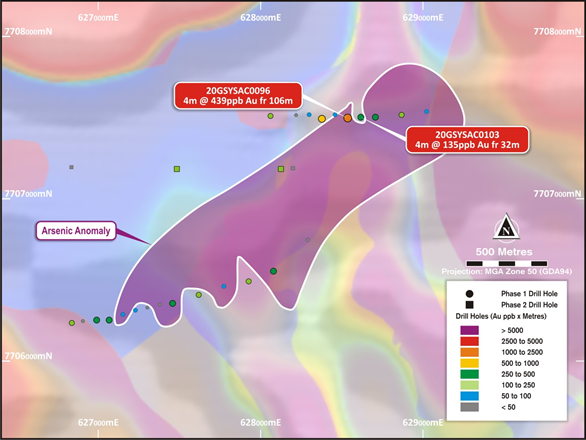 Target 2A Location plan showing significant gold results and arsenic anomaly from Phase 1 & 2 drilling
Target 3 –
Reconnaissance AC drilling tested an interpreted tightly folded greenstone/ultramafic sequence or intrusive target along a granite contact zone parallel to a regional NNE trending regional structure. No bedrock intersections were recorded at this target however, transported cover related +50ppb gold occurrences recorded from 6m composite samples in various cover horizons are considered worthy of follow analysis for potential paleochannel occurrences.
Target 4 –
Widespaced drilling tested potential greenstone sequences within Mallina Basin sediments, proximal to a secondary structure trending north-east of the Yule River Shear Zone.
The most significant >50ppb gold anomalies were hosted in weathered metasedimentary units including 4m with 0.13g/t gold from 28m.
Target 5 –Aircore drilling at this target tested the northern contact zone of an interpreted highly magnetic intrusive body within the Portree Granite Complex.
Assay results also revealed multiple elevated >10 ppb gold occurrences across the target area and several anomalous >0.1g/t gold intersections including a broad, anomalous zone of 19m @ 0.1g/t Au from 46m including 4m at 0.35g/t Au from 58m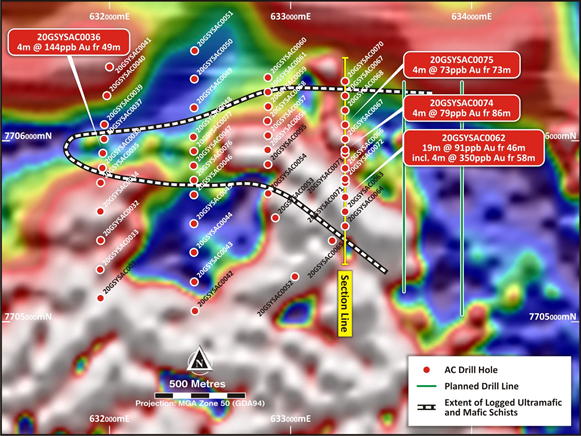 Target 5 Location plan showing significant results from Phase 1 drilling
The presence of widespread hydrothermal alteration including leucoxene and magnetite along with wide anomalous gold intercepts warrant follow up drilling at the target. The target is interpreted to be open to the east and the successive drilling campaign will focus on the corridor.
New Targets Delineated: The geological observations and the initial results led to the identification of two new prominent target corridors that have been planned to be tested in the upcoming months.
A 5km structural corridor was identified from the aeromagnetic data as per the drilling results at the Target 1. Another prospective area east of the Target 5 was interpreted. Both the targets will be drill tested in the upcoming months.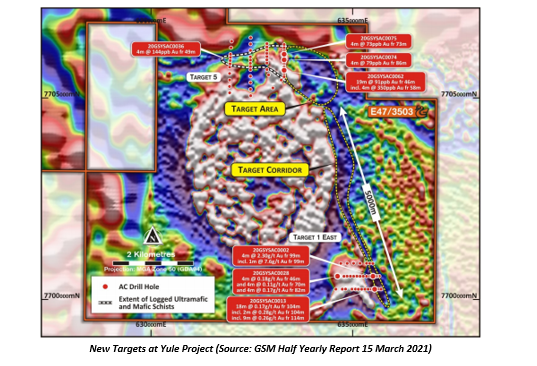 Yule Phase 2 Aircore Program
Completed ahead of the schedule, the second phase of aircore drilling program comprised 196 holes widespaced reconnaissance holesfor a total advance of 15,125m testing six target zones including:
2 target areas at Yule South
4 broad target areas at Yule North.
Yule South
Target 1 West
Aircore drilling tested an interpreted Hemi-style setting with subtle magnetic anomalies occurring along a structural trend.
The most significant gold intercepts occurred at Target 1 West with 4 composite sample intervals >0.1g/t including –
4m @ 0.11g/t Au from 109m
3m @ 0.10g/t Au from 113m
Target 1 West Location plan showing significant results from Phase 2 drilling
Yule North
Yule North Location plan showing significant results from Phase 2 drilling
Target 1 Quarry Well
Drilling tested a strongly deformed aeromagnetic target related to a granite contact zone along the southern edge of the Sholl Shear Zone ("SSZ"). The best gold intersection within the cover sequence was a six-metre interval with 63ppb gold from six metres in hole 20GSYSAC0002 within part gritty silcrete/rubbly calcrete horizons. geology consisted of a range of variably weathered ultramafic rock types with minor schist and chert units. Multiple bedrock elevated +10ppb gold intersections were reported from this target, two of which occurred in fresh rock at the EOH. The most notable occurred in a chert unit with a +50ppb interval recorded from thirty-four metres.
Quarry Well East
Drilling at this structural target was designed to test a dislocated zone within the SSZ. The most notable gold intersections intersected in the alluvial cover recording 6m @ 0.18g/t Au from six metres
Target 4
Three discrete traverses were drilled in this area testing various areas of a structurally complex zone of interpreted fracturing and folding with potential alteration and intrusive zones.
The southernmost traverse delivered the most encouraging results from a structural break in the SSZ. Several intercepts of elevated gold were recorded over this area with the most notable occurring over an 18 metre interval from six metres hosted within a gritty calcrete horizon. The best bedrock gold intersection recorded 1 metre @ 0.11g/t from 93 metres within a 20m interval of +30ppb elevated gold from 89 metres.
E47/4343 Tenement Granted at Yule - The exploration licence application was granted to the east of the current Yule North tenement. The newly granted tenement E47/4343 is an extension of the Boodarie Greenstone Belt. Four targets have been identified.
Must Read: Golden State Mining Eyes Stellar 2021 with High Potential Activities Planned at Yule
Battery Sands Mining at the Wholly Owned Cue Project
Mining activities commenced at Salisbury and Cue No.1 mines at the project during November 2020.
GSM has signed an agreement with Adaman Resources, entailing the purchase, mining, and processing of the remaining tailings (battery sands) at the historical Cue mining centre. Adaman is responsible for mining, transporting and processing of the battery sands at the Kirkalocka plant.
The profit from the operations will be equally shared between the two partners.
Shallow Mining Opportunities at Murchison Projects: GSM is undertaking an integrated review to evaluate the potential for shallow mining operations and potential drill targets which may support such opportunities at the project.
GSM is planning further activities at the Cuddingwarra tenements and will include the review of exploration data to identify drill targets.
Wholly Owned Four Mile Well Project
At the Four Mile Well Project, GSM is assessing drilling targets over historical geochemical anomalies and the granite-greenstone contacts. The previous geochemical sampling may be ineffective due to the depth of overlying cover or the absence of any geochemical signature from the target lithologies.
Also Read: Golden State Mining's (ASX:GSM) A$3.2M Placement to Fire Up 2021 Mallina Basin Exploration
GSM closed at $0.14 a share on 24 March 2021.