Summary

ImpediMed Limited (ASX:IPD) has posted an excellent set of results for Q4 FY21, setting records for total revenue and SOZO® revenue.
The Company ended the quarter with a revenue run rate of over AU$10 million and continues to drive double-digit growth despite COVID-19.
The upcoming publication of the PREVENT Trial will open up new opportunities for ImpediMed, believes MD and CEO, Richard Carreon.
Medical software technology company ImpediMed Limited (ASX:IPD) has delivered a record quarter (Q4 FY21) for the period ended 30 June 2021. ImpediMed measures, monitors and manages fluid status and tissue composition non-invasively using bioimpedance spectroscopy (BIS). The Company produces a family of FDA-cleared, and CE Marked medical devices, including SOZO®.
READ ABOUT SOZO® HERE: How is SOZO® paving the success path for ImpediMed (ASX:IPD)?
The Company set records for total revenue and SOZO® revenue, with a revenue run rate of more than AU$10 million. The double-digit growth has continued despite headwinds from COVID -19 and without any commercial insurance coverage policies for ImpediMed's lymphedema business.
Key highlights of Q4 FY21
Managing Director and CEO Richard Carreon attributes ImpediMed's another record quarter to continued innovation and effective execution.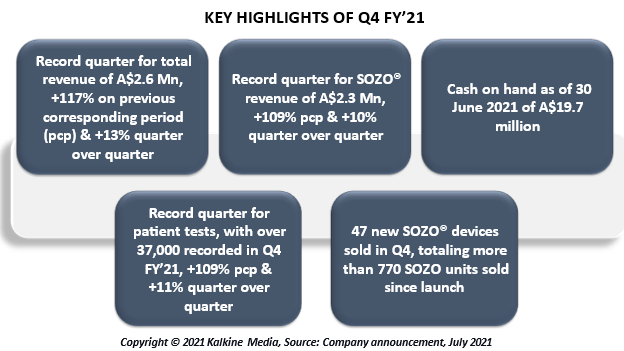 INTERESTING READ: Which organisations have recently acknowledged ImpediMed Limited?
SOZO® highlights
Q4 FY21 saw SOZO® SaaS revenue of AU$1.9 million, +111% pcp, and +6% quarter over quarter (AU$1.2 million from core business and AU$0.7 million from clinical business). The Annual Recurring Revenue (ARR) was AU$8.7 million, +67% pcp and +6% quarter over quarter (AU$6.1 million from core business and AU$2.6 million from clinical business).
The Contracted Revenue Pipeline of AU$14.5 million was +33% pcp and flat quarter over quarter. Total Contract Value (TCV) of over AU$12 million was signed in FY21.
DON'T MISS: ImpediMed Announces Software Update For SOZO®
With over 90%+ gross margins on SaaS revenue, the churn rate remained at an impressive low of merely 1%.
Copyright © 2021 Kalkine Media, Source: Company announcements
On the sales end, strong progress was made despite headwinds from COVID-19. For instance, an additional NCCN Member Institution was added as a SOZO® customer. ImpediMed also signed contracts with 10 of the top 100 US health systems/hospitals. The Company also expanded New South Wales Health to over 50 SOZO® devices.
ALSO READ: ImpediMed reports key milestones across oncology, heart failure & renal failure in 1H21
Key achievements
ImpediMed aims to achieve growth across its three major focus areas - oncology, heart failure, and renal failure, which represent an annual addressable market of over AU$2 billion.
In Q4, the company achieved significant milestones in all three areas:
Oncology
ImpediMed released a next-generation Version 4.0 software for the SOZO® Digital Health Platform.
The company signed first customers to Segmental Analysis licences.
Also, ImpediMed continued to advance private payor coverage/payment for L-Dex ® testing.
Heart Failure
The New Heart Failure data was accepted for two poster presentations at the HFSA Annual Scientific Meeting in September 2021.
US FDA 510(k) clearance for SOZO® was expanded to include a heart failure index (HF-DexTM).
The American College of Cardiology (ACC) abstract was published.
Renal Failure
ImpediMed continued the successful deployment of devices for the AstraZeneca trials, both in the US and internationally.
The Company continued to progress regulatory and commercial strategies.
GOOD READ: ImpediMed stock jumps on FDA nod for SOZO® heart failure index
Way forward
ImpediMed is awaiting the publication of the PREVENT Trial manuscript submitted in February 2021 (currently under peer review). This is the largest randomised trial ever to assess subclinical lymphoedema detection. The Company is confident that the outcome of the trial or its conclusions, will be positive based on the interim analysis of the PREVENT Trial data and the Meta-analysis. The manuscript is likely to be published in the next 90 days.
In Q1 FY22, ImpediMed aims to continue to advance private payor coverage/payment for L-Dex ® testing, prepare the submission to the NCCN Guidelines® and expand the engagement of key corporate accounts.
Besides, ImpediMed aims to boost commercial sales of heart failure and work with FDA to obtain clearance for removal of SOZO® contraindications for implantable pacing and cardioverter defibrillators devices.
At 2:25 PM AEST on 27 July 2021, IPD was trading at AU$0.100.