Summary

ImpediMed Limited's (ASX:IPD) HF-Dex™ abstract has been published online.
It was accepted for poster presentation at the prestigious American College of Cardiology's (ACC) 70th Virtual Annual Scientific Session, slated for 15-17 May 2021.
The data showed heart failure patients with a SOZO Hf-Dex level of over 51% at the time of hospital discharged are 4x more likely to be readmitted to a hospital within 45days.
Hospital readmissions is an enormous burden on the US healthcare system costing an estimated $A 31 billion annually with Heart Failure the leading cause of readmissions
The data is significant and demonstrates that established normative range data collected using SOZO® can be useful in risk-stratifying patients.
The stock of med-tech Company ImpediMed Limited (ASX:IPD) rose by over 8% on 4 May 2021 on trading volume of over 2.8 million shares. IPD closed at quoted AU$0.13 equating to a market capitalisation of AU$194 million.
ALSO READ: ImpediMed stock jumps on FDA nod for SOZO® heart failure index
Copyright © 2021 Kalkine Media Pty Ltd
The positive sentiment was seemingly built after bioimpedance spectroscopy (BIS) technology pioneer announced the publication of an HF-Dex™ abstract.
INTERESTING READ: Will ImpediMed's growing business continue in the same vein?
Publication Of HF-Dex™ Abstract
ImpediMed's HF-Dex™ abstract has been published online in the Journal of the American College of Cardiology Abstract Supplement.
The abstract was accepted for poster presentation at the ACC 70th Virtual Annual Scientific Session, scheduled to be held between 15-17 May 2021. The ACC annual meeting is a leading scientific session for the US cardiology field and has global reach.
RELATED READ: Impedimed's SOZO ® Heart Failure Abstract Accepted For Poster Presentation At ACC
Presenting data at the esteemed forum provides important validation to ImpediMed's technology, says Richard Carreon, Managing Director and the CEO. Notably, the Company's technology has the potential to integrate with current patient care pathways to reduce hospital re-admissions.
"The data from this abstract is significant and demonstrates that the established normative range data gathered by using SOZO can be very useful in risk-stratifying patients," he adds.
ALSO READ: A feather in ImpediMed's SOZO® cap: Clinical utility manuscript published
Significant Findings
The recently published paper, Clinical Utility of Fluid Volume Assessment in Heart Failure Patients Using Bioimpedance Spectroscopy, has established the potential clinical utility when a heart failure patient's HF-DexTM level exceeded 51% and Extracellular Fluid expressed as a percentage of Total Body Water.
Notably, this information is likely to be a clinically relevant support for physicians in stratifying clinical risk and monitoring fluid volume of heart failure patients.
ImpediMed's abstract, titled "Bioimpedance Spectroscopy Measurement of Ongoing Fluid Overload PostDischarge from Hospitalization for Decompensated Heart Failure" demonstrates the potential value of the SOZO® HF-DexTM measure.
SOZO® with HF-DexTM has the potential to identify patients with fluid overload.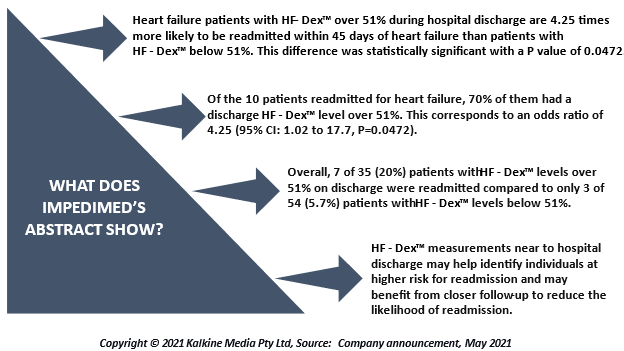 GOOD READ: How ImpediMed's BIS device SOZO® is changing digital health landscape
US Healthcare System Facts
The cost of hospital re-admissions is enormous - an estimated $31 billion annually. Besides, hospitals are required to cover the cost of re-admissions in the initial 30 days of discharge.
Medicare fines hospitals for high re-admission rates. In 2019, 82% of hospitals in the program received re-admissions penalties.
Besides, a study conducted by the Agency for Healthcare Research and Quality on re-admissions from 2011 found congestive heart failure as the leading cause for re-admissions among Medicare patients with nearly one in four re-admitted within 30 days.
ALSO READ: ImpediMed's SOZO® testing surpasses 200,000-patient test mark