Highlights

Businesses globally are adopting messaging options for customer service, but it may feel difficult getting started
Jeeves.Plus helps businesses to move all or part of their customer service to their chosen messaging channels
Popular channels include SMS, Facebook Messenger, WhatsApp, Google Business Messages; and of course, Webchat
With an evolving business landscape, organisations are getting more serious about vital business elements like customer service. The emergence of new mobile technologies and automation is helping businesses to develop a competitive edge and agility.
Innovation has taken the driver's seat to steer enhancement across business functions like customer services. Artificial Intelligence (AI) is helping to shape the customer service function with novel and unique innovations that are leading to a shift from voice assistance to messaging assistance for customers.
RELATED ARTICLE: When is a good time to sell a business?
Jeeves.Plus to the rescue
Fast-growing Australian start-up Jeeves.Plus Pty Ltd helps its clients to transition their customer service from voice to messaging.
Getting started with messaging can seem to be a challenging task. However, Jeeves.Plus makes migrating customer service to messaging and using a messaging platform a very easy task.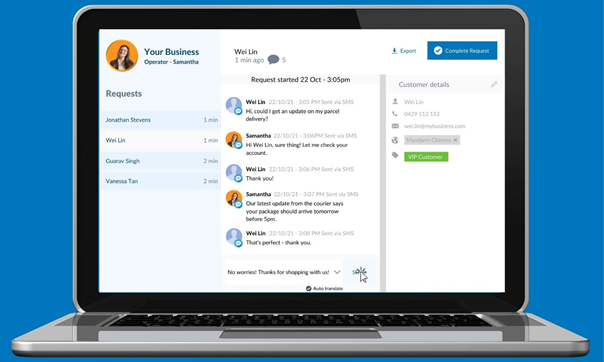 Source: Jeeves.Plus website
Jeeves.Plus's advice to businesses on migrating to messaging services
Almost every website will have a Contact Us page, but you must decide how you want customers to interact with your business. If you're in the process of migrating from voice to messaging – start by adding your SMS line (or other channel) to the top of this page. If you're focusing on a webchat function, ensure you remind customers on the Contact Us page that they can talk to a live operator immediately via your webchat.
Whether it's a dedicated number or a webchat reminder, this should be highlighted with bold text at the top of the page to catch the attention of the individual looking to make a quick enquiry.
RELATED ARTICLE: Jeeves.Plus: A messiah breaking language barriers to better communication
Additionally, businesses can also use QR codes dedicated to individuals who speak certain languages other than English. Ideally you would choose a number of core languages that fit your market sectors or locations. Scanning this code directs customers to message your business in their language, and with Jeeves.Plus's automatic translation, they can engage with your staff immediately and without language barriers.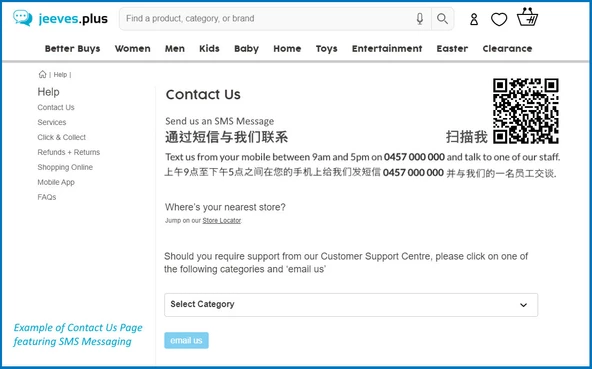 Source: Jeeves.Plus website
RELATED ARTICLE: Jeeves.Plus: A Messaging platform that can work wonders for your business
Jeeves.Plus also suggests adding an SMS line to the header of the website for easily grabbing the attention of the customers on desktop and mobile.
The next step is reaching out to the customers through a database of customer phone numbers and beginning to interact with them.
How can Jeeves.Plus help you gain an edge?
Along with customer service messaging, Jeeves.Plus offers broadcast messaging as well. These messages can be automatically customised with the name of each customer or other information present on file.
Since customers can reply to these messages, the data collected through these interactions can be used to assess trends, review frequently asked questions, as well as discover new ways for purchasing.
In its quest to further customer satisfaction levels, Jeeves recently launched WhatsApp as an additional channel, so businesses can connect to their customers on Jeeves through SMS, Facebook Messenger, WhatsApp, Webchat, and Google Business Messages.
VIDEO INTERVIEW: Expert Talks With Mr David Hayes, CEO & Co Founder Jeeves Plus
Bottom Line
Jeeves.Plus remains open to learning about the challenges that businesses are seeking to overcome in customer service or marketing. Moreover, Jeeves.Plus offers flexibility to be customised for any business with as many or as few messaging channels as the business would prefer.
Interested users can reach out to Jeeves.Plus on its website here.