Source: VanderWolf Images, Shutterstock
Summary

The mining industry uses a bevy of massive machineries and equipment. To keep the equipment powering, preventative maintenance and repair services are in constant demand.
Mader Group has marked its global presence through a unique set of services; most of them are highly specialised for the industry.
The vastly skilled and professional team of Mader provides maintenance services to mobile or fixed plant equipment in the mining and civil industries.
The Company has an active list of more than 200 clients worldwide.
The global mining industry uses some of the biggest machinery and equipment available on the planet. From excavators which can strip tonnes of material in a single bucket to mammoth hauling trucks and processing units - all are massive. These specialised machineries are production critical and need to run 24/7 and 365 days.
To maintain the mines and the revenue in robust health, companies require specialised services to keep the wheels running for heavy-duty machineries.
ASX-listed Mader Group Limited (ASX:MAD) provides a unique blend of specialised services and maintenance for mobile and fixed equipment across all geographies and all fields (mining and civilian).
The unique and diversified business model of the Company could be understood easily through its vision statement.
Copyright © 2021 Kalkine Media Pty Ltd. Data Source: Company Website
As of April 2020, Mader has a pool of 1,450+ highly skilled and trained professionals providing a broad range of services, which are rare to the mining industry.
Unique features and services that set Mader apart:
All-in-one service provider with a proven track record.
Cost-effective and quality workmanship by experienced and well-seasoned personnel on the job.
Global presence with offices in Australia, Africa, and America - all are significant mining jurisdictions.
High standards of safety embedded in the work culture of the organisation.
'Tap on, tap off' support round the clock without any border or brand constraints.
Current Market & Growth Opportunities
Growth Opportunities & Addressable Market (Image source: Company update, Half Year Results, 16 March 2021)
Mader has experience in 17 countries, and a long list of more than 200 happy customers are availing its services on more than 350 mining sites. The Company maintains a fleet of over 600 vehicles to provide prompt and effective maintenance services to its clients round the clock.
The Company's disruptive business model has taken the mining industry by surprise and helped Mader's business entities to establish a strong foothold across a wide range of geographical regions.
Mader has successfully rolled out its business model more than 20 times since inception and has returned profit growth for 16 consecutive years. The Company entered the US market in 2018 and gained significant grounds in the mining service industry.
The Company plans to foray into the Canadian market by the end of FY21.
Major Service Categories ( Data Source: Company Website)
Key Financial Position Highlights
With a robust business model, Mader continues to deliver strong financial performance with high Y-O-Y growth. The Company has maintained low debt and has achieved a 25% CAGR in revenue for the period FY16 to FY20.
Mader generated revenue of $141.174 million during 1H of FY21 from its operations. The revenue growth was noted at 6.4% when compared with the previous corresponding period (PCP).
Net profit after tax during 1H FY21 was reported to be $8.7 million, 8.1% up from PCP.
The Company announced a dividend payout of 1.5 cents per shares, fully franked for the reporting period.
The highest revenue growth was observed in the North American segment. The US revenue soared by 166% year-on-year with a massive 434% growth in EBIDTA during 1H FY21. The Company is also progressing towards its entry into the Canadian market.
In other parts of the world too, the company has demonstrated strong financial performance. Revenue was up by 157% quarter-on-quarter, which is slated to increase further as Mader has been successful in securing new clients and projects.
To diversify its suite of ancillary services, Mader acquired a 25% interest in rental equipment and machinery provider Western Plant Hire.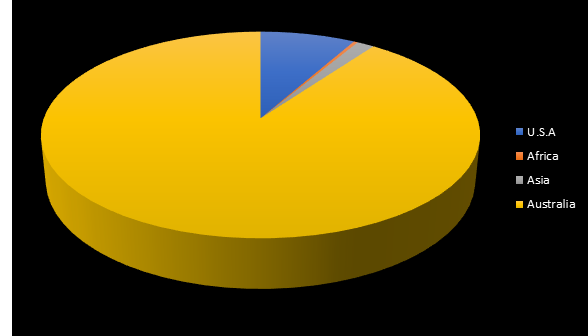 1H FY21 Revenue breakdown by region (Data source: Company update, 16 March 2021)
Stock Performance
MAD closed the day's trade at $0.940 on 8 April 2021. The stock of the Company has yielded a decent return of 14% in the last six months, as of the beginning of April 2021. The Company is quite regular with its dividend payouts and has maintained 0.15 cents per share of dividend in its last three payments.
MAD has a market cap of approximately $192 million.
(Note: All currencies are in AUD.)