Source: Matyas Rehak, Shutterstock
Summary

The rapid shift towards electrification of the transportation system is sparking a plethora of opportunities for clean lithium producers.
Amid the high demand for quality lithium products, experts are projecting a growing supply deficit from 2024.
Lake Resources N.L. is a clean lithium developer expediting its operations to meet the increasing demand for clean lithium.
LKE has fast-tracked operations across its portfolio of projects located in the globally renowned Lithium Triangle in Argentina.
The world is transforming at a breakneck pace, and we are witnessing a rapid transition of activities to innovative methods and systems. The shift towards electric vehicles is one of the prominent transitions taking place across the globe, prompting a marked change in the way the automotive industry players manufacture their products.
Governments and regulatory bodies across the globe are incentivising and subsidising the manufacturing as well as purchase of EVs for achieving sustainability objectives. This has resulted in an increase in demand for high-purity lithium among battery manufacturers.
PROJECT UPDATE: Lake Resources (ASX:LKE) Getting Boots on the Ground Across Project Portfolio
The steps taken by leading automakers across the world indicate that the scale of market demand for high purity lithium is set to surpass the current supply. Moreover, with a growing supply deficit expected from 2024, lithium producers are looking to ramp up their development plans.
Lake Resources well-placed to reap benefits
Lithium explorer-turned-developer Lake Resources N.L. (ASX:LKE) is one such high-purity, sustainable lithium producer that is positioned to benefit from the projected increase in demand for clean lithium product.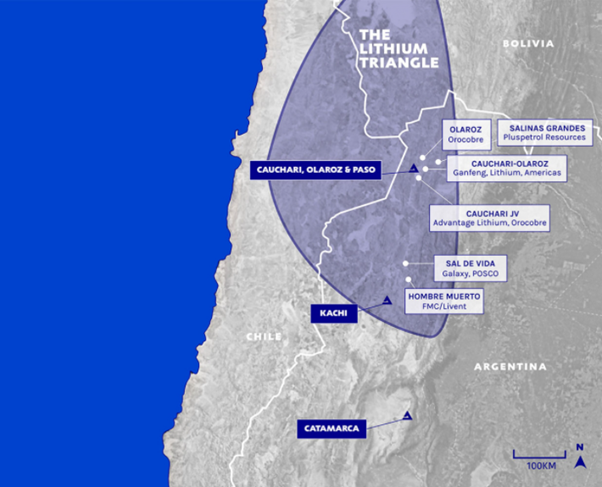 Project Location (Source: LKE Announcement 23/03/2021)
Over the recent period, LKE has turned the corner on the pandemic to become a clean lithium developer. LKE owns a suite of prospective projects located within the Lithium Triangle in Argentina.
INTERESTING READ: Is Lake Resources (ASX:LKE) in prime position to become a High-Purity Lithium supplier?
The Company's flagship project, the Kachi Project, has witnessed major works associated with the exploration as well as extraction of lithium. Moreover, LKE has partnered with several industry leaders that have been instrumental in testing and developing high-purity lithium suitable for battery and cathode makers.
LKE fast-tracks exploration across projects
Lately, the Company looks to grab the opportunity stemming from the projected strong market demand for clean lithium and has expedited the expansion of its Argentinian lithium projects.
DID YOU READ: Lake Resources (ASX:LKE) delights shareholders with a staggering ~280% YTD growth
Previously, the Company had shared its plans to transport around 50K litres of lithium brine samples from its Cauchari Project. Through this, LKE aims to test the samples which would be undertaken by companies that have expertise in direct lithium extraction as well as the transformation of concentrates to lithium hydroxide.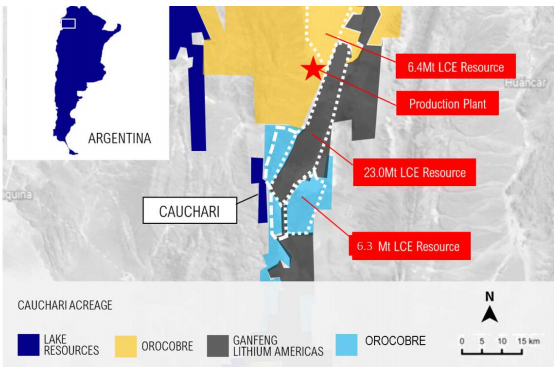 LKE's lease map at Cauchari (Source: LKE Announcement 23/03/2021)
Subsequently, a scoping study has been slated to expand the future production as part of LKE's planning to initiate the pre-feasibility study work at the Cauchari project in the later part of 2021.
COMPANY UPDATE: Lake Resources refreshes PFS, doubles Kachi project value
Location of Cauchari results in relation to Lithium America's production development (Source: LKE Announcement 23/03/2021)
The increasing pollution levels warrant the adoption of methods that have less impact on the environment and help in achieving sustainability objectives. Amid such a transitionary phase, LKE has been advancing discussions with a range of market participants for testing the Cauchari and other brines.
GOOD READ: Lake Resources (ASX:LKE) full steam ahead at Kachi Project with DFS in progress
The LKE stock was seen trading at AUD 0.320 at 1:51 PM AEST on 19 April 2021, with an AUD 325.82 million market capitalisation.