Summary

Lake Resources N.L. has a strong stance as a lithium producer with major landholding in the Lithium Triangle.
LKE has scaled greater heights of late, and testing by its partners shows the potential to produce high-quality lithium used in batteries.
The Company has significant activities lined up for the current as well as the next year.
With the gradual transition towards an electric world, especially the transportation system, demand for lithium has increased, and the same is expected to continue. Supply constraints further indicate a price increase as the demand continues to rise.
Lithium developers are escalating activities to boost the production of clean lithium and bridging the increasing gap between the demand and supply of clean lithium.
DID YOU READ: Eye on resource upgrade, Lake Resources (ASX:LKE) ramps up drilling at Kachi
LKE's stance in the lithium space
Clean lithium producer Lake Resources N.L. (ASX:LKE) holds four lithium projects in the heart of the Lithium Triangle in Argentina. This is a world-renowned place, which accounts for nearly 40% of the globally produced lithium at the lowest cost.
In addition to it, the region boasts of five largest lithium producers globally, which have equity in operations in the Lithium Triangle.
Through its consistent efforts, the Company had produced 99.97% high-purity lithium carbonate from its flagship Kachi project's brines in October 2020. This indicates far lower impurities as compared to 99.5% battery-grade lithium carbonate.
Higher-purity lithium translates into improved battery performance, which further increases the prospects for ready acceptance of its lithium carbonate by off-takers.
GOOD READ: How Lake Resources plans to cash in on strong lithium demand amid EV boom
Evident potential of LKE's lithium product
The production of high-purity lithium is backed by disruptive Lilac direct lithium extraction technology, which is a superior method versus the traditional processes and is supported by Bill Gates-led Breakthrough Energy Fund.
Moreover, this low-impurity lithium product causes less environmental impact with a low-CO2 footprint along with less water and land use, as Lilac's direct extraction process displaces the evaporation process. The technology is superior to evaporation as it takes less time (3 hours vs 2 hours of evaporation) and delivers greater recoveries without evaporation. The direct extraction process is also sustainable and delivers brine to the aquifer without changing chemistry.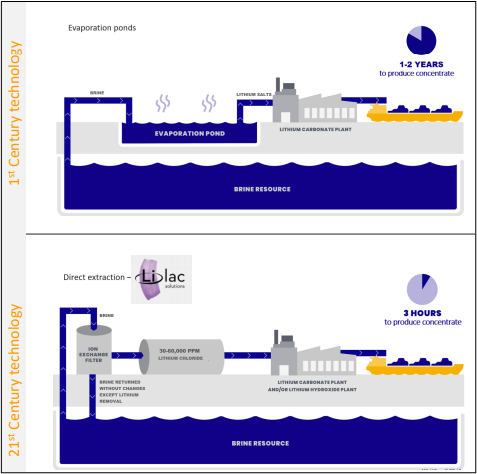 Source: LKE Announcement 01/06/2021
PROJECT UPDATE: Lake Resources (ASX:LKE) Getting Boots on the Ground Across Project Portfolio
LKE's Kachi brine project has a proven path to production, comprising a successful pilot plant module and a small scale up to production. Moreover, cost-competitiveness, coupled with a large project, suggests an enhanced potential for the Company.
LKE's cleaner lithium has also proved its efficiency in batteries, as suggested by the battery technology leader, Novonix Limited (ASX:NVX). Lake's product supports premium battery quality with performance similar to Tier 1 products in NMC622 batteries.
This further reinforces LKE's quality benefits and supports off-take discussions.
INTERESTING READ: Is Lake Resources (ASX:LKE) in prime position to become a High-Purity Lithium supplier?
Current and upcoming engagements
LKE's Kachi brine project is amongst 10 largest brine resources globally, and the Company is currently progressing with an expansion study to double the production. The results from the Pre-Feasibility Study indicate a high-value project with long-life, high-margin production and a quick payback period of 3 years.
Source: LKE Announcement 01/06/2021
Furthermore, the Company has a lot more to do across various fronts, including arranging finance, securing approvals, etc., in order to finally produce the high-purity battery-quality lithium at scale.
A snapshot of the Company's timeline is given below, which indicates the production to kick off in the next year once the work scheduled for the current year is completed.
Source: LKE Announcement 01/06/2021
The timeline also indicates the previous activities of the Company, starting from 2016, when the Company's operations were at a very nascent stage.
INTERESTING READ: How Lake Resources (ASX:LKE) is poised to reap benefits as EV market revs up
Since then, LKE's share price has increased significantly, and the growth during the past year is shown in the graph below.
Source: LKE Announcement 01/06/2021
Clearly, LKE has delivered significant returns to its shareholders. On 1 June 2021, the LKE stock closed at AU$0.260, up 4%.
SHARE GROWTH: Lake Resources (ASX:LKE) delights shareholders with a staggering ~280% YTD growth
Overall, the Company's present stance at the global stage is strengthened by its highest-purity lithium, supported by the technology-led direct extraction as well as major ESG benefits. Moreover, LKE has indicated a favourable outlook based on the growing demand and prices of lithium and its ability to produce high-quality lithium.