Summary

Middle Island Resources Limited (ASX:MDI) is actively progressing with the development of its Sandstone gold project.
MDI looks forward to reporting Phase 3 drilling results as part of the massive 2020 drilling campaign ahead of scoping study.
The Company has decided to demerge the Barkly copper-gold assets, which will allow it to focus on its flagship Sandstone project.
Australia-based gold exploration company Middle Island Resources Limited (ASX:MDI) has been steadfast in its objective to advance the development of the Sandstone gold project. Located in central Western Australia, the Company's Sandstone gold project includes two fully permitted Mining Leases that pre-date Native Title and a 600,000tpa gold processing plant existing on site.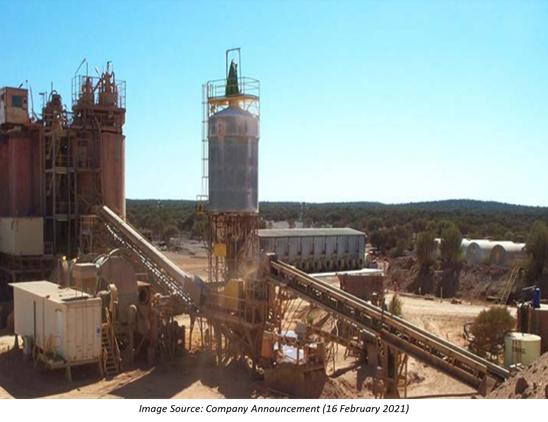 Middle Island's immediate focus is to recommission the Sandstone gold plant at the earliest opportunity. The processing plant is estimated to take five months for refurbishment at the cost of AUD 11 million. Besides, the Company plans to consolidate exploration tenure and additional deposits within the broader Sandstone district around the central processing hub.
Highly Successful Drilling Campaign
Middle Island carried out a massive drilling campaign at the Sandstone gold project in 2020, which turned out to be highly successful. The success of Phase 1 and Phase 2 drilling programs enabled the Company to define five new satellite open-pit gold deposits and extend existing deposits at Sandstone.
Related Read: Middle Island Resources (ASX:MDI) Delivers Great Show in 2020 Exploration Program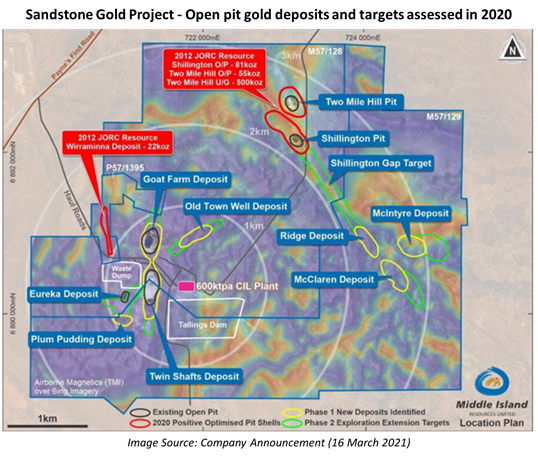 Following the receipt of drilling results, MDI completed maiden and updated Mineral Resource Estimates (MREs) for all new and existing deposits. The maiden and upgraded Mineral Resources at Sandstone aggregated 746,500oz gold as of 31 December 2020.
Later in 2020, MDI kick-started Phase 3 of the substantial 2020 drilling program, which collectively included ~54,000m of resource definition, exploration, and sterilisation drilling at the project. The Company looks forward to reporting Phase 3 drilling results and subsequently completing a scoping study into a plant capacity upgrade.
Must Read: Middle Island Resources (ASX:MDI) Inches Closer to Conclude Feasibility Study and Scoping Study
Focus on Optimising Shareholder Value
Middle Island intends to focus on optimising shareholder value for its Sandstone gold asset, for which the Company is planning to demerge Barkly Operations Pty Ltd (BOPL).
Read More at Big News: Middle Island Resources to Demerge Barkly Operations, Shares Skyrocket 11%
Recently, the Company declared the demerger of BOPL to potentially unlock substantial value for its eligible shareholders. BOPL is a wholly owned subsidiary of MDI, which owns the Barkly copper-gold super project in the Northern Territory.
The Company highlighted that the shareholders who are invested in MDI for its high-grade gold portfolio and have no interest in copper, will not have their shareholding diluted after the demerger.
Middle Island intends to ultimately IPO BOPL on the Australian Securities Exchange following shareholder approval in a meeting scheduled for late April 2021.
In a nutshell, the demerger of Barkly copper-gold assets will allow Middle Island to focus on its flagship Sandstone gold project in West Africa.
Do Not Miss: Middle Island Resources Expedites Development of Sandstone & Barkly Projects in 2H 2020