Summary

Fiducian Group Limited has evolved by developing competency on its proprietary technology offerings, FORCe and FASTrack.
FID has expanded its distribution footprint across Australia with a combination of recruitment and acquisition strategies, while the rankings of Fiducian's four diversified funds are all ranked in top quartile and top decile positions.
The FID stock has delivered significant returns to its shareholders along with dividends based on 60-70% of Net Profit After Tax dividend policy.
Specialist financial services provider Fiducian Group Limited (ASX:FID) operates across Australia and offers its services to financial advisers as well as retail and wholesale clients. The Company provides premium wealth services and solutions to its clients, delivering double digit returns to its shareholders over the last five years.
Besides this, the Company is also known for its market competitive platform offering for diverse purposes with its own licences.
FID's breakthrough technology platforms
FID's 'FASTrack' is a revolutionary Platform Administration System, which was developed by the Company in 2012 offering an Administration system that has been developed by financial advisers for financial advisers.
Moreover, FID's advanced, ground-breaking technology solutions support financial advisers with the features to help their business efficiency, including:
Electronic signatures, Digital applications with Online ID verification
True Straight Thru Processing (STP)
Multi-Factor Authentication (MFA) enhancing the security of sensitive data and protection against frauds
Online Opt-in, Annual Service Agreements and Fee renewals
FID offers cost-effective automation of client administration with 20 years of experience in wealth management.
FID's other Financial Planning Software 'FORCe' is adviser-client centric helping to build better adviserclient relationships, enhance compliance and generally offered at a lower cost than other comparable systems in the market. FORCe helps financial advisers develop an investment strategy and financial plan, review client portfolios, and meet their compliance obligations. The system includes a client relationship management system and generates compliant advice documentation.
Funds Management
FID's Manage the Manager System is a highly effective investment process, which provides greater diversification and below-average risks to consistently deliver above-average returns.
FID's investment options comprise of 14 Fiducian multi-manager funds that are composed of 42 individual fund management teams, four SMAs and 29 external managed funds and Term Deposits. FID's investment team selects expert fund managers on the basis of their proven performance, differing investment processes and complementary styles. Moreover, assets are mainly held directly by way of mandates, meaning managers can be replaced without liquidating holdings.
Over a period of one and a half-decade, the rankings of four Fiducian diversified funds have improved to be placed in the top quartile to top decile in 64 out of 64 readings in comparison of up to 208 fund managers on the Morningstar rankings.
As of 30 April 2021, FID's Funds under Management stood at AU$3.70 billion.
Factor underpinning FID's success
FID's operating businesses are synergistic – Financial planning, IT systems, funds management and platform administration. The business lines have strong foundations supported by in-house IT with our own proprietary software.
FID's strategy to recruit salaried and franchises planners, and acquire businesses where commercially viable is in line with its Quality and Expertise-driven culture. Further, these planners focus on generating results that match the best interest of the clients.
FID outclasses All Ordinaries Index
The FID stock has shown staggering growth in the past year, which is evident from the FID outperforming the All-Ordinaries index by 763% (including dividend) from 12 June 2020 to 31 December 2020.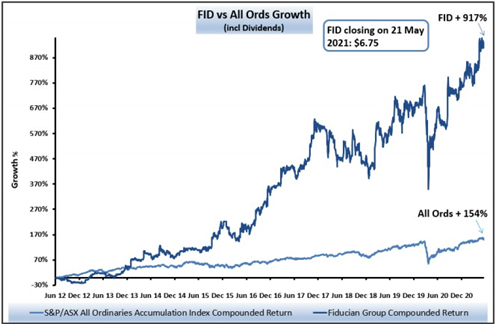 Source: FID Announcement 26/05/2021
Moreover, the Company follows a dividend pay-out policy of 60-70% of Net Profit After Tax, based on which the H1 dividend amounted to 12.30 cents per share.
Notably, during 15 out of the 21 years since listing, the Company has experienced double-digit growth in EPS (based on UNPAT).
Source: FID Announcement 26/05/2021
Opportunities for Business Growth
FID has intensified their efforts to enter the market for provision of high-quality administration services to external dealer groups and IFAs. There is a sizeable and growing demand for administration of SMAs which allow financial advisers to offer share portfolios to their clients and charge what are termed as 'investment management fees' for them.
These fees are over and above the fees paid to fund managers who advise IFAs the names of shares comprising a portfolio of 10 to 15 stocks. FID also looks to provide white labels and badges as well as the expansion of SMA offerings and SaaS.
FID aims to also continue on their successful business acquisition and the recruitment of new financial planners to the dealer group with cultural calibration and shared developmental prospects. DID YOU READ: A FORCe to reckon with: How Fiducian's flagship software stands out from its peers
The FID stock quoted at AU$6.700 on 24 JUNE 2021 at 1:57 PM AEST.