Highlights

Jaaims is an AI-powered platform that automates online trading while eliminating emotions in making trading decisions.
Jaaims is surprisingly quick at analysing stocks and analyses a stock in just 73 seconds.
Users can have complete control and can personalise the application to invest as per their preferences.
Artificial Intelligence (AI) is rapidly transforming business models, operations and internal capabilities across businesses. This includes businesses in the investment and stock trading space, which are witnessing technological innovations and changing investor preferences.
AI is driving fresh opportunities while offering cost and operational efficiencies. Some of the key areas where AI is driving efficiencies across businesses in the stock trading space include automating processes, operational intelligence, risk management, gathering market insights, etc.
RELATED ARTICLE: Understanding philosophy behind Australia's first fully automated investing platform, Jaaims
AI-Powered Jaaims platform
Jaaims is a sophisticated automated online trading application that allows users to trade 1,000+ global stocks utilising their AI algorithm. AI technology further makes analysis, predictions and calculated trades on behalf of the user on the shares of the user's choice.
The sophisticated AI algorithm allows Jaaims to automatically buy and sell shares, eliminating the emotion associated with making trading decisions.
RELATED ARTICLE: Acing the investment game through intelligent algorithms and ethical investing with Jaaims
Besides this, the Jaaims platform allows access to global market news feeds that helps users stay up to date with the latest developments. Users can have access to the latest news, opinions and analysis pieces related to the stocks of their choice.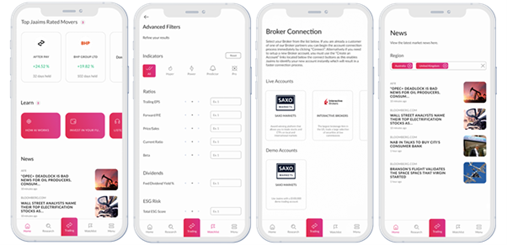 Source: Jaaims Website
RELATED ARTICLE: How AI-powered Jaaims helps investors diversify their portfolios
Enhancing user experience
Jaaims further enhances the experience for its users using AI by ensuring quick stock analysis with sophistication and allowing users control to customise Jaaims.
Jaaims analyses a stock in 73 seconds, which would take a significantly longer time for a human to do. Moreover, AI capabilities of Jaaims further enable the analysis of more than 10 million pieces of data every day. Jaaims further utilises more than 250 distinct data points to derive its stock recommendations.
Besides this, Jaaims users have complete control and can personalise the application to invest according to their preferences.
RELATED ARTICLE: Australia's only true AI trading app Jaaims rolls out new functionality for ETF investments
Risk management and diversification
Risk minimisation is a vital area where Jaaims excels and believes that minimising risk is crucial to achieving their investment goals.
Sophisticated AI and machine learning technology empowers Jaaims to identify potential volatility, liquidity and equity risks. In order to respond to these risks, Jaaims develops measures and adjusts the users' portfolios in real time.
Source: Jaaims
Jaaims is a single and powerful solution that can manage your investment risk, market timing as well as diversification. In times of downturn, Jaaims protects its users' investments and allows users to benefit when the time is right.
RELATED ARTICLE: AI-powered Jaaims platform enhances user understanding of the platform
Bottom Line
Overall, Jaaims utilises AI in helping advisors to deliver more insights, personalise content more effectively, and equip its clients with increased control and speed. For more information, you can get in touch with Jaaims through their website.