Summary

BPH Energy Limited (ASX:BPH) is making fast-paced progress in the resources sector via its investee Advent Energy.
Advent is initially focusing on undertaking drilling at Baleen target situated in the PEP11 permit.
Advent has recently announced $6.5 million capital raising to progress with its drilling plans.
Diversified company BPH Energy Limited (ASX:BPH) has been rapidly growing its presence in the oil and gas (O&G) sector through its investee firm Advent Energy Ltd. And 2021 seems to be an interesting year to track the drilling updates on this front.
BPH possesses a significant stake of 22.3% in Advent, whose principal activity is to maximise its gas resources.
Advent is a non-listed O&G exploration and development entity that holds offshore and onshore exploration and near-term development assets across Australia. Advent's assets comprise PEP11 (85%) in the offshore Sydney Basin and RL1 (100%) in the onshore Bonaparte Basin in the Northern territory.
Interestingly, Advent's permits are situated next to a ready market deemed by Advent as an outstanding infrastructure, thus maximising its potential to optimise any resources.
BPH Energy shares traded at $0.047 with a rise of ~12% on 13 January 2021.
PEP11 Permit – High-Grade Project
Advent's PEP11 permit is a high impact exploration project that remains one of the most important untested gas plays in Australia.
Advent possesses 85% interest in PEP11 permit via its 100% owned subsidiary Asset Energy Pty Ltd, while Bounty Oil & Gas NL holds the remaining 15%. Significantly, Advent has invested over $25 million in the PEP11 permit via Asset Energy Pty Ltd.
Must Read: BPH Energy (ASX:BPH) Investee Advent Appoints Prominent Australian Scientist for PEP11 Project
The oil and gas entity considers PEP11 to be a substantial structural target that can contain multi-tier natural gas resources.
The AEMO or the Australian Energy Market Operator has cautioned that the developed gas reserves in south-eastern and eastern Australia are expected to meet projected demand for only a short span of time.
The AEMO has also warned about possible supply shortages sprouting on the east coast of Australia within five years, especially in the southern states.
AEMO's warning has heightened the critical positioning and prospectivity of the PEP11 permit. Moreover, the gas supply crisis has created a substantial market opportunity for Advent to raise the funding for drilling with the aim of advancing the PEP11 project.
Drilling at Baleen Target
Advent's initial focus is to undertake drilling at Baleen target located in the high-grade PEP11 permit offshore NSW.
In January 2020, Asset Energy Pty Ltd submitted an application to NOPTA or the National Offshore Petroleum Titles Administrator to allow the drilling of Baleen target. The application includes the extension of PEP11 permit title for up to 2 years to enable the drilling and removal of the requirement for a 500 km2 3D seismic program.
Related Read: BPH's Investee Advent to Examine Carbon Capture and Storage Potential Under Baleen Well Program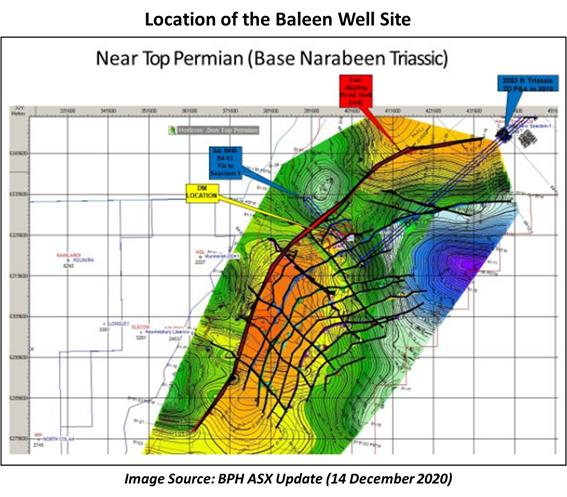 Notably, NOPTA has confirmed that the application has reached the final decision phase and Advent anticipates the decision shortly. Asset Energy and Bounty Oil are moving to a drill-ready status for PEP11 permit, subject to NOPTA approval.
$6.5 Million Capital Raising
Recently, Advent announced its plan to raise up to $6.5 million capital. This is undeetaken via a non-renounceable entitlement issue of 2 Shares for every 3 Shares held by Shareholders registered at the Record Date at a price of $0.05 per share.
The Offer is expected to close on 26 February 2021 at 5:00pm (WST). It is worth noting that the Offer is partially underwritten by Grandbridge Securities Pty Ltd up to the amount of $1 million.
Advent intends to use the funds raised through Offer for the following purposes:
Advent anticipates that if all the Shares are subscribed for, the proceeds raised from the Offer will be sufficient to meet its short-term goals over the next 18 – 24 months.
BPH Energy's investee Advent, together with Bounty Oil and Gas NL, is committed to explore for and eventually exploit any petroleum accumulations that may be identified in the PEP11 title area. Towards this end, Advent is continually looking for and evaluating potential sources of both debt and equity funding.