Summary

The Mineral Resource estimate at Penny's Find has delivered a 19% resource uptick in the Indicated Resource category.
Penny's Find MRE update consists of a further 4,778 metres of drilling from 21 holes, completed in 2021.
A maiden Ore Reserve for the project is anticipated in the December Quarter this year.
Australian explorer Horizon Minerals Limited (ASX: HRZ), riding shotgun in the gold space, has ticked off another milestone in its journey to becoming a mid-tier gold producer. Significantly, the Company announced an updated Mineral Resource Estimate (MRE) for the Penny's Find joint venture project located 50km northeast of Kalgoorlie-Boulder in the Western Australian goldfields.
Horizon Minerals acquired 50% interest in the Penny's Find project from the JV partner Orminex Ltd (ASX: ONX) for A$1.5 million. Horizon has also agreed to sole fund the initial pre-development expenditure worth A$1 million. After that, the JV partners to the project would together fund further developments on a 50:50 basis.
READ MORE: Horizon Minerals shares soar upon Penny's Find gold project Acquisition
Horizon intends to cash in on the early underground development and production opportunity from Penny's Find to generate money while advancing the longer-term consolidated Feasibility Study that would underpin a stand-alone mill at Boorara.
ALSO READ: Horizon Minerals (ASX:HRZ) in a Solid Position with 34% Gold Grade Uptick at Boorara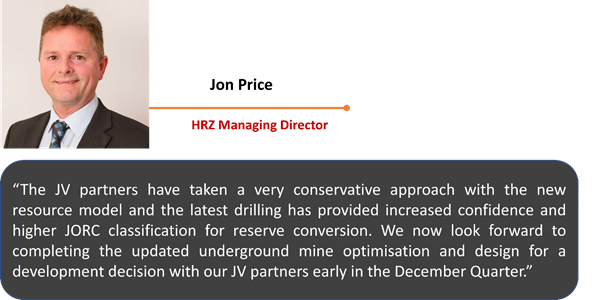 An Overview of the Resource Update
Geological consultants Entech Pty Ltd were engaged in order to complete the new 2021 MRE, consisting of 21 RC (Reverse Circulation) and Diamond holes completed for 4,778 metres and reported no incorporating any historical mining activity (surveyed up to 23 April 2018). A depth of 270 metres has been reported from the surface to the mineral resource's current vertical limit.
ALSO READ: Horizon Minerals (ASX:HRZ) March Quarter Brimming with Slew of Developments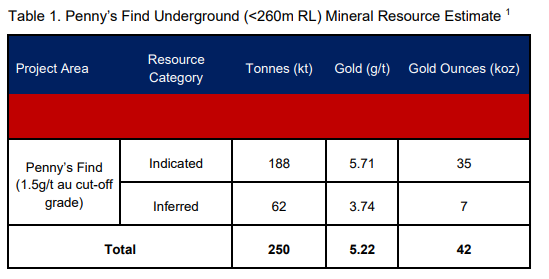 Source: HRZ Update, dated 14 July 2021
All new drilling and historic toll milling data following the review and validation were incorporated into the drilling database. It was then subsequently used for compiling an updated independent Mineral Resource Estimate (JORC 2012 compliant).
The updated independent MRE now stands at 250,000t grading 5.22g/t Au for 42,000oz at a 1.5g/t Au lower grade cut-off, with more than 83% of the resource now in the Indicated Resource category (188kt grading 5.71g/t Au).
ALSO READ: High-Grade Results from Peyes Farm Add Lustre to Horizon Minerals' (ASX: HRZ) Gold Portfolio
Therefore, the updated MRE, together with the 2021 drilling program, has improved geological confidence, with evaluation concerning underground mine optimisation, design, and economics ongoing.
Lens Through 2021 Drilling
The RC and diamond drilling in the 2021 programme was completed on an approximately 20 metres pattern, spanned 240 metres and covered mineralisation to a vertical depth of 282 metres.
ALSO READ: Horizon Minerals (ASX: HRZ) Buoyed up on Excellent Initial Drilling Results From Penny's Find
Source: Copyright © 2021 Kalkine Media, Data Source: HRZ update, dated 14 July 2021
While the drilling was mainly aimed at the peripheral or inferred ore zones, geotechnical logging, specific gravity structural assessment and confirmatory metallurgical testwork was carried out utilising the diamond core.
The drilling also helped estimating the most suitable portal location from the base of the 85-metres deep open pit to optimal decline development for accessing the underground resource, underpinning reduction in capital cost while also fast-tracking the first ore production.
READ MORE: Horizon Minerals (ASX: HRZ) JV Partner updates on high-grade gold results at Penny's Find
The infill and extension program focused on improving resource classification as well as test extensions along strike have returned encouraging outcomes and new mineralisation to the north. During the mining cycle, the deposit which remains open at depth will be tested further from underground drilling positions.
In addition to the robust drilling results, fresh mineralisation to be free milling with more than 90% of the total gold recovery has been demonstrated by metallurgical test work and toll milling data from open pit ore processing.
DO NOT MISS: Horizon Minerals (ASX:HRZ) Revving Up Developments to Monetise High-Grade Gold Deposits
Road Ahead for exploration at Penny's Find
Entech would employ the updated resource model for generating a maiden Ore Reserve for the Penny's Find underground project. The work is scheduled to complete in the upcoming December Quarter.
The Company reported that Geotechnical assessment is well advanced and confirmatory metallurgical test work is also close to completion. Furthermore, statutory approvals are in place for mine development, while a toll milling agreement would underpin the first ore treatment in the March Quarter of 2022.
The JV partners would make a development decision in December Quarter this year following the reserve study and economic evaluation.
HRZ shares traded at A$0.120 on 14 July 2021.