Summary

Horizon Minerals released an updated independent Mineral Resource at the Boora Gold Project.
Boorara recently saw the completion of successful grade control drilling, trial mining as well, as toll milling.
The well-advanced open pit mine optimisation along will design studies would underpin Ore Reserves generation in 2021.
Horizon Minerals Limited (ASX:HRZ) has released an updated independent Mineral Resource estimate (MRE) for the Boorara gold project, delivering a resource grade elevation of 34% at the advanced development project.
Western Australia-based Boorara is pivotal to the Company's initial five-year mining objective to underpin a stand-alone processing plant at the Boorara mine site.
ALSO READ: Horizon Minerals' (ASX:HRZ) golden run continue at Crake with the latest results

Mineral Resource Summary
New geological along with trial data enabled a new independent open pit Mineral Resource estimate compilation.
MRE at the projects is 11Mt grading 1.26g/t Au for 448,000 oz at a 0.5g/t Au cut-off grade.
Significantly, Measured and Indicated Mineral Resource saw an increase of more than 77% of the resource with the 34% increase in the resource grade is in line with the trial results.
ALSO READ: Horizon Minerals (ASX: HRZ) Buoyed up on Excellent Initial Drilling Results From Penny's Find

Source: HRZ ASX Update, dated 27 April 2021
The updated MRE is limited to 200 metres depth to the 200mRL RPEEE constraint for open pittable ore. In the updated April 2021 MRE, a slight 4% reduction was witnessed, with total gold decreasing from 474,000oz (excluding the trial mining depletion of 8,100oz) to 448,000oz. The update excludes 8,100oz resource depletion from trial mining. The improved modelling of the flat lodges at Royal, Regal ad Crown Jewel has restored the results.
GOOD READ: Horizon Minerals (ASX:HRZ) March Quarter Brimming with Slew of Developments
The April 2021 Mineral Resource model indicate that the tonnage reduction was offset by a grade increase of 34%, which was the main aim of the trial. The cross-cutting flat-lying vein arrays have been added besides the main contact lode, signifying economic improvement potential for the project.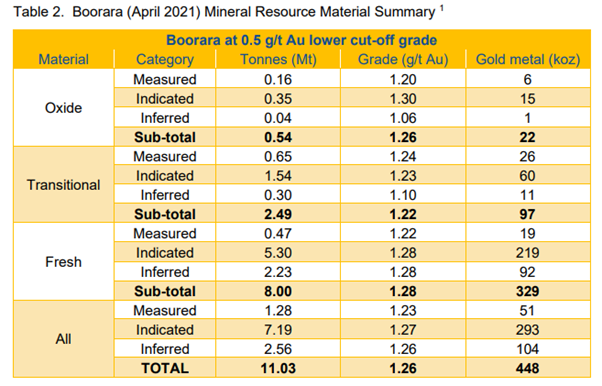 Source: HRZ ASX Update, dated 27 April 2021
ALSO READ: High-Grade Results from Peyes Farm Add Lustre to Horizon Minerals' (ASX: HRZ) Gold Portfolio
Recap of Recent Undertakings at Boorara
Horizon carried out a significant amount of Reverse Circulation (RC) and diamond drilling at Boorara over the past decade. Significantly, the current resource at the project has a strike of more than 1.5 kilometres in length and 250 kilometres in width. The resource remains open to the north, south as well as at depth.
Source: HRZ ASX Update, dated 27 April 2021
In 2020, the Company decided to toll treat up to 150K tonnes through the Lakewood Mill with the following objective:
To further de-risk the larger-scale development
Confirm metallurgical recoveries, reagent consumption, optimal processing parameters and reagent consumptions for plant design.
Trial mining and toll milling undertaken in 2016 and subsequently in 2020 produced 8,100oz at a reconciled gold grade of 1.44g/t Au and a calculated gold recovery of 94%.
An extensive pit mapping and review of structural geology were undertaken to demonstrate multiple flat-lying cross structures within the orebody. The 2020 trial enables an extensive assessment of the mining parameters, geology, metallurgy, and processing parameters.
ALSO READ: Horizon Minerals' (ASX:HRZ) Half-Year Results Portray Rainbow of Hope for its Gold Exploration
The bulk mining of the entire orebody and ore processing onsite would create an optimal development path for Boorara by avoiding further haulage and toll milling costs.
Road Ahead
The updated Mineral Resource Estimate will now be used to update the mine optimisation and design work. It would underpin the maiden Ore Reserve compilation for Boorara to be incorporated into the consolidated economic models and Feasibility Study.
Well-advanced statutory approvals and the completed preliminary process plant design, as well as associated infrastructure work, enables finalisation of a production schedule and financial evaluation in the December Quarter this year.
ALSO READ: Horizon Minerals (ASX:HRZ) sitting on a sweet spot with high-grade results from Jacques Find Gold Project
The Company expected Resources updates on its 100% satellite projects, including Crake, Rose Hills, Kalpine and Jacques Find, in the June Quarter.
HRZ shares traded at AUD 0.115 midday on 28 April 2021.