Summary

The latest batch of assays indicated robust gold results at Penny's Find Joint Venture, including 2.5m @ 7.45g/t gold.
Horizon holds a 50% stake in the Penny's Find project.
The drilling program would underpin the compilation of an updated Mineral Resource, expected during June quarter 2021.
Penny's Find is well advanced, and requisite statutory mining approvals are in place.
Horizon Minerals Limited (ASX:HRZ), lately acquired Penny's Find Joint Venture is in a sweet spot following another set of robust gold results. Horizon's JV project partner, Orminex Limited (ASX:ONX), reported the remaining assays from the drilling program completed in March 2021.
Horizon acquired a 50% interest in the Penny's Find Joint Venture Project from Orminex Ltd for A$1.5 million. Under the agreement, Horizon would solely fund the first A$1 million pre-development expenditure. After that, both the JV partners would support the project on a 50:50 basis.
DETAILED DISCUSSION AT: Horizon Minerals shares soar upon Penny's Find gold project Acquisition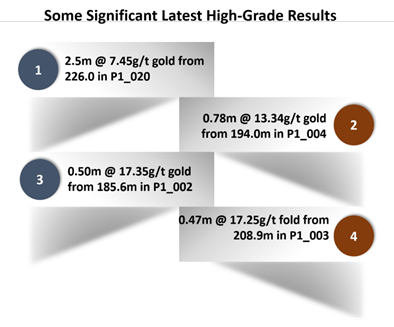 Source: Copyright © 2021 Kalkine Media Pty Ltd, Data Source: ONX ASX update, dated 30 April 2021
The assay results for all drill holes have been received, and the focus now would be on compiling updated Mineral Resource slated for June quarter 2021.
READ MORE: Horizon Minerals (ASX: HRZ) Buoyed up on Excellent Initial Drilling Results From Penny's Find
A Snapshot of the Project Mineralisation
Penny's Find JV project is situated NE of Kalgoorlie in the WA's excellent Goldfields region. The underground Mineral Resource (2012 JORC compliant) stands at 248,000t @ 7.04g/t for 56,000oz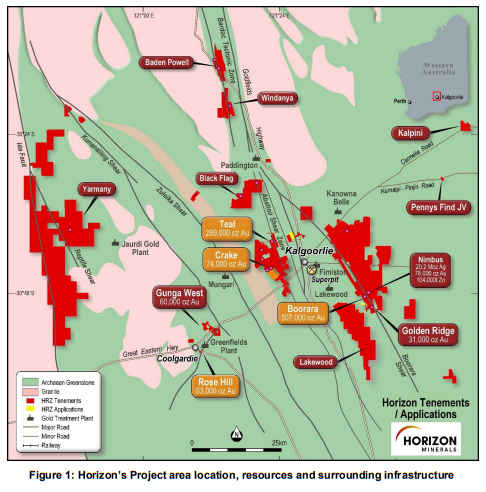 Source: HRZ ASX Update, dated 14 April 2021
Importantly, quartz veins host the high-grade mineralisation between sediments and basalt. Metallurgical testwork indicates fresh mineralisation to be free milling and the high gravity gold recoverable component and total gold recovery exceeding 92% in the past.
Penny's Find is well advanced, and requisite statutory mining approvals are in place. A toll milling agreement was secured treating ore which would kick off in the second half of 2021.
ALSO READ: High-Grade Results from Peyes Farm Add Lustre to Horizon Minerals' (ASX: HRZ) Gold Portfolio
Casting an eye on the Drilling Program
A 4,778 metres drilling program consisting of RC drilling (2,013 metres) and diamond drilling (2,765 metres) completed 21 drill holes in March 2021. The program targeted northern and down-dip gold system continuance beneath the existing open pit up to the depth of 282 metres.
ALSO READ: Horizon Minerals (ASX:HRZ) March Quarter Brimming with Slew of Developments
The drilling program was undertaken to test the continuity of the mineralisation at the current known northern abutment while infilling the existing resources to generally 20 metres line spacings. The overall aim was to improve geological confidence and offer adequate information related to geology, structure and geotechnics.
ALSO READ: Horizon Minerals (ASX:HRZ) in a Solid Position with 34% Gold Grade Uptick at Boorara
Mineralisation intercepts from the drilling program are aligned with previous drilling campaigns and target depths. The program produced multiple high-grade results at downhole to the maximum widths of 5 metres from quartz veins dipping around 60 degrees to the northeast.
HRZ shares traded at A$0.115 on 30 April 2021.