Highlights

Holista's first-half revenue jumped 30% year-on-year, the highest in three years.
The company witnessed strong performance across all four divisions – dietary supplements, healthy food ingredients, ovine collagen and infection control.
Holista's agreement with Mutiara Seribumi to supply cosmetic-grade Ovine collagen is expected to be the most significant growth driver.
Australian health-style products company Holista Colltech Limited (ASX:HCT) has released a robust set of results for the six-month period ended 30 June 2021. The results, which build upon the Company's past performance and research-driven initiatives, boast an excellent turnaround in revenue and profit for 1H 2021.
RELATED ARTICLE: How Holista Colltech (ASX:HCT) is maximising growth drivers in the health & wellness industry
Significantly, the Group's total interim revenue touched the highest mark in three years, soaring 30% to AU$3.6 million in 1H. At the same time, its net loss for the period narrowed significantly from AU$4.9 million in 1H 2020 to around AU$0.63 million.
These encouraging results have been achieved on the back of strong performance delivered by all four divisions of the Group. Let us explore how each division of Holista performed along with their respective outlook.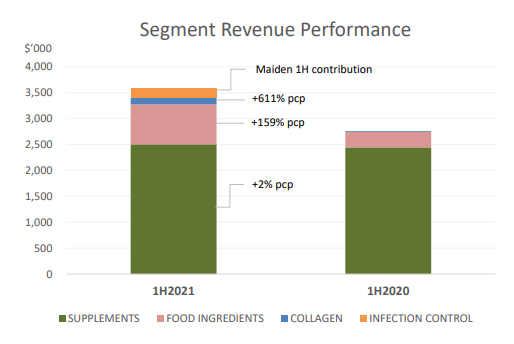 Source: HCT update, 27 August 2021
ALSO READ: Holista Colltech (ASX:HCT): A powerhouse of unique health and wellness products
Dietary Supplements proves to be a cash cow division
The Dietary Supplements division contributed the largest revenue, which accounted for 70% of the total revenue for the period.
Notably, easing COVID-19 disruptions helped improve the performance of Holista's sales channels and supply chains. Moreover, the Group also successfully capitalised on its market-leading brands, LACTO-5® and Pristin®, at a time when consumer awareness and demand for vitamins are witnessing favourable trends.
RELATED ARTICLE: Meet the leadership team behind Holista Colltech's (ASX:HCT) terrific progress
The division is positioned to benefit from the growing global market for health supplements as Holista is one of the largest supplement suppliers in Malaysia. Moreover, organic growth, addition of new dietary supplement water-soluble vitamin D, and rollout of nasal balm both in Malaysian pharmacy stalls and online platforms are expected to boost the performance of the Dietary Supplements division.
Healthy Food Ingredients Division witnesses positive momentum
Holista's patented GI LiteTM premix and 80LessTM sugar substitute helped the division post an AU$0.474 million uptick in revenue, delivering AU$0.771 million in the first half of 2021.
US-based Costanzo's Bakery, Inc. signed a three-year agreement with Holista to purchase GI LiteTM for use in its new range of low Glycaemic Index (GI) white breads. Significantly, low GI food helps maintain blood glucose levels. From April 2021, Costanzo's Bakery commenced the supply of breads to several US supermarket chains while leaving the product ample headroom to grow over the short to long term.
Many food & beverage companies, including Bursa Malaysia-listed Rex Industries, also purchased Holista's unique 80LessTM.
RELATED ARTICLE: Holista Colltech (ASX:HCT) ropes in new board member to fuel growth
The Healthy Food Ingredients division is expected to maintain good traction, thanks to its unique value proposition to food & beverage manufacturers, which are eyeing to provide healthy alternatives. In addition, the division sees an avenue to expand its sales and profits on the back of the upcoming launch of Holista's new cocoa milk powder product and ready-to-drink cocoa formulation.
Ovine Collagen to see significant demand
During the period, revenue from Ovine Collagen rebounded from AU$18,000 in 1H 2020 to AU$128,000 in 1H 2021, driven by additional orders placed by Behn Meyer Thailand for Holista's unique cosmetic ingredient. Significantly, demand for cosmetics in Thailand bounced back following the initial shock of the COVID-19 crisis.
The Ovine Collagen division could encounter a major step-change over the coming months following the Group's agreement with Mutiara Seribumi Sdn Bhd.
READ MORE ON AGREEMENT HERE
Infection Control posts maiden first-half revenue
Infection Control Solutions is a new division which recorded its maiden first-half revenue of AU$0.179 million. While Holista's NatShield™ sanitisers and rapid COVID-19 test kits raked in revenues, the successful restructure of Holista's global distribution partner, iGalen, is further driving the sales of NatShield™.
Holista has also decided to expand its suite of products to include the COVID-19 test kits in a bid to boost the business momentum.
The Infection Control Solutions division features a positive outlook, with the pandemic expected to boost demand for all-natural sanitisers, which are gentle on the skin despite repeated use.
The Group is poised well to build on the growth momentum of 1H 2021, achieved across all the key business areas. The Company's cash and cash equivalents stood at AU$2.12 million, as of 30 June 2021.
HCT shares traded at AU$0.062 on 27 August 2021, up by over 3% from the previous close.