Summary

SenSen Networks Limited (ASX:SNS) has released its OTC Investor Conference presentation on the ASX.
SenSen delivered a strong financial performance in the second half of 2020 while observing record half-yearly revenues of AUD 2.5 million.
The Company expects its Annual Recurring Revenue (ARR) to be at ~AUD 4.3 million in FY 2022.
Australia-based AI solutions provider SenSen Networks Limited (ASX:SNS, OTCQB:SNNSF) has recently shared its OTC Markets Virtual Technology Conference presentation on the ASX. The presentation provides an overview of the Company besides discussing its 1H21 financial performance and business outlook.
SenSen is an AI data fusion enterprise, which applies its ingenuity to create better and safer experiences for its customers and to solve problems once deemed impossible. The Company works closely with progressive managers facing high-risk and complex problems involving people, places, and data, and helps them in decision making.
SenSen serves the following customer segments via its unique solutions:
Know More About SenSen
SenSen integrates market-leading artificial intelligence technologies into a single reconfigurable platform, known as SenDISA.
The SenDISA platform is a multi-sensor, multi-camera data fusion software platform which can be reconfigured on request to meet a large number of customer use case requirements. With over ten years in the making, the Company's SenDISA platform has scored multiple patents and expects many more.
Also Read: SenSen Networks (ASX: SNS) sees a sensational 2020 despite COVID-19 storm
Through its AI-powered productivity & safety solutions, the Company is tapping a host of opportunities emerging in AI in the IoT market. SenSen highlights that global AI in the IoT market is anticipated to grow at a CAGR of 26 per cent from USD 5.1 billion in 2019 to USD 16.2 billion in 2024.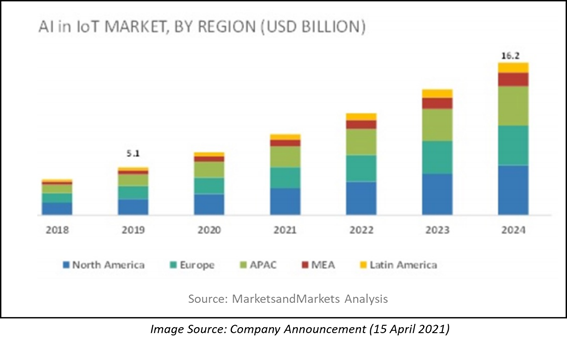 Interestingly, the majority of SenSen's revenue (more than 60 per cent) is Annual Recurring and growing. The Company primarily earns revenue from three sources: Software License - SaaS, Hardware, and Professional Services.
Robust Financial Footing
Despite COVID-19 headwinds, SenSen managed to tick all the right boxes in terms of financial performance in the second half of 2020. In fact, the Company reported its best-ever half-yearly results since listing on the ASX in 1H21.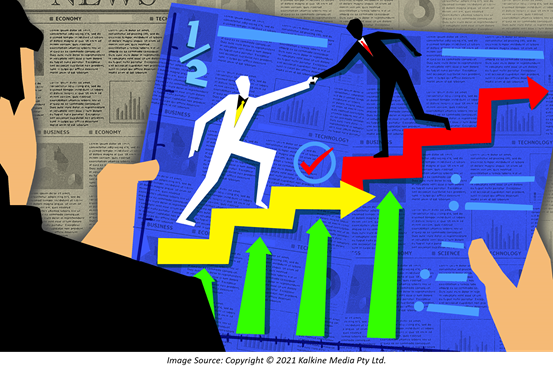 SenSen observed record half-yearly revenues of AUD 2.5 million, reflecting 33 per cent YoY growth, relative to AUD 1.88 million reported for the December 2019 reporting period.
Related Read: SenSen Networks posts best-ever 1H21 results, clocks record revenue
Notably, all the Company's existing customers, including Calgary, Edmonton, and Brisbane, renewed their contracts during the half-year, maintaining its near zero-churn track record. Moreover, several existing customers ordered additional systems, software, and services.
Marking a strong entry into 2021, SenSen completed a capital raising of AUD 7.15 million this year to accelerate its marketing, sales, and product delivery capabilities.
Read More at Sensen raises A$7.15 Million to fuel global growth
Future Course of Action
SenSen has divided its future goals into near term, medium term, and long term.
For the near term, the company has outlined a bunch of goals, riding high on recent capital raise and new hires. To begin with, the Company intends to invest in marketing and sales channel development. Moreover, it plans to invest in the productisation of its world-leading products to be sales/distribution channel ready besides accelerating customer growth in smart cities and casino market verticals. The Company has set a target to achieve 100 plus customers generating ARR in the near term.
Good Read: SenSen Networks (ASX:SNS) acquires Snap Network Surveillance for $1 Million
Over the medium term, SenSen aims to add adjacent market verticals like smart buildings, retail stores, shopping centers, airports, and other facilities. Besides, the Company plans to validate its proprietary platform and make it scalable and robust.
The longer-term goals include opening its platform to application developers and building the application developer ecosystem, which are expected to result in an exponential surge in the customer base and associated revenues.
Looking forward, SenSen estimates its Annual Recurring Revenue (ARR) to be at ~AUD 4.3 million in FY 2022, reflecting a YoY increase of 40 per cent. The Company expects additional orders to further accelerate the ARR beyond these estimates.
SNS shares are trading at AUD 0.170, with a rise of ~10 per cent (as at 12:55 PM AEST).