Summary

Horizon Minerals received solid assays results from the RC drilling at Peyes Farm gold project.
The Company completed infill as well as extensional drilling on the project.
An updated Mineral Resource Estimate is expected in the June Quarter this year.
Horizon Minerals Limited (ASX: HRZ) has successfully wrapped up infill as well as extensional drilling at its Peyes Farm gold project. The results from the project, which is a part of Teal gold camp in WA goldfield, confirm excellent width and grade continuity within the supergene zone.
ALSO READ: Horizon Minerals' (ASX:HRZ) golden run continues with high-grade results at Peyes Farm
Horizon Minerals Managing Director Mr Jon Price commented that the Company is highly encouraged with the final Peyes Farm results. These outcomes confirm previous findings while also demonstrating the potential for growth along the results recently returned from Jacques Find. He noted that the Teal project area is turning out to be a major potential mining hub. It could complement the baseload Boorara gold project as well as potential mill.
READ MORE: Horizon Minerals (ASX:HRZ) sitting on a sweet spot with high-grade results from Jacques Find Gold Project
High-Grade Results Boost Exploration Momentum
The 2020 drilling improved drill density to further uniform spacing of ten metres. It therefore allows ore zones' improved definition.
Mineralisation remains open to the north and south. Mineralisation at the project lies within the supergene enrichment zone. The Company advised that it has received all single RC assays that highlight shallow high-grade intercepts.
ALSO READ: Horizon Minerals shares soar upon Penny's Find gold project Acquisition
Source: Copyright © 2021 Kalkine Media Pty Ltd, Data Source: ASX update, dated
Further detail included variations in the depth of weathering as well as the fresh rock boundary at Peyes Farm. Meanwhile, new drilling facilitated the supergene ore assessment for conventional milling as well as treatment options. The Company intends to review these on the primary sulphide mineralisation.
ALSO READ: Royalty divestments bolster Horizon Mineral's cash reserves by AUD 7 million
Casting an eye on the drilling program
A total of 49 RC and three diamond holes were drilled in the program for an advance of over 3800 metres to a maximum 132 metres depth.
The current Mineral Resource Estimate for Peyes Farm is- 0.53Mt @ 1.70g/t Au for 28,860oz at a 1g/t Au lower grade cut-off.
ALSO READ: Horizon Minerals (ASX:HRZ) March Quarter Brimming with Slew of Developments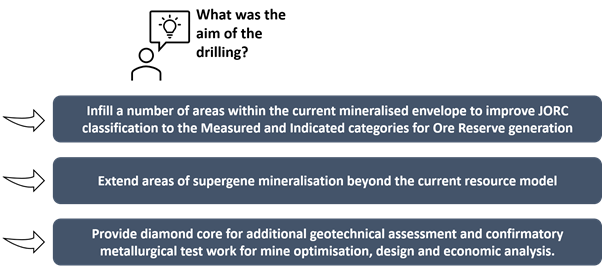 Source: Copyright © 2021 Kalkine Media Pty Ltd, Data Source: ASX update, dated
Road Ahead for Exploration at Peyes Farm
Mr Jon Price indicated that the Company aims to prove up the supergene deposits for open pit mining similar to that done with successful Teal mine. The Company looks forward to building the projects into the long-term production plan.
ALSO READ: A Bird's Eye View on Horizon Minerals's (ASX: HRZ) Code to Success
Next Steps of Horizon Minerals would include:
Release the Mineral Resource Update (expected June Quarter 2021) and maiden reserve in the months to come.
Complete open cut mine optimisation along with design studies for maiden Ore Reserve generation.
Undertake further extensional drilling at Peyes Farm in 2021 (as part of the Company's organic growth plan)
HRZ shares traded at AUD 0.120 on 22 April 2021.