Highlights

Prescient Therapeutics is continuously making advancements in the development of its personalised anticancer therapies.
So far this year, Prescient's share price witnessed a significant gain as the company announced progress across its exciting cancer therapy portfolio .
PTX remains in a sound financial position and is well-funded to progress its anticancer programs.
ASX-listed oncology player, Prescient Therapeutics Limited (ASX:PTX) is developing personalised medicines for difficult to treat cancers having unmet medical needs. The innovative product pipeline of Prescient includes targeted therapies (PTX-100 and PTX-200), next-generation CAR-T therapies (OmniCAR) and cell therapy enhancement (CTE) programs.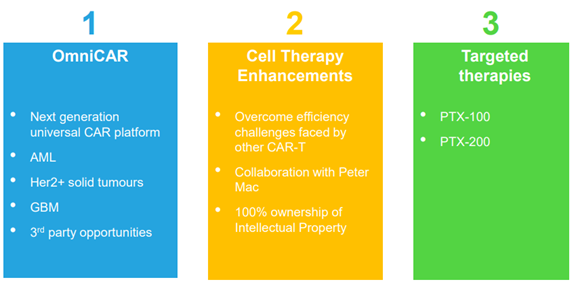 Key building blocks to PTX future value; Source: PTX Investor Presentation (4 August 2021)
Prescient Therapeutics' share price witnessed a significant gain during this year on the back of achieving many important milestones, particularly in its revolutionary universal cell therapy platform, OmniCAR, and the exciting progress of PTX-100 in clinical development.
RELATED ARTICLE: Prescient Therapeutics in a sweet spot with significant progress in multiple cancer programs
In CY2021, PTX share price increased 332% from AU$0.067 to AU$0.29 as of 24 September 2021. The Company's market capitalisation stood at AU$187 million.
Interestingly, the share price is making an important chart pattern called the "cup and handle pattern", which is regarded as a bullish signal in technical charting. This chart pattern is considered as a continuation pattern and was made popular by William O'Neil, author of "How to Make Money in Stocks," and the creator of the CAN SLIM investment strategy.
Copyright © 2021 Kalkine Media (Data Source: Eikon Refinitiv)
On the fundamental front too, PTX has made important progress which has contributed to further improve the company's footing and drawn the increasing attention of investors.
Let us delve deep and discuss the key developments-
Prescient crossed key milestones for OmniCAR program
Prescient is developing OmniCAR, a universal next-generation program. In January 2021, the oncology player disclosed its three internal OmniCAR programs: for AML (acute myeloid leukemia); Her2+ solid cancers and GBM (an aggressive brain cancer, glioblastoma multiforme).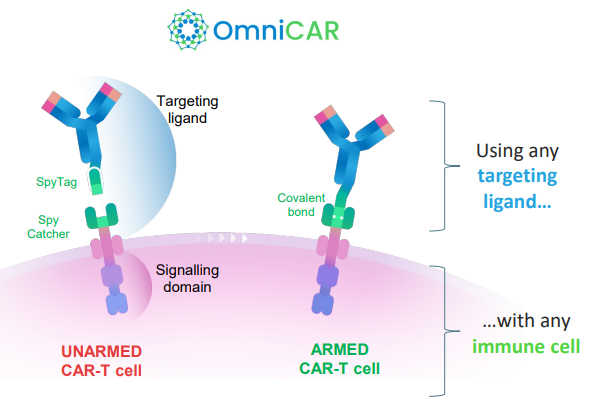 Source: PTX Investor Presentation (4 August 2021)
Prescient's OmniCAR program is based on technology licensed from Pennsylvania University, the binding system (SpyTag/SpyCatcher) licensed from Oxford University as well as other assets. The binding system is a crucial technology for coupling of protein. SpyCatcher is a genetically encoded protein, which reacts with SpyTag (13 amino acid peptide) and forms a strong covalent bond between the two.
On 10 May 2021, Prescient entered in an agreement with Peter MacCallum Cancer Centre to advance its next-generation CAR-T programs utilising the OmniCAR platform. Under the terms of the agreement, Prescient was provided access to the world-class expertise and facilities of Peter MacCallum Cancer Centre, led by global CAR-T expert, Professor Phil Darcy, to undertake part of the OmniCAR preclinical development programs. Prescient will own all new resulting IP.
Completion of CAR-T milestones
In June 2021, Prescient hit a major CAR-T milestone with the completion of manufacturing and delivery of crucial components of the OmniCAR platform. Additionally, PTX disclosed that the manufacturing of the binders against various cancer targets, including CLL-1, CD33, Her2, and EGFRviii, were completed by a US-based leading antibody manufacturer.
Successful immunogenic testing of OmniCAR's binding system
Prescient also independently confirmed, through independent in silico testing, the binding system components of OmniCAR have minimal immunogenicity, less than other humanised therapeutic antibodies that are already approved for human use.
DETAILED DISCUSSION AT: Positive results from immunogenicity testing send Prescient's shares higher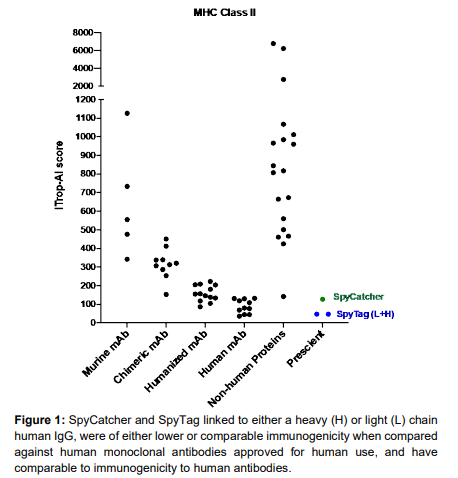 Source: PTX Update (5 July 2021)
PTX-100 achieved crucial clinical milestone
Prescient's targeted therapy programs- PTX-100 and PTX-200 - are designed to inhibit the cancer growth enzyme as well as tumour survival pathway.
In July 2021, the Company revealed that PTX-100 exhibited an excellent safety profile in Phase 1b without any serious adverse events. Furthermore, a very encouraging efficacy signal was observed in two patients with aggressive peripheral Tcell lymphoma (PTCL). Prescient is now advancing PTX-100 to an expansion cohort study focusing on PTCL, which represents an area of significant unmet clinical need and substantial commercial opportunity.
RELATED ARTICLE: Prescient takes its PTX-100 trial to next level after Phase 1b success
Furthermore, Prescient ended the financial year 2021 with a deeper product pipeline of valuable cancer treatments rapidly advancing to several value-adding milestones. The Company remains in a sound financial position and well-funded to progress its anticancer programs.
RELATED ARTICLE: Prescient (ASX:PTX) delivers a milestone-rich 2021, major strides made in OmniCAR development
In addition, Prescient has several other initiatives that are under development for new Cell Therapy Enhancements, which are currently in stealth mode. These programs are being undertaken at Peter MacCallum Cancer Center (Peter Mac). This is another indication of the fast-developing relationship between Prescient and Peter Mac.
Bottom Line
Overall, 2021 has been a year of progress for Prescient Therapeutics. The Company is actively engaged in advancing its anticancer therapies for the treatment of challenging cancers with unmet medical needs. Also, the Company is well-positioned to further progress its programs.
Further, Prescient has been carrying out a number of exciting projects that are not disclosed yet, but PTX is confident that they have the potential to add substantial value to the growing profile of the Company.
To know more about Prescient Therapeutics Limited, click here.
To stay updated with PTX company activities and announcements, please update your details on their investor centre.