Summary

Greenland Minerals Limited (ASX:GGG) is developing the Kvanefjeld rare earth project, a world-class mine development opportunity for Greenland.
Owing to accelerated progress, the Company is edging towards bagging a mining license.
Key circumstances of 2021 may propel Kvanefjeld to become a globally significant producer of rare earth materials.
Rare earth demand is ready to undertake a key upturn. There is strong demand for rare earth magnets from electric vehicles, wind turbines, and energy-efficient technologies. Besides, reducing carbon emissions via electrification of transport systems, and renewable energy, are important global agendas.
Well aware with these facts, Greenland Minerals Limited (ASX:GGG) is developing the Kvanefjeld rare earth project.
It is one of the most significant and advanced emerging rare earth projects globally. Kvanefjeld is distinctive and leverages from favourable metallurgy. Besides, the forecast production profile throughout the commercially valuable rare earths is another add-on.
GOOD READ: Greenland Minerals (ASX:GGG) Building An Integrated Global Rare Earth Supply Business
So much so, Kvanefjeld could be a globally major producer of each commercially vital rare earth elements, consisting of praseodymium, terbium, neodymium, and dysprosium, over initial 37-year mine life.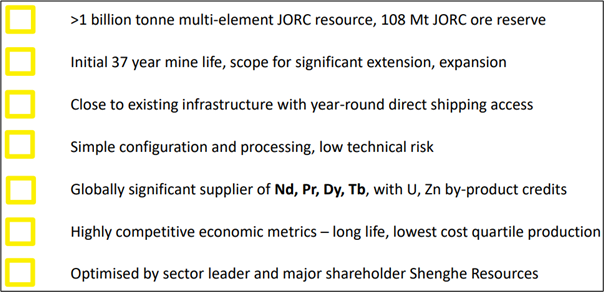 Kvanefjeld traits (Source: CLSA Rare Earths Deep Dive Presentation, Nov 2020)
In this backdrop, let us walk through a few possible occurrences expected in 2021, which can further boost the ongoing development of Kvanefjeld-
Unprecedented rare earths demand growth
Greenland Minerals believes that the demand for rare earths is set for major growth, estimated at ~9% CAGR over the next decade. According to Adamas Intelligence, by 2030, the demand for magnet RE's (Nd, Pr, Tb, Dy) may soar by over 150%, necessitating a 2x surge in global production.
With the rare earths sector heating up, demand is surging, and prices are likely to rise in response to strong demand from downstream industry (for instance -- magnet producers).
A constrained supply system provides the Company with an optimal development window. Notably, Kvanefjeld has exposure to all the key magnet rare earths – Nd, Pr, Dy as well as Tb, making it a complete rare earths project.
RELATED READ: Greenland Minerals Advances Kvanefjeld Project Amidst Broader Rare Earths Outlook
European opportunity
Europe is evolving into a growing rare-earths demand centre. Rare earths are extremely critical to the region's green industrial sector (EV's, wind turbines).
Consequently, the European Commission launched the European Raw Materials Alliance in September 2020.
Other engagements of organisations and industry are also likely to add on to the rising European opportunity.
Greenland Minerals is supremely positioned to offer a safe and steady supply of all-critical magnet rare earths for the growing European industry.
ALSO READ: Unveiling The Strong Bond Between Greenland Minerals & Shenghe Resources
Project developments
The Company is making impressive progress to the extent that the issuance of an exploitation permit for the Kvanefjeld deposit can be expected in the coming few months.

Developments over the years (Source: CLSA Rare Earths Deep Dive Presentation, Nov 2020)
Most recently in December 2020, the Greenland Government approved the initiation of Kvanefjeld's statutory public hearing. Prior to this, EIA technical reviews had been completed in September 2020. Follow-up white paper is likely to be completed in Q2 2021.
With the various precursors to the mining license looking good, commercial development, marketing and off-take can also be expected.
In 2021, Greenland Minerals looks forward to engaging end-user industries like collaborators and strategic partnerships, working around its downstream processing strategy, and conversion of optimised feasibility to DFS level.
ALSO READ: What's In Store For Greenland Minerals (ASX:GGG) in 2021?
With the strong foundation set for development success, Kvanefjeld does seem well-positioned to become an integrated global rare earths supplier.
GGG traded up by 5% at $0.31 on 22 January 2021.