Highlights

Shree Minerals is advancing exploration work at the Lachlan Fold Belt Project.
The Company has completed a soil sampling program at the northern IP anomaly at Rock Lodge.
Rock chip sampling of gossanous sediments has returned up to 7.3g/t Au near historic workings.
The Company plans to commence a drilling program in the December quarter.
The successive string of developments undertaken by Shree Minerals Limited (ASX:SHH) has given a boost to its Lachlan Fold Belt Project in New South Wales.
In an upbeat announcement, the diversified mineral exploration and mine development company has provided an update on its ongoing exploration program at the project, comprising the Rock Lodge, Turondale, and Prince of Wales Exploration Licences.
Related Article: Shree Minerals Ltd. (ASX:SHH) awarded exploration licence at Rock Lodge Project
Soil sampling completed; Rock chip samples collected at Rock Lodge
Shree secured the Rock Lodge exploration licence (EL9155) in May 2021. The licence, which covers an area of nearly 163 sq. km, is prospective for orogenic, intrusion related gold systems and skarn-related gold mineralisation.
Shree has wrapped up a soil sampling program on the project area, designed to improve the delineation of gold mineralisation trends ahead of a possible reverse circulation drilling program.
The soil sampling program was conducted over the northern area of anomalous induced polarisation (IP) chargeability, where gold mineralisation was intersected during previous drilling campaigns.
129 samples collected from a detailed 100m x 20m grid were submitted to the laboratory for gold and multielement geochemical analysis.
Furthermore, the Company has taken 17 rock chip samples from the northern IP anomaly area with a gossanous sediment sample returning a maximum result of 7.3g/t Au with 6049ppm.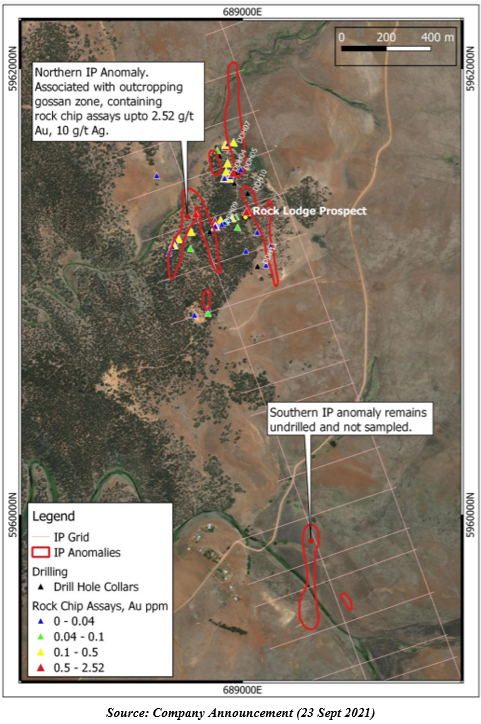 RC drilling program in Q4
Shree is set to design a drilling program based on the results from the IP survey and the most recent geological mapping, rock sampling, and soil sampling results.
The Company has also inked a land access agreement with the landholder.
Moreover, Shree recently lodged a drilling approval form with the NSW Department of Planning, Industry, and Environment. The approval is expected within four to six weeks.
As Shree expects to commence a reverse circulation drilling program in the last quarter of 2021, it has kicked off discussions with various drilling contractors. It has also engaged Rangott Exploration in Orange, NSW, to assist with the program.
Read Here: Shree Minerals' (ASX:SHH) Exploration Riding High with Exciting Gold Anomalies at Turondale
Previous drilling indicates highly mineralised area
The Rock Lodge prospect has been explored by two companies in the last 50 years with significant progress made to diamond and reverse circulation drilling. However, significant intersections were not followed up. Also, consideration was not given to the prospectively away from the old workings.
The previous drilling in the Rock Lodge prospect has only tested the northern IP anomaly while the southern IP anomaly remains untested by drilling or surface sampling.
The grades intercepted by previous drilling show the area is highly mineralised and the mineral assemblages are similar to other major mineral deposits within the Canberra to Cooma region of the Ordovician Lachlan Fold Belt.
Read Here: Shree Minerals Ltd. (ASX:SHH) galloping on the gold and iron ore opportunities
For June quarter results Click Here
Shares of SHH traded at AU$0.010 per share on 23 September 2021.