Highlights

Hallmark was established in 1993 and is amongst the oldest brands at the forefront of selling businesses.
Hallmark has a solid reputation of 25 years plus in supplying profitable, professional, and personal business brokering services.
Hallmark also provides businesses with valuations.
Buying or selling a business can be challenging. This is where a business broker can help by managing the entire process from start to finish, so that you don't have to. But choosing the right business broker is important when it comes to landing the right deal. That's why Hallmark Business Sales is a known and trusted name in the industry.
Hallmark Business Sales has been helping clients, for over 25 years, to make a profitable, successful and satisfying exit from their life work with the personal service of a small firm matched by results and outcomes of a large organisation.
Company with a proven track record
Australian business brokerage service Hallmark Business Sales Pty Ltd has over 25 years of experience in buying and selling wholesale, commercial, online retail, industrial or manufacturing business profitably, in a convenient and professional way.
Source: Copyright © 2021 Kalkine Media
Established in 1993, Hallmark is the oldest established brand in the industry and continues to be at the forefront of selling businesses with an innovative marketing strategy to generate maximum exposure for its clients while keeping costs at a minimum.
During its journey, Hallmark has been engaged in buying and selling businesses throughout Australia and across a range of industries, sectors, and professions.
Some of the clients of Hallmark include chemical/food manufacturing companies and businesses, online health & food retailers, traffic control services, and many other businesses.
Major differentiating factors that the clients of Hallmark Business Sales are guaranteed to experience include: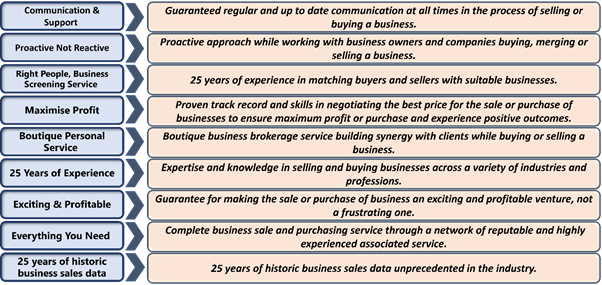 Data Source Hallmark, Image: Copyright © 2021 Kalkine Media
Business valuation and finance
Besides buying and selling businesses, Hallmark also specialises in market business valuations, which can provide valuable insight for exit plans, partnership buyouts, family law matters or growth strategies.
Hallmark's secret formula for business valuations is based on the key information supplied by the business, including accountant's figures, interim financials, plant & equipment and stock value, trademark details, and relevant market information.
Moreover, good insights into the operations of a business are also required to churn out the maximum business value.
If you require finance to buy a business, then Hallmark can also recommend a number of lenders who specialise in business finance.
Bottom line
Backed by 25 years of proven results, Hallmark can help you achieve a positive outcome by offering complete personal service from the beginning till the end whether you're selling, buying, or merging businesses.