Highlights

Greenland Minerals Limited (ASX:GGG) aspires to widen its project portfolio and is looking for new opportunities in tech minerals and metals sectors.
The Company has appointed Daniel Mamadou as its Managing Director to drive the next phase of its growth and development.
Greenland Minerals is well funded to acquire new projects, with AUD 31.6 million cash on 30 September 2021.
Greenland Minerals Limited (ASX:GGG) is developing its key asset, the 100%-owned Kvanefjeld rare earth project in Greenland. A world-class technology metal project, Kvanefjeld is underpinned by a >1 billion tonne JORC resource, with an established 108 Mt JORC ore reserve. As developments fostered, the Company saw legislative and administrative changes in the country this year.
It intends to expand its project portfolio. The Company is looking for opportunities in technology minerals and metals sectors. Notably, Greenland Minerals has a strong cash position of AUD 31.6 million (30 September 2021). This is likely to provide the Company with a new focus and support in reinvigorating activities.
Besides, the Company has also announced a new appointment- Daniel Mamadou as its Managing Director.
Copyright © 2021 Kalkine Media
Meet Greenland Minerals New Managing Director
Daniel Mamadou will drive the next phase of its growth and development. His appointment as Managing Director follows the resignation of Dr John Mair from the role, who joined the Board in 2011 and was appointed Managing Director in 2014.
He holds an MSc in international securities and investment banking from the University of Reading, UK
He is the founder of Welsbach Holdings Pte Ltd.
He also founded and was Managing Director of Talaxis Ltd from 2015 until 2020.
He is also a Non-Executive Director of TSX-listed Medallion Minerals Limited.
Mr Mamadou held various senior positions with Deutsche Bank, Goldman Sachs and Nomura, with more than two decades across EMEA and Asia-Pacific.
Mr Mamadou's s global network comprises upstream companies in Asia and Africa, Europe, America's, and midstream in China, Japan as well as South Korea. His network across the specialty metals sector might prove to be a boon for Greenland Minerals.
"Having a strong cash position, Greenland Minerals is well positioned to play its role as one of the emerging key players in this (critical metals) space", Mr Mamadou says.
Kvanefjeld Project- Current Status
The project experienced a 38-week statutory public consultation phase. This is an essential part of Greenland's licensing process. The Company has recently filed the White Paper responses to the consultation phase.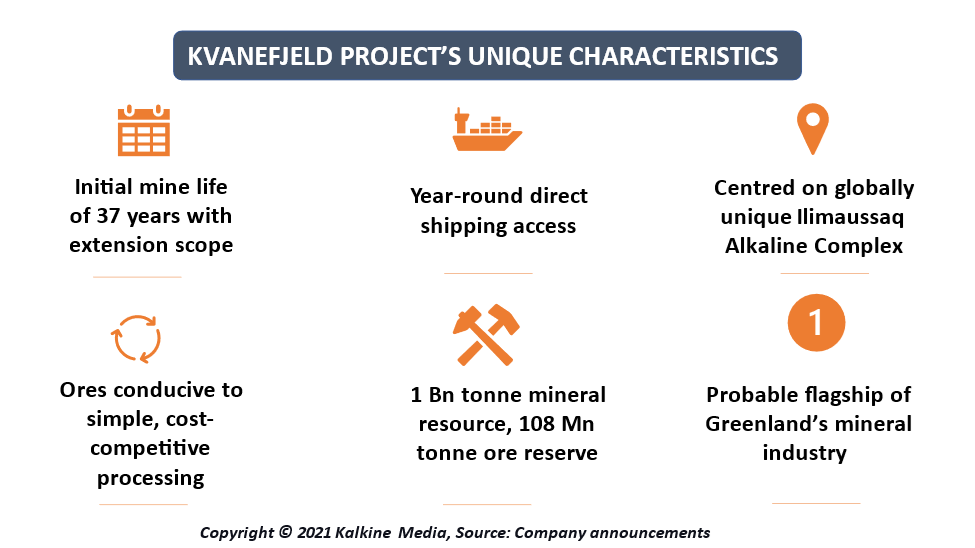 Currently, Greenland Minerals is discussing the Kvanefjeld Impact Benefit Agreement with the Greenland Government. This is a requirement to complete the formal exploitation licence application.
The Company is also examining legislation that was passed by Greenland's parliament recently. It has put an upper limit on uranium content of mineral resources that can be exploited. Greenland Minerals is trying to understand ways in which the new legislation will affect Kvanefjeld.
Notably, majority of studies and work programs that underpin the Kvanefjeld Project are completed. Therefore, the Board is now keen on new opportunities outside of Greenland to which the Company can leverage value in the near term.
On 6 December 2021, GGG quoted AUD 0.079 on the ASX.