Source: Red ivory, Shutterstock
Summary

Golden State Mining has closed an oversubscribed placement to raise ~A$3.2 million.
The company's Yule Project sits within an exciting and reinvigorated world-class gold exploration region.
The proceeds will enable the company to expand its planned drilling programs over gold and lithium targets at its flagship Yule project.
Developments are on right track at Australia-based Golden State Mining Limited (ASX:GSM), which is currently focused on advancing its wholly owned Yule Project.
The latest strategic placement, coupled with encouraging results from the 2020 aircore drilling programs and pathbreaking activities planned for 2021, has kept the Company at the forefront of market conversations.
Oversubscribed Placement Completed
The response to Golden State Mining's recent placement has been outstanding. In an upbeat market update on 26 February 2021, the company unveiled the successful completion of a bookbuild to raise ~A$3.2 million in a placement to sophisticated and professional investors. The proceeds will enable the company to bolster its Yule gold and lithium exploration activities planned for 2021.
Under the oversubscribed placement, the company will issue up to 25.6 million new fully paid ordinary shares at an issue price of A$0.125 a share. Perth Select Seafoods, the largest shareholder of GSM, has committed over 1 million shares in the placement.

Source: GSM ASX Update 26 February 2021
The Yule Project is strategically located in the Archaean Mallina Basin with a ground footprint of over 700 sq kms. Considered as being seriously underexplored, the project hosts high priority exploration targets for gold, lithium, and base metals.
The premium project is only 15km from De Grey Mining Limited's (ASX:DEG) Hemi discovery. The De Grey Mining results are especially relevant to the Company's exploration programs at Yule that will target similar geological settings within the Mallina Basin.
Must Read: Gold and Lithium Hunt on the Cards in Golden State Mining's 6-Month Game Plan at Yule
Proceeds to be Used for 2021 Yule Activities
The proceeds raised from the placement along with the existing cash reserves would be channelised towards the planned activities at Yule during 2021.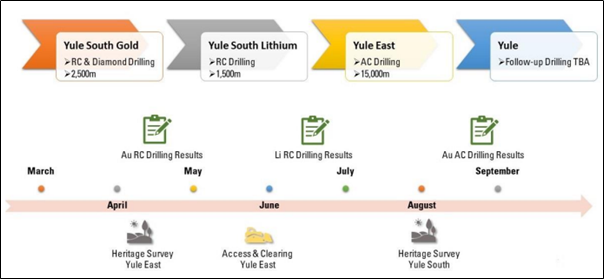 Upcoming Activities at Yule Project (Source: GSM ASX Update 26 February 2021)
Gold Targets: A 2,500m follow-up RC/Diamond drilling program is scheduled to commence in March 2021 at the gold targets delineated from phase 1 and 2 aircore (AC) drilling programs at Yule South.
Lithium Targets: A 1,500m RC drill program is designed to test lithium bearing (LCT) pegmatite mineralisation on known pathfinders from the phase 1 and 2 AC drilling. The program is planned to commence in May 2021 at Yule South.
Phase 3 AC drill program - A 15,000m phase 3 AC drill program is planned to identify further gold and lithium RC drill targets at Yule Project and is scheduled to commence in July 2021.
Additional exploration campaigns have been scheduled for the second half of 2021 but remain subject to confirmation.
The proceeds would also help the company in financing the ongoing working capital needs and general administrative overheads.
Read Here: Golden State Mining's (ASX: GSM) December Quarter Abuzz with Action
Placement Program Details
A total of 8,063,272 shares will be issued in accordance with the ASX Listing Rule 7.1 while 5,663,620 shares will be issued as per the ASX Listing Rule 7.1A. This portion of the placement is anticipated to settle on 5 March 2021.
The issue of remaining 11,873,108 shares will be contingent on the approval of shareholders at a general meeting scheduled on or around 5 April 2021. This portion of the placement is expected to settle around 9 April 2021.
Euroz Harleys Limited was appointed as the lead manager to the placement.
Important Read: Golden State Mining (ASX:GSM) Welcomes Encouraging Results from Phase 2 Drilling at Yule
GSM traded at A$0.155 a share on 2 March 2021. The Company has a market capitalisation of A$7.98 million.