Summary

Golden State Mining has secured Yule East E45/5570, expanding its granted ground holding in the Mallina Basin sequence by ~210km2.
The company has concluded discussions with regulatory authorities for the approvals for RC drilling programs at Yule South.
GSM shares have delivered a 30-day return of ~22.22%.
Golden State Mining Limited (ASX:GSM) has provided an update highlighting its impressive progress in the highly prospective Mallina Basin of Western Australia. The gold and base metals exploration company has announced the granting of Yule East E45/5570 tenement along with the progress on its proposed ground programs.
GSM expands regional footprint in Mallina Basin
The granting of the Yule East E45/5570 tenement will significantly enhance GSM's regional footprint. Covering an area of ~210km2, the tenement is strategically located in the Mallina Basin sequence.
It is to be noted that GSM owns 100% of the premium Yule Project, which covers ~700km2 in the Archaean Mallina Basin. The large ground position enhances the potential for gold discoveries at the Yule project in the exciting Pilbara region of Western Australia.
The wholly owned Yule project is just 15 kilometres north-west of De Grey Mining's Hemi gold discovery.

Previously, GSM had involved Core Geophysics Pty Ltd to assess open file aeromagnetic data pertaining to the tenement. The company had delineated multiple intrusive style targets and prospective structural settings and corridors, which have been prioritised for testing during the 2021 field season.
The new targets will complement the already identified targets along the Yule River Shear Zone and enhance the overall potential of the tenement.
Must Read: Golden State Mining Eyes Stellar 2021 with High Potential Activities Planned at Yule
Drilling approvals for Yule South
GSM has concluded discussions with concerned regulatory authorities for the approvals for reverse circulation (RC) drilling at Yule South. The delay in the approvals was due to the proposed deeper drilling in an area with water reserves.
To address the issue, a modified drill hole rehabilitation procedure and an updated environmental management plan have been completed. The POW-E (Program of Work - Exploration) application for the RC drilling covering approximately 4,000m is anticipated to be taken on priority.
4,000m RC drilling program at Yule South gold targets – Under the drilling program, GSM plans to test four gold target areas with anomalous gold and alteration vectors. Additionally, follow-up RC drilling is planned to test fresh bedrock responses to these previously recorded intersections.
The program will cover 4,000m to test additional prospective targets with favourable geochemistry.
1,500m RC Drilling Program at LCT Pegmatite Targets – Four LCT pegmatite targets have been delineated from the known lithium pathfinder analysis of the Phase 1 and 2 aircore (AC) drilling program results. The RC drilling program is slated to commence in late Q3 2021.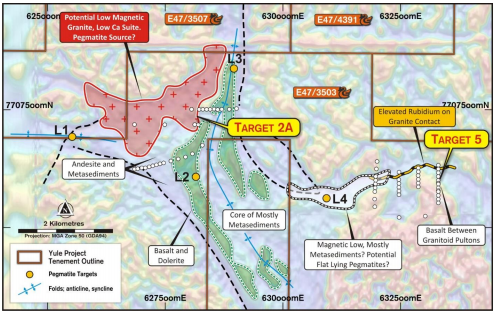 Lithium Targets over Structural Framework Interpretation
(Source: GSM update, 4 June 2021)
Good Read: Gold and Lithium Hunt on the Cards in Golden State Mining's 6-Month Game Plan at Yule
15,000m Phase 3 AC drill program – The next phase of reconnaissance AC program will cover 15,000m to test additional gold and lithium targets.
Inching towards potential discovery at Yule
GSM has already identified high priority gold, lithium, and base metal targets at the Yule project. The premium project is proximal to or hosts major regional structures including the Sholl Shear Zone, which is considered to be prospective for base metals.
The company has identified large discrete intrusive targets at the project with magnetic signatures similar to that of the recent discovery at Hemi.
The Phase 1 AC drilling tested the hinge zone of an interpreted Mallina Basin mafic-metasedimentary rock package and a highly prospective north-trending magnetic structure. The drilling campaign recorded promising assay results with intercepts of 4m at 2.3g/t gold incl. 1m @ 7.6g/t at Target 1 East. At Target 2A, an 800m x 1400m arsenic anomaly was identified.
Stock performance
GSM seems to be outperforming its peers on the back of robust exploration activities as the company is focused on unlocking the next great gold discovery at Yule.
GSM stock has delivered a return of ~22.22% in the last one month.
Share Performance against moving average (Source: Refinitiv)
Also Read: Golden State Mining's (ASX:GSM) A$3.2M Placement to Fire Up 2021 Mallina Basin Exploration
The stock traded at AU$0.165 a share on 4 June 2021 with a market capitalisation of AU$14.48 million.