Source: © Jimsphotos | Megapixl.com
Summary

Fremont Petroleum is a US-focused oil and gas company, expanding its horizon in a strengthening crude price environment.
The Company's key assets are located in Kentucky, Illinois, Indiana, and Colorado.
Low-risk assets and high reward - a growth mantra the Company has incorporated in its strategy.
Well-defined, low-risk growth strategy of acquiring long life, low decline conventional oil & gas wells in the Illinois Basin and enhancing production through low-cost workovers.
Fremont spent 2020 re-focusing its operations to the more favorably regulated Illinois Basin US states and has a portfolio of over 170 wells that it is progressively working over to enhance production.
A well-well documented strategy of growth through acquisition, taking advantage of distressed asset prices in the United States with an intention to diversify into natural gas.
The crude oil prices in the international market have crossed a 1-year-high mark, and the demand is expected to bolster further with the countries opening borders.
In the last couple of months, the crude oil market has bounced back with some resilience. The demand side of the equation is getting better with economies around the world aggressively deploying the vaccination drive. Furthermore, the resolution of a potential production cut by the OPEC+ members is also posing an impact on crude oil prices.
The crude oil market has been volatile. The swings in price could take a toll on operators who are not cost conscious. Many companies are now focusing on low-cost development strategies to capitalise on the oil and gas assets, and in turn, lowering the risks in a low-price regime.
Copyright © 2020 Kalkine Media Pty Ltd.
The U.S.A.-focused Fremont Petroleum Corporation Limited (ASX:FPL) is one of the ASX-listed oil and gas developers that has embraced the low-cost asset development strategy. Fremont operates oil and gas assets in Kentucky, Illinois, Indiana, and Colorado.
Fremont Petroleum was founded in 2006 and has been listed on the Australian Stock Exchange since 2017. In the low-crude price environment, when most of the companies are shrinking on a number of projects, Fremont is expanding its footprint.
The Company is making it possible by a shift in its strategy to focus on low-cost oil and gas development projects, that have a long life and low decline rates. It plans to optimise production through low-cost workovers of its growing portfolio of conventional oil wells, primarily in the Illinois Basin and has kicked off workover activities across its portfolio of ~170 oil wells. Fremont is well leveraged to improved crude oil prices which are now sitting north of US$60.00 per barrel.
The Company has a well-documented strategy of acquiring new production, as witnessed by its 2020 acquisition of Trey Exploration Inc, and its intention to consolidate similar assets in the Illinois Basin and add a natural gas revenue stream.
Fremont's Mission Statement
Copyright © 2021 Kalkine Media Pty Ltd. Data Source: Company Website
Fremont's modus operandi is quite well laid out in its mission statement. The Board and Management Team is guiding the Company on a strong growth path. The Company keeps a vigil on assets with higher intrinsic value with the acquisition price mismatched against its underlying value.
Flick through Fremont's Key Projects
Trey Exploration Inc
In the December quarter, to bolster its oil and gas portfolio, Fremont undertook an Asset Purchase Agreement with Trey Exploration Inc. Under the agreement, the oil leases in Indiana, Kentucky, and Illinois will be handed over to Fremont, including 115 oil wells.
Fremont paid US$1 million and another US$0.9 million in due in May 2021 to complete the acquisition.
The production from the lease has increased to 90 barrels of oil per day (BOPD) from earlier 75 BOPD after the successful workover operation which has just commenced. Further gains are forecast and more extensive well stimulation operations are scheduled to drive production higher.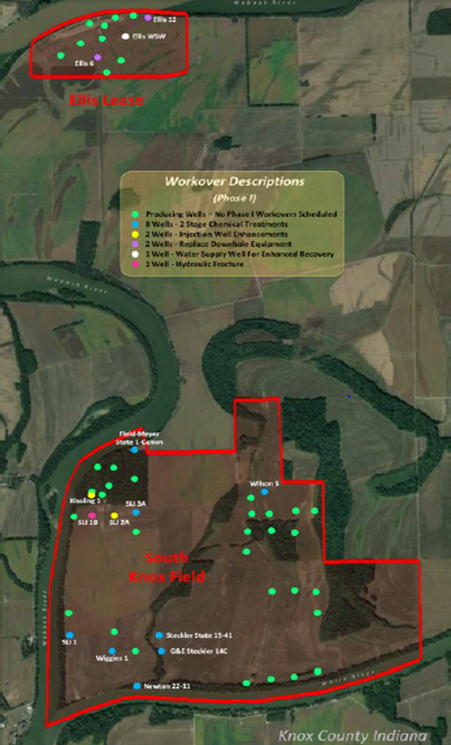 Trey Leases in Knox County with well marked for workover(Image Source: ASX update, 12 February 2021
Kentucky Oil and Gas is a JV with a private Australian investment company. Most of the operation is focused on Jackson, Cyprus, McCloskey, and Niagara Sand Formations.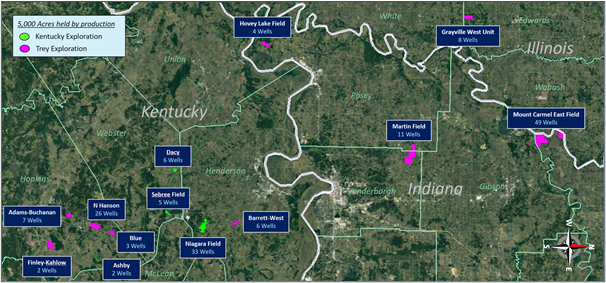 Fremont leases in Kentucky(Image Source: FPL)
During the December quarter, the company was focused on workover operations to enhance its production. The JV company produced 1,260 barrels of crude oil and sold 638 barrels. The rest was added to the inventory.
Pathfinder Project, Colorado: Is located in the DJ Basin of Colorado. Fremont has focused its drilling activities to target the Pierre formation, which remains largely unexplored. Independent reserve estimates stand at 200,000-500,000 barrels of oil per horizontal well. The project area is large enough to accommodate 350 wells with 40 acres of spacing between them.
During the December quarter, workover operation was done on 12 wells to optimise the production. The company produced 3,093 barrels of oil and sold 1,639 barrels during the December quarter from the Colorado productions.

Read Also: Crude Oil Rally Continues on Declining US Stockpile
Latest Updates:
During the December 2020 quarter, Fremont produced 9,932 barrels of crude oil. The Company sold 7,367 barrels of oil, and the rest was added to the inventory. At the end of the reporting quarter, FPL had an inventory of 4,540 barrels of crude oil, valued at US$240,000.
Further during the quarter, Fremont raised A$1.8 million through Placements. The Company issued 600 million fully paid ordinary shares @ A$0.003.
Share Price: On 03 March 2021, FPL was trading at A$0.004 with a market cap of A$18.71 million.