Highlights

FID has recorded an increase of ~16% in its net profit during FY21 with FUMAA at AU$10.4 billion as on 30 June 2021.
FID shares were trading at an all-time high price of AU$8.500 on 16 August 2021 after the upbeat FY21 results.
FID has a significant pipeline of planned activities to be undertaken in the future across its platform business and funds business.
Fiducian Group Limited (ASX:FID) shares have hit an all-time high after the company reported strong all-round performance in FY21. Fiducian has come a long way since its inception in 1996 with notable growth and expansion in the Company's capabilities to provide financial services and funds management.
FID's Funds under Management, Administration and Advice (FUMAA) as at June 2021 stood at AU$10.4 billion, a 30% increase, as against AU$8.0 billion reported in June 2020.
RELATED ARTICLE: How Fiducian Group (ASX:FID) is maximising opportunities and growth drivers
Profit increases, shareholders rewarded with 17% more dividend
FID's revenue from ordinary activities increased from AU$54,904,000 in the previous year to AU$58,839,000 in FY21 and the Company's net profit attributable to members for FY21 was up by 16.40% to AU$12,179,000.
Besides this, the Company has been consistently paying decent dividends to its shareholders and these dividends have also increased over the years. FID's latest dividend distribution amounted to 26.90¢ per share for FY21 compared to 23.00¢ in the previous year. The FY21 dividend includes an interim dividend of 12.30¢ and a final dividend of 14.60¢ per share.
FID Dividends (Source: FID Investor Presentation FY21 Results 16/08/21)
The Company has a dividend pay-out policy of around 60-70% of the Net Profit After Tax and the current year dividend indicates a growth of 17% versus the previous year. Since listing, FID has delivered a double-digit EPS growth (based on UNPAT) in 16 out of 21 years.
RELATED ARTICLE: A FORCe to reckon with: How Fiducian's flagship software stands out from its peers
FID touches fresh high, beats benchmark index hands down
Pleasingly, the performance of the FID stock has been exceptional and has outperformed the All-Ordinaries Index by a massive 893% from June 2012 to June 2021.
Source: ASX as on 16 August 2021
The FID stock touched its fresh 52-week high price of AU$8.500 on 16 August 2021 and was noted at AU$8.40, up by 5.660% at 12:31 PM AEST.
Funds business
As at 31 July 2021, FID has around AU$4 billion in Funds under Management. Notably over the past 2 decades, four diversified funds of FID ranked in the top decile to quartile in 54 out of 58 readings against up to 183 fund managers on Morningstar survey.
FID has been engaged in delivering its Manage the Manager System with increased diversification and less-than-average risks to generate consistent above-average returns.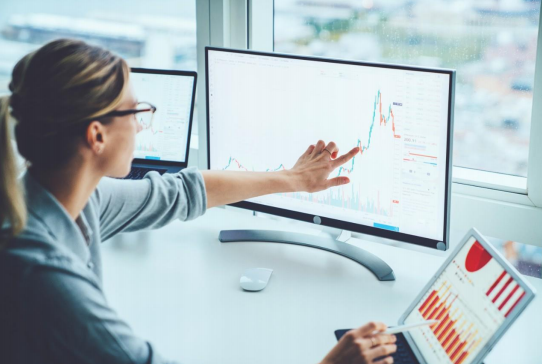 Source: FID Investor Presentation FY21 Results 16/08/21
The Company has an investment team that picks expert managers with established performance, varying investment procedures and styles that complement each other.
The PDS Fund Fees are aligned with industry peer groups and FID provides added benefits to clients such as access to multiple managers whose fees are paid by FID through the relevant Fiducian Fund.
Notably, the flagship diversified Funds of FID have continued to retain their excellent rankings on the Morningstar Survey contrasted with up to 197 recognised fund managers in their peer groups.
This superior performance includes the last one year and continues over the previous 10 years or beyond.
FID's financial planning business enables steady flows to Fiducian Funds and Platform supported by 72 planners across 46 offices throughout Australia. These planners are focused on providing results that are in line with the clients' best interest obligations.
VIDEO INTERVIEW: Expert Talks With Mr Inderjit Singh, Managing Director & Executive Chairman Fiducian Group Ltd
FID's Fintech competencies
FID's proven and time-tested Fintech capabilities underpin its successful business model, and the Company has been progressively enhancing its fintech competencies. Recently, the Company has expanded its programming team and the new system development offering opportunities for commercialisation.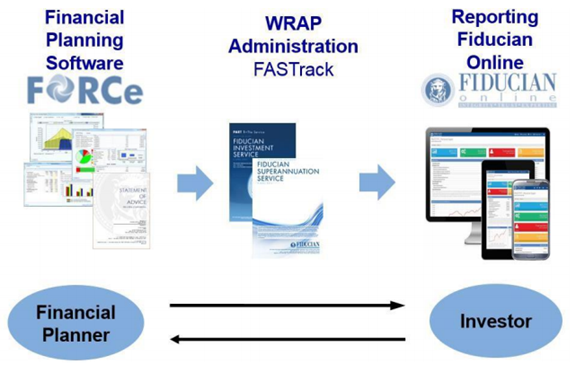 Source: FID Investor Presentation FY21 Results 16/08/21
FID's 'Fastrack' was developed in-house in 2012 and is a breakthrough platform administration system that delivers an automatic solution for investment execution and client registry by the advisers.
'FORCe' is an adviser-driven Financial Planning Software that enables efficiency by performing various functions like compliance monitoring, modelling, CRM, Advice document generation.
The Company's 'Fiducian Online', a fully functional website helps in managing a client account and transaction reporting, with front-end for advisers available across all devices.
1H FY 21 UPDATE: Fiducian Group (ASX:FID) shows resilience and growth in H1 FY20 despite turbulent COVID-19 phase
Growth Opportunities for FID
FID's market opportunities for growth of the business include the potential growth through in-house and 3rd party planners with platform business presently at AU$2.9 billion and funds business at AU$4.0 billion.
A summary of the key opportunities is highlighted below: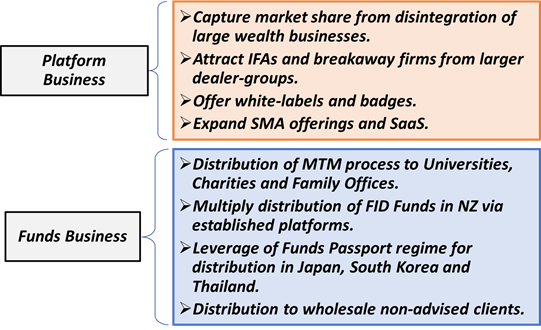 Source: FID Investor Presentation FY21 Results 16/08/21
Under the financial planning division, the company plans to advance with the acquisition of client books with potential high-synergy benefits and drive recruitment of new planners to the dealer-group with cultural alignment and mutual growth opportunities.
Bottom line
FID's long-term focus has been to build a business with a solid foundation and develop growth strategies around this base that can be scaled up on current capability and leverage the Company's relatively low fixed cost base. FID remains optimistic that it is well positioned to deliver on its strategy by realising the potential across its business verticals and to generate consistent double-digit earnings growth in the future.