Summary

Boab Metals undertook substantial exploration and development activities in the June quarter to advance its Sorby Hills DFS.
The acquisition of the Manbarrum Project, located near Sorby Hills, provides the Company with an opportunity to leverage synergies.
Boab is liaising with a suite of banks and Federal Government agencies to advance development and financing options for Sorby Hills.
Boab Metals Limited (ASX: BML) has unveiled its June Quarterly report, clearly highlighting significant progress towards developing the Company's 75%-owned Sorby Hills Lead-Silver-Zinc Project, located in the Kimberley region of Western Australia.
The slew of initiatives undertaken during the quarter underscores the Company's intention to captialise on the exciting potential at Sorby Hills, which included activities ranging from on-field exploration to metallurgical test works and resource upgradation.
Recently Boab also acquired the Manbarrum Project, located close to Sorby Hills. The strategic acquisition offers Boab the opportunity to examine a broader regional production strategy that leverages the two projects' clear synergies.
Source: BML Update, dated 27 July 2021
With this backdrop, let's explore the key developments during the quarter.
Boab boosts Measured Resources at Sorby Hills by 4Mt
Boab released an updated Mineral Resource Estimate undertaken by CSA Global during the June Quarter, incorporating the Phase IV drilling results. The update resulted in the conversion of 4.0Mt of Indicated Resources to Measured Resources (up by 56%) while shallow Resource tonnes (<60m) also increased significantly.
DETAILED DISCUSSION AT: Boab Metals (ASX:BML) in high spirits after Mineral Resource update of Sorby Hills
The updated Mineral Resource Estimate consists of 44.9Mt at 4.3% PbEq. (3.2%Pb, 0.5% Zn and 37g/t Ag using a cut-off of 1% Pb).
Boab has planned a further Mineral Resource update to be undertaken after the Phase V drilling program is completed.
Phase V Drilling Program commenced
In the June quarter, Boab commenced the Phase V drilling program at Sorby Hills. The high-impact drilling is focused on increasing resources at Sorby Hills in order to maximise the value extracted from the Definitive Feasibility Study (DFS).
READ MORE: Boab Metals Marches Ahead with Encouraging Results from Sorby Hills' Phase V Drilling
As per the latest update, 3,000m of drilling across 31 holes has been completed. The drilling also targeted six holes that were not incorporated in the original 4,200m drilling program. Boab is encouraged by the Phase V drilling program results so far and intends to extend the program further.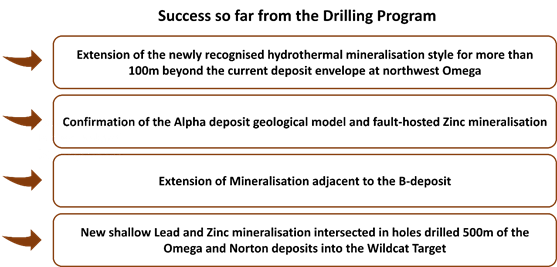 Source: Copyright © 2021 Kalkine Media, Data Source: BML update, dated 27 July 2021
The rest of the drilling program consists of:
A cluster of holes at the central Omega Deposit
Several holes at the Beta Deposit
Drilling of conceptual targets at Eight Mile Creek
DFS Metallurgical Testwork results expected in the upcoming quarter
The Company also advanced its Sorby Hill DFS metallurgical testwork program, with testwork to date aligning with the expectations.
Encouraging results from testwork should assist in enhancing the grade of concentrate and boost project economics with improved pyrite rejection. The DFS results of the metallurgical testwork program are expected during the upcoming quarter.
Boab becomes the naming rights sponsor for the Ord Valley Muster
Boab Metals has scored naming rights sponsorship for Ord Valley Muster in 2022 and 2023, having taken over the baton from Rio Tinto and the Argyle Diamond Mine.

Source: BML Update, dated 27 July 2021
Efforts towards ensuring firm financial footing
During the June quarter, Boab carried out preliminary discussions with a suite of commercial banks. The discussions are a means to provide the banks an update on the project's progress while receiving early feedback to integrate into the DFS and project execution workstreams.
Furthermore, the Company continues to engage with Federal Government agencies such as the Northern Australia Infrastructure Facility (NAIF) and Export Finance Australia (EFA) concerning debt finance for Sorby Hills.
ALSO READ: Export Finance Australia gives a leg up to Boab Metals' Sorby Hills project
Acquisition of the Manbarrum Zinc-Silver-Lead Project
Subsequent to the quarter-end, Boab entered into a binding agreement with Todd River Metals Pty Ltd to acquire the Manbarrum Zinc-Silver-Lead Project.
DETAILED DISCUSSION AT: Boab Metals Limited (ASX:BML) snaps up Manbarrum Zinc-Lead-Silver Project to expand resource base
The Manbarrum Project, stationed 25km east of Sorby Hills, covers geology that is genetically related to that observed at Sorby Hills. Boab anticipates an effective transfer of technical knowledge to optimise exploration and Resource development potential.
The consolidated cash balance of the Company, as of 30 June 2021, was AU$12.95 million. Boab stated that it is well funded to progress Sorby Hills to a Final Investment Decision, with sufficient funds to executive the DFS workstreams, and leverage further exploration, value adding and de-risking opportunities.
BML shares traded at A$0.415 on 27 July 2021 (at 12:55 PM AEDT).