Summary

Empire Resources has made significant strides on its Yuinmery Project as well as Penny's Project during the December quarter.
ERL has received encouraging results from the previous drilling and has various activities planned.
ERL's investment in NTM has proven highly prolific as the invested value of $1,499,875 is valued at $6,653,863 at the end of the quarter.
Aggressive mineral explorer Empire Resources Limited (ASX:ERL) has reported a flurry of developments that took place during the the quarter ended December 2020. ERL's continued efforts have helped generate significant value with the advancement of exploration at the Penny's Gold Project.
One of the notable developments during the quarter was the merger announced between NTM Gold Limited (ASX:NTM) and Dacian Gold Limited (ASX:DCN).
INTERESTING READ: 3 Key Elements of Empire Resources Lucrative Investment Portfolio
Let us look at these developments in detail.
Exploration Progress at Yuinmery Project
At the Yuinmery Project, ERL concluded 76 AC holes for 2,786m during the quarter that was focused on several high-priority geochemical and geophysical anomalies. These anomalies are prospective for VMS-type Cu-Au and Cu-Ni-PGE mineralisation at various prospects (YT01, YT02, YT05, and the YT12).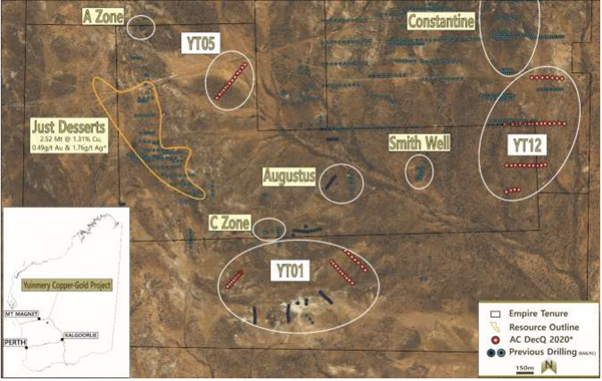 Yuinmery Copper-Gold Project Prospects and Drill Hole Locations (Source: ASX Announcement 29 January 2021)
YT02 and YT01 are inferred as the prospective offsets of the C Zone and Just Desserts deposits.
YT05 prospects are also associated with alteration minerals such as talc and chlorite and an anomalous multi-element (Cu-AuZn-Ni) geochemical signature.
YT12 is associated with a broad Cu-Au-Zn-Ni soil anomaly, currently defined across 1km in strike.
ERL identified the high priority YT01 prospect in late 2019 and it extends over 3.5km in strike length. Further, the recently identified potential for PGM mineralisation at Yuinmery is of immense importance for the Company.
DID YOU READ: Empire Resources Ready to Go Hammer and Tongs for Continued Exploration Success
Upcoming Planned Activities
ERL awaits the results from the AC drilling conducted at Yuinmery during the December quarter.
Moreover, ERL has planned to undertake a follow-up RC drilling (which is currently underway) and AC drilling at the Yuinmery Project in the current year 2021. Through RC drilling, ERL plans to target:
Depth extensions to the broad zone of elevated PGM mineralisation at YT01.
Depth extensions to the north-eastern limb of Smith Well.
Any multielement anomalism identified from the December quarter AC drilling.
Through the additional first pass AC drilling, ERL plans to test the regional gold and base metals targets. Furthermore, a follow-up RC drilling or diamond drilling shall be undertaken, whichever would be suitable.
INTERESTING READ: Empire Resources Limited Calls the Tune in Its Significant Landholdings, A Walk Through Its Project Portfolio
Exploration Work Advancing at Penny's Gold Project
During the December quarter, ERL continued to advance exploration work at its Penny's Gold Project. The Company has meanwhile received the results from the aircore (AC) drilling campaign undertaken in September 2020, consisting of 22 holes.
Air-core Drillhole Locations at Penny's Gold Project (Source: ASX Announcement 29 January 2021)
In September, this drilling was aimed at defining the scope of the interpreted supergene gold mineralisation at the PF09 prospect. Consistently, strong gold anomalism was returned from successive holes through drilling. The best gold results were from hole PAC20- 02, which were 12m @ 0.80g/t Au from 40m, including 4m @ 1.78g/t Au from 48m.
RELATED: Empire Resources' Financials Reflect Green Shoots; Exploration Expenditure Increases By 436%
Across Penny's PF09 and further high-priority targets (PF04, PF08, and PF10), ERL finalised 1,120m of first pass reverse circulation (RC) drilling. Further, ERL also drilled two RC holes at PF04 to follow up on the historic intercept of 18m @ 1.7g/t Au from 44m, including 2m @ 2.11g/t Au (2007 RAB hole) in fresh rock.
Moreover, the Company drilled one first pass RC hole at PF10 during the current quarter, and results are yet to be received for the RC drilling undertaken in December quarter.
Notably, the Penny's Gold Project has not witnessed any systematic or follow-up exploration since 2010.
INTERESTING READ: ASX:ERL tides over the rough patches, moves ahead with Fresh Momentum
Penny's Find Royalty and Dispute with Eastern Goldfields
During the December quarter, Horizon Minerals Ltd (ASX:HRZ) entered a joint venture with Orminex Limited (ASX:ONX) for development of the Penny's Find Gold Mine. This is anticipated to fast-track resource definition and technical works to initiate the site work for project development in the first half of 2021.
ERL has hailed it as a positive development and looks forward to additional development of the Penny's Find Gold Mine in the first half of 2021.
INTERESTING READ: Empire Resources (ASX:ERL) Looking To Strengthen Its Investment Portfolio
Meanwhile, ERL's dispute with Eastern Goldfield Milling Services Pty Ltd continues to brew. The dispute is in relation to the gold unaccounted for, following a toll treatment milling campaign in 2017. The Company had submitted the concerned documents to the Arbitrator during the December quarter and the next Arbitration hearing is scheduled to begin in early March of the current year.
Investment in NTM Gold Limited
ERL's investment in NTM Gold Limited represented a 6.76% interest at the close of the quarter and was valued at $6,653,863 at the closing price of $0.145. At the time of investment, the same was valued at $1,499,875. Therefore, ERL's investment has proven to be significantly lucrative.
INTERESTING READ: How Is Empire Resources' Investment In NTM Gold Placed Amid Market Volatility?
Under NTM and Dacian Gold Limited's proposed merger, NTM is subject to a script offer from DCN of one Dacian share for 2.7 NTM shares. The transaction is anticipated to complete in early March 2021.
ERL spent approximately $612,000 during the December quarter and had $868,000 cash at the end of the quarter.
ERL is currently trading at $0.014 per share on 1 February 2021 (AEDT: 02:01pm).
*All financials are in AUD, unless specified.