Highlights

Empire Resources has continued its activities for mineral exploration and evaluation of land assets during FY21.
ERL drilling activities at its Yuinmery and Penny's projects returned significant results.
The merger of DCN with NTM Gold Limited was an important step. Since then, ERL's investment in DCN has grown significantly.
Gold and copper focussed explorer and developer Empire Resources Limited (ASX:ERL) had been engaged in mineral exploration and evaluation of land assets across Australia.
During the year, ERL incurred AU$1,221,216 as an expenditure for exploration activities across various projects, which was mainly attributable to the drilling program at the Yuinmery project.
Let us look at other key developments of the Company across the project portfolio during the financial year.
RELATED ARTICLE: Empire Resources (ASX:ERL) commences fieldwork at Nanadie Copper-Gold Project
Drilling at Penny's Project
The Penny's Gold Project has not undergone any systematic or follow up exploration since 2010. ERL concluded a 1,381m air-core (AC) drilling campaign in September 2020 that delivered consistently robust gold anomalism from successive holes with the highest gold results of 12m @ 0.80g/t Au from 40m, including 4m @ 1.78g/t Au from 48m in hole PAC20-02.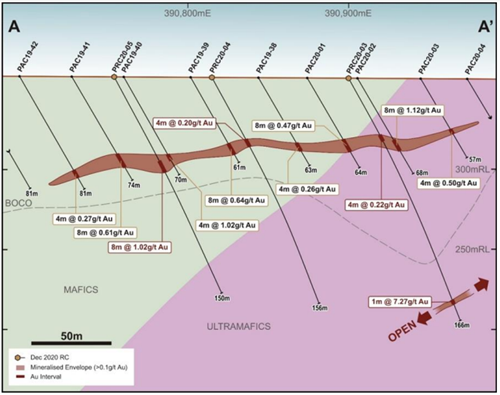 PF09 Prospect 6,628,850mN Cross Section A-A' (Source: ERL Annual Report FY21)
In December 2020, ERL completed 8 RC holes for 1,120m across four prospect areas, with bedrock gold mineralisation intersected at PF09 in hole PRC20-03. Moreover, drilling at PF09 further validated the occurrence of a flat lying >0.2g/t gold supergene anomaly.
The Company believes that the current discoveries indicate encouraging signs and warrant follow up drilling at the area.
RELATED ARTICLE: Empire Resources' (ASX:ERL) investment in Dacian Gold (ASX:DCN) delivers substantial returns
Drilling at Yuinmery project
ERL received highly encouraging results from the various drilling campaigns executed throughout the year across various targets located at the Yuinmery Copper-Gold project. Moreover, ERL has enhanced its understanding of the geology, alteration characteristics and structure at the project and now can target earlier untested areas across the project.
ERL has proposed first pass AC, infill AC and RC programs across various regional targets as part of the Company's systematic exploration approach to test the pipeline of targets. In addition, a diamond and RC drilling is also planned to test the other targets areas.
Yuinmery Southern VMS Deposits, Prospects and Historical Drill Collar Locations (Source: ERL Annual Report FY21)
Drilling undertaken during the year helped intercept copper-nickel mineralisation at depth and down plunge in the northeast sector of the Smith Well prospect. Moreover, an earlier unknown broad zone of elevated PGM mineralisation was encountered through drilling at YT01 in hole YRC20-285.
RELATED ARTICLE: How is Empire positioned with its portfolio of highly prospective projects?
Potential at Smith's Well
At the Smith's Well prospect, ERL identified a steeply plunging structure trending in a North-East direction, and broad zones of disseminated to matrix sulphide mineralisation were returned through drilling.
4 RC holes for 746m targeting the North-East plunge and down-dip extensions of the structure was done during the June 2021 quarter. Samples for them were submitted and assay results are yet to be received.
Investment in DCN
ERL had initially made an investment in NTM Gold Limited, which merged with Dacian Gold Ltd (ASX:DCN) in March 2021. ERL's holding in DCN on 30 June 2021 was 13,035,000 shares and 4,000,000 shares on 29 September 2021.
Furthermore, ERL realised a gain on the financial asset comprising DCN shares of AU$1,174,066 on 30 June 2021.
RELATED ARTICLE: Empire Resources (ASX:ERL) looks to advance projects after June quarter drilling
The initial investment in DCN (then NTM) was financed from cash reserves and an unsecured loan of AU$1.5 million granted by Non-Executive Chairman and major shareholder of ERL, Dr Michael Ruane.
Subsequently, the term was extended indefinitely in July 2020, with the repayment of the loan and interest that concluded in September 2021.
Dispute with Eastern Goldfield
Moreover, ERL's dispute with Eastern Goldfield Milling Services Pty Ltd concerning unaccounted gold after a toll treatment milling campaign conducted by EGMS at its Burbanks Gold Processing facility in late 2017 was referred to Arbitration and the hearing completed in March 2021.
Issues raised in the Arbitration and to monies payable between the parties in relation to the Toll treatment campaign was agreed through a confidential settlement between ERL and Eastern Goldfield.
RELATED ARTICLE: Empire Resources (ASX:ERL) Reports Encouraging Gold Intercepts At Penny's Gold Project
Bottom Line
ERL continues to assess opportunities in the Eastern Goldfields of Western Australia that complement its current portfolio. All eyes remain on the continuing work across projects of the Company and the results thereof.
ERL stock was noted at AU$0.012 on 13 October 2021.