Source: Phawat, Shutterstock
Summary

Empire Resources Limited encountered high-grade gold below the recently discovered gold supergene mineralisation at PF09.
ERL's results from the latest drilling at Penny's are in line with known structural corridors and present soil anomalism.
The Company's substantial investment portfolio ensures ERL remain well-funded for continued exploration throughout its complete portfolio.
Gold and copper focussed explorer and developer Empire Resources Limited (ASX:ERL) has been exploring Penny's Gold Project. The Company had an impressive 2020 with significant results returned from multiple exploration works undertaken throughout the year.
Lately, the Company has intersected bedrock gold mineralisation at PF09 in hole PRC20-03, which has returned 1m @ 7.27g/t Au and 7,396ppm as from 153m within a mineralised alteration halo grading 3m @ 2.54g/t Au and 3,976ppm as from 151m.
Furthermore, the existence of a flat-lying >0.2g/t gold supergene anomaly has also been confirmed through drilling at the prospect. The anomaly is around 8m thick, 250m wide and open to the north and south, and the supergene blanket drapes through a dominant mafic-ultramafic contact.
INTERESTING READ: Empire Resources Limited Calls the Tune in Its Significant Landholdings, A Walk Through Its Project Portfolio
Notably, the gold mineralisation at the PF09 prospect is strongly related to arsenic, and this strong correlation of gold and arsenic is an encouraging outcome for ERL.
Source: Company Announcement 29 March 2021
At a time when ERL has not completely established controls and extent of the bedrock gold mineralisation, the Company is encouraged with significant geological complexity in association with arsenic and bedrock gold mineralisation and signs of the occurrence of a robust supergene anomaly. These indications also call for follow up drilling at the area.
PF09 Prospect 6,628,850mN Cross Section A-A'(Source: Company Announcement 29 March 2021)
DID YOU READ: 3 Key Elements of Empire Resources Lucrative Investment Portfolio
ERL has confirmed through RC drilling that another prospect, PF04 lies along the western boundary of a substantial geological border that is correlated with an anomalous geochemical gold signature. Moreover, the PF04 prospect is predominantly composed of a substantial arsenic plume and anomalous gold in RAB/AC drilling throughout several lines spaced over 2km.
The Penny's Gold Project of ERL has undergone limited systematic exploration since 2010; however, ERL has concluded a comprehensive data evaluation and interpretation program followed by drilling at the project area. This comprises reconnaissance AC and first pass RC drilling during 2020.
DECEMBER QUARTER UPDATE: Empire Resources poised for more glory after Busy December Quarter
The road ahead for ERL
Over recent times, the Company's geological and structural interpretation has advanced swiftly and was backed by aeromagnetic data. Moreover, the Company's exploration approach's viability has been demonstrated through early greenfields success at PF09.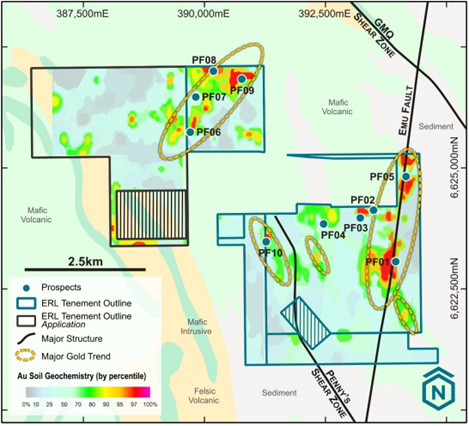 Penny's Gold Project Regional Prospectivity (Source: Company Announcement 29 March 2021)
ERL remains confident to move ahead with additional exploration programs throughout prospective areas at the Penny's Gold Project.
Going forward, ERL also plans to undertake additional RC drilling with a view to testing the levels of the gold mineralisation and interpreted prospective structures on second and third-order structural orientations.
In upcoming campaigns, the Company also looks forward to the drilling, testing the potential for further plunging gold shoot positions where positive structural intersections have been demonstrated.
The testing of additional prospective geochemical and litho-structural targets prospective for shear zone hosted gold-bearing hydrothermal systems shall be conducted through further scout drilling and targeted RC.
DID YOU READ: Empire Resources (ASX:ERL) Shares Rally ~84%; What next for shareholders?
The shares of ERL traded at AUD0.012 on 29 March 2021 with an AUD 11.81 million market capitalisation.