Source:Alf Manciagli,Shutterstock
Summary

Empire Resources Limited has reported a notable increase in its profit for the half-year ended 31 December 2021.
ERL has been expediting its exploration activities throughout the half-year and has made encouraging discoveries across the project portfolio.
The Company also raised funds through a placement to support its exploration activities and meet working capital requirements.
ERL has been continuing exploration at key areas and has planned exploration work for the future.
Mineral explorer and resource investment company Empire Resources Limited (ASX:ERL) marked a half-year of encouraging outcomes of the exploration activities undertaken across its project portfolio.
For the half-year ended 31 December 2020, ERL has recorded a profit of $2,128,067 compared to $1,208,961 recorded during the same period of 2019.
The Company believes that a net fair value gain of $2,982,766 on financial assets has been the reason for the increase in profit.
Over the period, the Company has been engaged in mineral exploration and evaluation of properties in Australia. It carried out key activities like exploration work at its Yuinmery project and Penny's Gold Project, along with capital raising.
INTERESTING READ: Empire Resources Limited Calls the Tune in Its Significant Landholdings, A Walk Through Its Project Portfolio
Encouraging Cu-Ni-PGM Mineralisation at Yuinmery
During the period, ERL encountered a broad zone of Cu-Ni-PGM mineralisation in RC hole YRC20-28: 20m @ 0.39% Cu, 0.11% Ni, 0.02% Co, 0.21g/t Pd & 0.07g/t Pt from 143m, including elevated PGM's in 12m @ 0.34g/t Pd, 0.11g/t Pt, 0.38% Cu, 0.11% Ni & 0.02% Co from 151m.
The Yuinmery Project of ERL has continued to produce excellent exploration results, with PGE's being observed in high concentrations west of the Smith Well Prospect.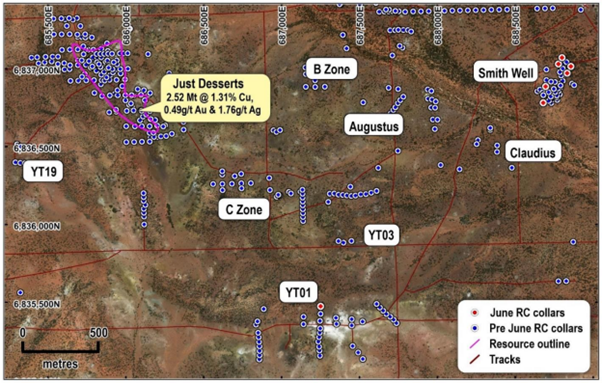 Yuinmery Project Prospects and Drill Hole Locations (Source: ASX Announcement 23/07/2020)
Moreover, the Company remains optimistic about the excellent opportunities for significant discoveries at the Yuinmery project based on the presence of a broad zone of palladium and platinum metals at the YT01 Prospect leading ERL to reinforce its plans to continue exploration at the Yuinmery project.
INTERESTING READ: 3 Key Elements of Empire Resources Lucrative Investment Portfolio
Aircore drilling at Penny's Gold Project
ERL concluded twenty-two aircore (AC) holes for 1,381m at the strongly anomalous PF09 prospect, with assay results including:
12m @ 0.80g/t Au from 40m, including 4m @ 1.78g/t Au from 48m (PAC20-02)
22m @ 0.45g/t Au from 36m to EOH (PAC20-17)
Later, the Company had planned a follow-up RC drilling to test the continuity with a depth of gold mineralisation in various aircore holes and expedite the related work.
PF09 Aircore Drillhole Locations (Source: ASX Announcement 12/10/20)
The drilling was undertaken in September 2020, and the Company received results in October. The results returned showed consistently strong gold anomalism from consecutive holes.
DECEMBER QUARTER UPDATE: Empire Resources poised for more glory after Busy December Quarter
Funding Arrangement to Continue Work
During the September 2020 quarter, ERL raised A$1.3 million (before costs) by way of placement to professional as well as sophisticated investors.
For this purpose, the Company had issued around 108,966,333 new shares, and the funds raised were to be utilised towards financing the exploration drilling at ERL's Yuinmery Project and the Penny's Gold Project near Kalgoorlie. Moreover, the Company had also planned to meet the working capital requirements through the placement funds.
Notably, the Company witnessed a strong investor demand during the capital raise and remained on track towards advancing exploration activities throughout its exciting project portfolio.
DID YOU READ: What is the forward plan of Empire Resources (ASX:ERL)?
Overall, ERL has had a busy half year, with exploration efforts producing encouraging results, and seems adequately financed to continue its future activities.
ERL share price quoted at $0.013 at 1:48 PM AEDT on 12 March 2021.