Highlights

Empire resources had concluded RC drilling at Yuinmery Copper-Gold Project and at Penny's Gold Project.
ERL had also initiated fieldwork at the Nanadie Project with geological fact mapping completed.
ERL maintains its holding in DCN and boasts a strong balance sheet and a sound financial position.
Empire Resources Limited (ASX:ERL) has been progressing exploration across project portfolio with a view to further advance its projects. During the quarter ended 30 September 2021, ERL concluded key activities that returned encouraging results to continue further activities.
The Company managed to repay its loan facility and maintained its investment in another resource company. Let us look at these key developments in detail.
RELATED ARTICLE: Empire Resources (ASX:ERL) reports key developments across investment portfolio during FY21
RC drilling at Yuinmery Project
During the quarter, ERL concluded an RC drilling program targeting five high priority prospects at Yuinmery copper-gold Project. In totality, ERL concluded 14 RC holes during June and July 2021 across the A Zone, YT01, Smith's Well, Main Road, and Constantine prospects.
Source: ERL Announcement 18/10/21
ERL received following key results from June-July drilling during the quarter:
A Zone results include 8m @ 0.78% Cu from 124m in drillhole YRC21-22, including 4m @ 1.03% Cu from 128m.
Intercepts at Smith's Well include 16m @ 0.51% Cu, 0.16% Ni & 0.031% Co from 255m in drillhole YRC21-28, including 1m @ 1.05% Cu, 0.19% Ni & 0.033% Co from 261m and 5m @ 0.65% Cu, 0.13% Ni & 0.039% Co from 110m in drillhole YRC21-26 including 1m @ 1.90% Cu, 0.18% Ni & 0.038% Co from 112m.
RELATED ARTICLE: Empire Resources (ASX:ERL) commences fieldwork at Nanadie Copper-Gold Project
Source: ERL Announcement 18/10/21
The Smith's Well results are from the deepest mineralised intercepts drilled to date and support the hypothesis that Smith's Well may hold economic mineralisation at depth.
Moreover, drilling at Constantine Prospect also returned Encouraging PGM results that included 12m @ 0.41g/t Pd & 0.05g/t Pt from 120m (EOH) in drillhole YRC21-21 including 4m @ 0.64g/t Pd & 0.06g/t Pt from 124m.
Notable, this drilling ended in mineralisation, highlighting the extension of the mineralised system below present drilling depths.
ERL's programs have been developed for diamond drilling of the deep copper, nickel and PGM targets, and the Company has approached drilling contractors and believes that a positive schedule can be achieved.
RELATED ARTICLE: Empire Resources' (ASX:ERL) investment in Dacian Gold (ASX:DCN) delivers substantial returns

The results at the A Zone prospect indicate continuity of the copper-gold mineralisation, and the up-dip projection of the mineralisation shall be tested through planned further drilling. Moreover, at the Smith's Well prospect, the Company plans to undertake a series of deep diamond core holes to test the mineralised zone at depth and along strike.
ERL believes that the current results are highly encouraging for the Constantine Prospect, and additional work is needed to ascertain the potential of the prospect.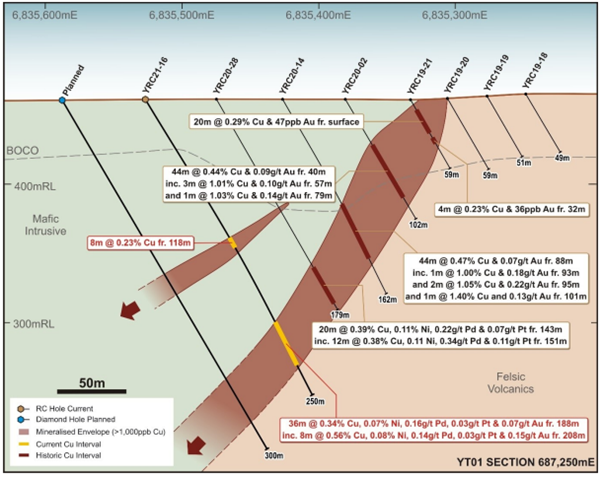 Source: ERL Announcement 18/10/21
At the YT01 prospect, the results offer encouragement to the Company and warrant a follow-up, for which ERL has planned a deep diamond core hole for the upcoming round of drilling.
Drilling at Penny's Gold Project
At the Penny's Gold Project, ERL concluded an RC drilling program during the quarter. The drilling aimed at strike extensions to anomalous bedrock mineralisation of 1m @ 7.27g/t Au and 7,396ppm As from 153m.
Source: ERL Website
RELATED ARTICLE: How is Empire positioned with its portfolio of highly prospective projects?
During August 2021, ERL concluded 5 RC holes and samples submitted for analysis. Moreover, results were received after the end of the quarter.
The Company looks to undertake aircore drilling at PF09 in the future, which shall be directed towards ascertaining the extent of the supergene and identifying bedrock mineralisation targets for additional RC drilling.
Fieldwork commenced at Nanadie Copper-Gold Project
ERL had initiated ground exploration activities at the Nanadie project, and a detailed geological mapping was concluded. Moreover, the combination of the detailed geology mapping and compiled available geophysical imagery have helped in designing around 1,500-point soil sampling program.
ERL also initiated field collection of soil samples; however, processing, analysis and results are anticipated in the next quarter.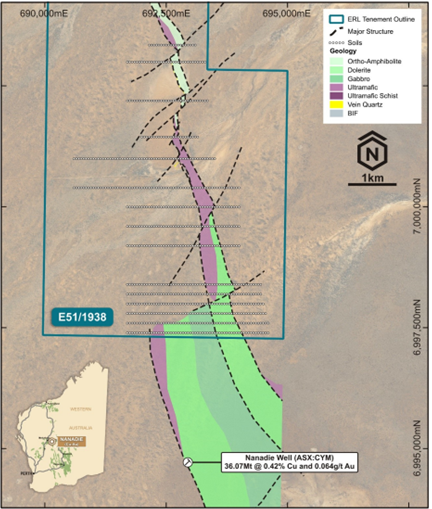 Source: ERL Announcement 18/1021
A significant amount of aerial magnetic and ground electromagnetic survey data through the review, reprocess, and interpretation of historical and publicly available geophysical data.
Moreover, ERL remains confident that the detailed mapping, soil sampling results, and the reinterpreted geophysical data shall assist in identifying further air core and/or RC drilling targets.
RELATED ARTICLE: Empire Resources (ASX:ERL) looks to advance projects after June quarter drilling
DCN investment and Penny's Find Royalty
At the end of the September quarter, ERL's investment in Dacian Gold Limited (ASX:DCN) stood at AU$0.78 million with 4.0 million shares held. ERL had sold around 9,035000 DCN shares during the quarter for net proceeds of AU$2,058,144.
Through these proceeds, ERL also repaid its AU$1.5 million loan facility in full, along with all outstanding interest.
ERL has been closely monitoring the progress at Penny's Find Gold Mine, which is a joint venture between Orminex Limited (ASX:ONX) and Horizon Minerals Ltd (ASX:HRZ). HRZ had reported that all statutory approvals are in place, and a toll milling agreement has been executed for ore processing in the second half of 2021.
Moreover, the Company has cash on hand of AU$1,067,000 at the quarter-end.
ERL and Eastern Goldfields have also agreed to a confidential settlement of issues related to all their disputes, and the Arbitration proceeding initiated earlier was terminated on 14 September 2021.
ERL stock was noted at AU$0.012 on 19 October 2021.